France is the country for foodies.  
La bouchée à la reine : la bouchée à la reine is my favorite french dish. When my host parents had to leave for a soirée and couldn't dine with us, my host mom made us la bouchée à la reine. The word "bouchée" originally refers to the kind of pastry with sweet filling. However, la bouchée à la reine is rather savory. With the modifier "à la reine", the bouchée was indeed created by a queen——Marie Leszczynska, the queen of Louise XV——to regain the favor of her husband. La bouchée à la reine consists of pâte feuilletée (puff pastry) on the outside and a mixture of mushrooms cubes, savory chicken fillets and a kind of creme on the inside. Though it had been a while since I ate them, the taste of the combination of the crunchy outside and the soft, buttery inside still lingers in my head.

 

Four bouchée à la rein! Enough for 2 people.

As a foodie, I asked for "une petite Dégustation" in class one day, and my prof agreed that it would be good to have everyone bring their favorite french desserts and share with the others. Since we didn't plot on the degustation, four of us brought the tarts, though of different flavors, and three of us brought "éclair." Therefore, I am going to briefly introduce these two most popular french desserts in my class.  

Les tartes aux fruits: the fruit tarts were the definitely the stars of the degustation. Basing on a pastry base, the fruit tarts are open to variations on the top, including strawberries, lemon, and the "fruits" in general. To be honest, I thought the pastry base was so hard that I almost hurt my teeth, so I didn't really taste every flavors.
Éclairs: éclair is by far my favorite french dessert. My prof told me that the éclairs were originally only "au chocolat" or "au café"; but later on, since people wanted to expand the scope of this beloved desserts, they experimented on the other toppings, including vanilla, lemons and even strawberries. Technically speaking, éclairs are not hard to make: my host mom said they were just pâte à choux with cream inside and chocolate toppings (she was talking about éclairs au chocolat"). However, it tastes so good that it was given the name "éclair," originally referring to "lightening," meaning that it was eaten as fast as the lightening.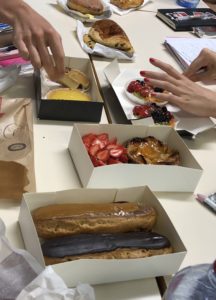 4. Le petit déjeuner (breakfast): the typical french breakfast includes: tartine, baguette slices with butter and jams; viennoiserie ( croissant, pain au chocolate, pain au raisin); boisson (espresso, cafe au lait, chocolat chaude, thé, jus d'orange presse/pamplemousse presse). As for me, I had the tartine every morning. The way French people carrying baguettes around is very cool too. On every morning, I saw my host mom took out the baguette from her bag, even without a wrapping, and cut the the baguette into slices, and then put it back to her bag. Sometimes on the tram, I saw kids fighting with each other with baguette as swords, without a wrapping either.