Dia daoibh! I've had a bit of a late start getting to the blog writing, but it's been very busy so far. For such a small rural area, Gleann Cholm Cille has had quite a few things going on. With classes during the day six days a week and other various activities in the evenings, down time has been relatively hard to come by. The weather so far has been gorgeous, which I'm told is unusual, so I'll count myself lucky so far and hope that the nice weather holds out the rest of the trip! While the Donegal accent originally sounded almost undecipherable, it's slowly starting to make more sense and I have been able to understand it reasonably well. It wasn't until my second or third day here that I realized the name Gleann Cholm Cille (in English, the Glen of Saint Colmcille) referred to the general area, and not the actual village where Oideas Gael is located and I am staying. My first week in town happened to coincide with the feast of Saint Columba, known in Irish as Naomh Colm Cille. While the name Colmcille means nothing in English, the Irish version of the name translates to "Dove of the Church". It stands as a great example of the importance of the Irish language in un derstanding the local culture and place names. There were a number of people who undertook the local annual pilgrimage, and while I did not make it on the pilgrimage, I was lucky enough to get to walk a portion of the tour with a group from Oideas Gael led by a local man teaching at Oideas Gael. While visiting a ruin known as the Chapel of Saint Colmcille we learned a few legends about him and the supposed folk remedies associated with the chapel and the holy well nearby. While there's no historical evidence that Saint Columba ever visited this area of Donegal, the folk traditions of the area certainly believe he did. We also passed a number of carved standing stones, traditionally believed to have been created by early Christians, though now many experts hold that they were actually pre-Christian monuments incorporated into the Christian tradition early on. Hopefully, as the summer wears on, I will have more opportunities to witness other aspects of folk beliefs and traditions. But, for now, feicfidh mé tú!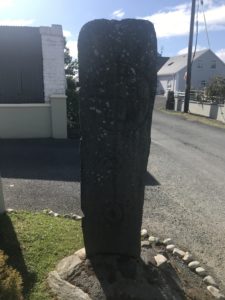 One of the standing stones, located on the edge of town just at the side of the road.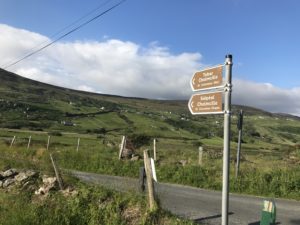 Sign post directing visitors towards the stone ruins of the Chapel of St. Colmcille and the Well of St. Colmcille, both located on the property of a local farming family.