Today is July 14th. This past week was our last week of class for the first semester. We took our final on Wednesday, which I though went well, and then had Thursday through Sunday off of school. During this four day break, many of my friends decided to travel independently, down to Tokyo, stay in the Hakodate area, or somewhere different. Many of the other students, including myself, however, decided to go with the HIF organized group travel plan up to Sapporo. You may know this Japanese city because of it's world-famous beer. I just returned back home after the long 3-hour bus ride, and am therefore exhausted, but for good reason. Because the place we are all living in, Hakodate, is on the smaller side, Sapporo was the first taste of Japanese city life that I've gotten since being here. I would still really love to visit Tokyo someday, but Sapporo was amazing regardless. There I, along with friends, ate a little too much food, did a little too much shopping, and had a great time. It was a perfect way to relax after four weeks of straight studying.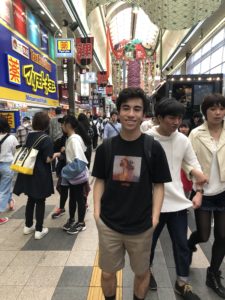 However, speaking of school, the second semester does start back up tomorrow. However, contrary to common belief, I am actually really excited. While having three hours of the same class each day, and a quiz first thing each morning, is very strenuous on the brain, I really do love class. I've come to forge strong bonds with the class and our teacher. We've even organized a group trip outside of class, with the teacher to go see a new Japanese movie and get dinner afterwards next weekend.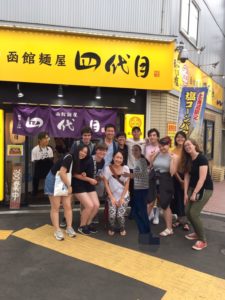 I feel like the program as a whole has not only been great in teaching us Japanese, but also getting us to feel like a community. Every single staff member there, and not only the teachers, knows the names of, and is close with all the students. The whole school is something completely unlike anything I have ever experienced before, and I am so happy that I am apart of it. My host family and I too, have become a lot closer than I would have ever anticipated. An example of this has been that on every Thursday night these past few weeks I have accompanied my host family to their gospel choir practice. My host mother actually leads a gospel choir in the Hakodate community in which they sing many English gospel songs. Therefore I help teach the pronunciation of English words. It has been a really unique experience that I've come to really enjoy; And through this I have grown a lot closer to both my host family and the entire gospel choir.