My time at Oideas Gael has officially come to a close. While I'll be happy to return home and see family and friends, I know that a part of me will always miss this summer and the friends that I made and the opportunities I had. My Irish has improved greatly, although not as much as my comfort and willingness to use it has. After leaving Oideas Gael, I made a quick side trip to Westport, County Mayo. I actually got the chance to have a full 5-minute conversation about music in Irish with one musician in the pub yesterday afternoon. It provided an amazing chance to combine some of my previous vocab and grammar from classes at Notre Dame with the extra vocab, pronunciation, and other speaking skills I acquired this summer. It was quite a fun experience for both me and the musician, who was shocked to find an American boy speaking to him in Irish. Later that night, I had the chance to sing a song during a music session in the same pub. I chose "Óró, sé do bheatha 'bhaile" because it is a song we sang my first week at Oideas Gael. It was so cool to take part in this traditional Irish activity, and it was even more fun to be able to in the Irish language. I know that before this summer, I never would have attempted to sing in front of a group of people in English, never mind in Irish. On a different note, I learned something fascinating my last week. We were discussing the fact that all the names of languages are feminine in Irish except English, which is called Bearla. I had always wondered why but never thought to ask anyone, figuring it was just a weird, random thing. As it turns out, there is a good historical reason for it. The people from England speaking some predecessor of English would have been the first foreigners the Irish came into contact, so they called the language Bearla because that word (or some similar form) essentially meant jibberish in Old Irish. They were not, in this case, naming the language after the people speaking it, but simply what it sounded like! I loved learning this, and it perfectly sums up how I felt about my experience as a whole—I learned much more than just vocab or grammar, but also history, culture, and so much more. I hope that one day in the future I'll have the opportunity to return to Oideas Gael and continue to improve my knowledge of not only the Irish language, but the rich culture and history that are intricately interwoven with the language.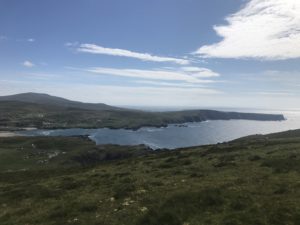 A view of from Glen Head, the mountain overlooking Gleann Cholm Cille from the North. The mountain also appears on the crest of the local GAA club, Naomh Columba.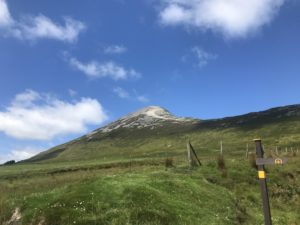 Croagh Patrick, the holy mountain near Westport, County Mayo. It is on this mountain that St. Patrick is said to have banished the serpents from Ireland.