Móra daiobh! I am currently writing all of you from the front porch of the house of my Bean an Tí (Woman of the House). The weather is interesting because it is sunny with a few clouds, but there is also a rainbow! The temperature is perfect with a comforting breeze. When I first arrived in Gleann Fhinne, I was a bit skeptical as to how I would like it because there was nothing there; in this "town," there is literally just the pub and school. The next closest shop to get any food or necessities is an hour walk away from my Bean an Tí. It is nice to have a Bean an Tí because she makes delicious meals. Her name is Caoití Campbell and is extremely nice; her accent is very strong though so it often hard to understand. Her house is rather big with six bedrooms and a vast amount of land. I particularly love this house because there are sheep in the front yard!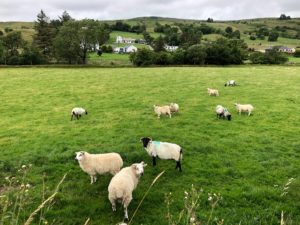 A view of my front yard
Class in Gleann Fhinne is set up a bit differently than in Gleann Cholm Cille. Instead of seven levels, there are only three. I chose level three because I wanted to challenge myself; also, the level three teacher has an Ulster accent which I have never been exposed to before. The first couple of days were definitely more challenging because I had to really listen to what he was saying as there are major dialectical differences. For example, they pronounce verbs differently. The dependent form for "were/was" is raibh. I have been accustomed to pronouncing that as "rev," however in Ulster, they pronounce it as "ro." My teacher would ask me questions with that verb and I literally would have no idea what he was talking about. However, I notice now that I am finally picking up on the differences. After this trip, I will have been exposed to the Ulster, Munster, and Connacht accents.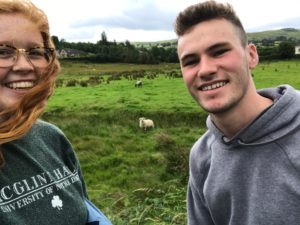 My friend and I with sheep
Like in Gleann Cholm Cille, Oideas Gael hosts a cultural activity every night. On Sunday, we had a céilí again. This céilí was special because I got to help teach the dances as I myself am an Irish dancer. Teaching dances in the Irish language was a lot more difficult than I imagined, but now I know how to do it! The past three nights we did singing, poetry, and hill-walking. The hill-walking was especially interesting. We hiked in the Blue Stack Mountains where many native Irish speakers used to live. I learned that these people had one of the purest forms of the language because they were rarely exposed to any other culture as they were hidden in the mountains. Also, they are renowned for their musical skills. Sadly, nobody lives in these mountains anymore due to small families and hardships during the winter. It is a very remote place, so it is hard to make a living in the modern age in this area.
The Blue Stack Mountains
I have a week left here in Gleann Fhinne and look forward to telling you about my last days. Slán go fóill!