Presenter
Jack Swarbrick
Vice President and James E. Rohr Director of Athletics
University of Notre Dame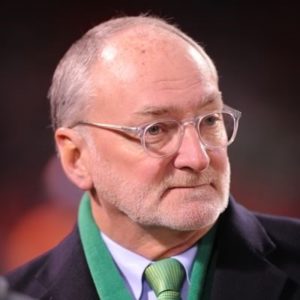 John B. "Jack" Swarbrick Jr., a University of Notre Dame graduate now in his 10th year in 2017-18 as vice president and director of athletics at his alma mater, has attached his signature to a variety of new initiatives during his tenure:
Launching of Fighting Irish Media — a major enterprise that delivers better information about and access to Notre Dame and its athletic programs via expanded production and distribution of programming.
Developing a plan for expanding Notre Dame Stadium in order to make it a year-round asset for the University, while also improving the gameday experience for student-athletes and fans.
That initiative became reality with the 2014 announcement of the Campus Crossroads Project that created new homes for student activities and recreation, career services, digital media, as well as academic disciplines anthropology, psychology, music and sacred music.
Building of student-athlete programs to develop leadership skills, increase community service and provide mentoring and career services resources.
Meeting the performance needs of Notre Dame student-athletes through establishment of a sports performance division that supports and improves athletic performance through the application of science, medicine and technology.
Over the past five years, Swarbrick played a major role in five significant announcements that positively impacted Notre Dame on the national collegiate scene:
The 2016 launch of the ACC Network – a comprehensive linear and digital network that will give fans access to more than 600 exclusive live events from across the conference.
Membership for Notre Dame's athletic teams (other than football and hockey) in the Atlantic Coast Conference that began with the 2013-14 athletic seasons. In football, Notre Dame will play five games per year against ACC opponents and also have full access to the league's list of postseason bowl options.
An extension of the University's relationship with NBC Sports through the 2025 football season.
The 2014 announcement of an unmatched 10-year relationship with Under Armour that provides performance footwear, apparel and equipment for Irish athletic programs. In addition to being a shareholder in Under Armour, Notre Dame collaborates with Under Armour in the areas of sport technology, product development and athlete performance.
Creation by the Bowl Championship Series of the four-team College Football Playoff, which started with the 2014 season, with Notre Dame maintaining viable access into that system.
Swarbrick's first nine years featured a variety of on-and off-the-field Notre Dame athletics successes:
Number-one rankings for Notre Dame (among Football Bowl Subdivision schools) in the 10 most recent NCAA Graduation Success Rate (GSR) surveys.
An appearance in the Bowl Championship Series football title game following the 2012 season — an unprecedented year in which the Irish finished the regular season 12-0 to rank number one in the final BCS poll while also ranking number one in the GSR standings.
NCAA championships in 2017 in fencing, 2013 in men's soccer, 2011 in fencing and 2010 in women's soccer.
Nine NCAA runner-up team finishes
11 other NCAA semifinal team appearances
20 Individual NCAA champions
311 All-America selections and 54 Academic All-America honorees
Born in Yonkers, New York, and raised in Yonkers and Bloomington, Indiana, Swarbrick is a 1976 magna cum laude graduate of Notre Dame, with a bachelor's degree in economics. Upon graduating from Stanford University Law School in 1980, he returned to Indiana to accept a position as an associate in the Indianapolis law firm Baker & Daniels. He was made partner in 1987 and spent 28 years with the firm.
He and his wife, Kimberly, are the parents of four children: Kate, Connor, Cal and Christopher.