Presenters
Chris Simmons
Associate Vice President
Office of Government Relations
Duke University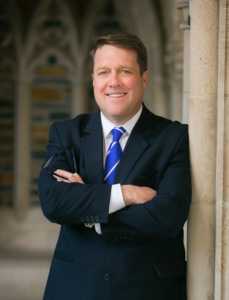 Chris came to Duke in 2006 after serving in lead advocacy roles for the Association of American Universities (AAU) and the American Council on Education (ACE) in Washington, DC. Prior to working for the higher education associations, Simmons was the policy analyst for the National Commission on the Cost of Higher Education. Authorized by Congress, the bi-partisan appointed commission produced the seminal report, Straight Talk About College Costs and Prices. Before entering the world of higher education politics, he served as the Assistant Director of Admissions at Willamette University in Salem, Oregon.
He is the past Chairman of the Board for the North Carolina Museum of Life and Science and served as co-chair for the Ad-Hoc Tax Group. He is a former member of the National Association of Independent Colleges and Universities (NAICU) Board of Directors and AAU Council of Federal Relations Steering Committee.
Simmons is a graduate of Willamette where he majored in rhetoric and art, and received his graduate degree from Harvard University. He lives in Chapel Hill with his wife Lisa, children Isabel, Scarlett, Noah, and all-American mutt Oliver.
Thomas J. Keady, Jr.
Vice President of Governmental and Community Affairs
Boston College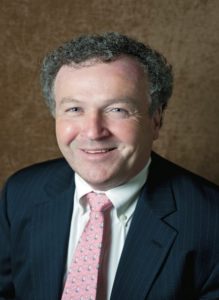 Thomas J. Keady, Jr. serves as the Vice President of Governmental and Community Affairs at Boston College where he is responsible for overseeing the University's government relations and community affairs efforts in Boston, Newton and Washington, DC.  In this position, Tom directs all aspects of Boston College's interface with federal, state and city levels of government, as well the University's outreach and interaction with local residents, community groups, and organizations.
Tom played an instrumental role in the City of Boston's approval of Boston College's Institutional Master Plan in 2009 which included over $1 billion of investment in new construction and renovation projects in Boston and Newton.  Recently completed projects in Boston include the construction of 1,030 beds of student housing in new and renovated residence halls located at 2150 Commonwealth Avenue and 2000 Commonwealth Avenue, the renovation of 2101 Commonwealth Avenue for the McMullen Museum of Art and University Conference Center, and the recent opening of the Harrington Athletics Village on the Brighton Campus, housing the University's new baseball, softball and recreation fields. Other major athletic projects currently under construction include the new Connell Recreation Center and the Field House, providing an indoor practice facility for the football program as well as other varsity and intramural sports.
Prior to joining Boston College in 2002, Tom held the position of Vice President of Government Relations and Community Affairs at Northeastern University where during his 15 year tenure,  he played a key role  in advancing campus development plans, securing federal research funding and strengthening relationships with executive and legislative offices, city agencies and neighborhood groups.
In addition to his higher education background, Tom brings extensive expertise and knowledge of the political and legislative process through his work in municipal government and on various national, state and local campaigns.  He served most recently as a senior advisor to the successful campaigns of Boston Mayor Martin J. Walsh and to House Speaker Robert DeLeo.  On the federal level, he advised the campaigns of Senators Elizabeth Warren, Edward Markey, Edward Kennedy, John Kerry and the 2004 Kerry Presidential race, as well as Congressmen Stephen Lynch and Michael Capuano.  Tom is a graduate of the University of Massachusetts-Boston, where he earned a Bachelor of Arts degree in political science.
John F. Sturm
Associate Vice President
Federal and Washington Relations
University of Notre Dame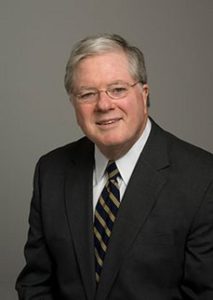 John F. Sturm has served in his current position since June 1, 2012 when he opened the University's first office in Washington, DC.  His responsibilities include executing a federal relations strategy for the University and strengthening Notre Dame's relationships with key constituencies in Washington, including the Congress, the White House, federal agencies, regulatory bodies, media, and alumni.  Based in Washington, Sturm is often on campus for meetings with administrators and faculty.
Prior to his appointment by the University, Sturm served for 16 years as president and CEO of the Newspaper Association of America (NAA), the newspaper industry's largest trade organization, before retiring in September 2011.  He also oversaw the operations of the Newspaper National Network in New York City and was president of the NAA Foundation.  He was NAA's senior vice president of public policy and general counsel before becoming its chief staff executive.
Sturm joined NAA from CBS Inc. where he was vice president, government affairs. Prior to his eight years with CBS, Sturm was with NBC as senior counsel in Washington. He also served in several capacities at the Federal Communications Commission, including assistant to the FCC Chairman.  Sturm was a commissioned officer in the US Army Reserve.
Sturm presently serves on the board of the National Association of Independent Colleges and Universities (NAICU).  He also serves on the corporate advisory board of "So Others Might Eat" and the Catholic Charities President's Council in Washington, DC
He has been a member of the boards of the Advertising Council, the American Society of Association Executives, and the Paris-based World Association of Newspapers. He chaired the American Society of Association Executives Key Industries Associations Committee and was a member of the US Chamber of Commerce Committee of 100.  Previously, Sturm served on the boards of the National Association of Broadcasters, the North American National Broadcasters Association, the American Diabetes Association and the Federal Communications Bar Association.  He is a member District of Columbia bar has been admitted to the bar of the United States Supreme Court.
He is a graduate of the University of Notre Dame and holds a law degree from Indiana University Maurer School of Law.  A native of Indiana, Sturm has been named a "Sagamore of the Wabash" by the Governor of Indiana.  He and his wife have two grown children and reside in Chevy Chase, MD.