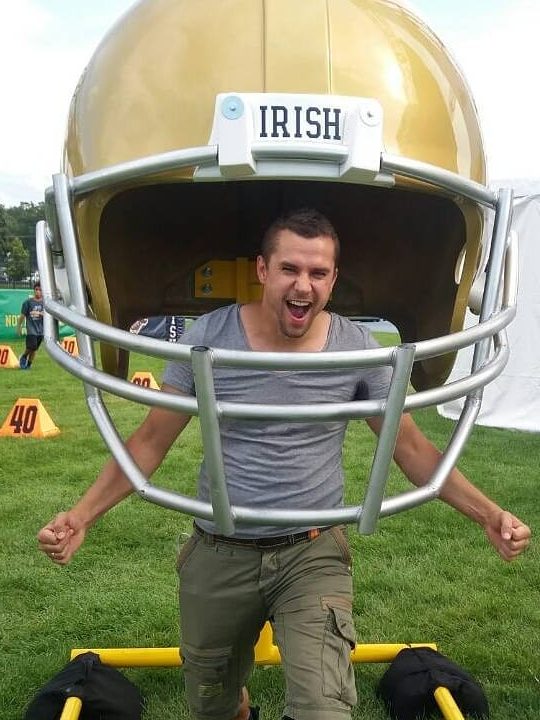 Name: Anna Gabur
Department: Sociology, PhD
Year in Program: 5th
My grad school story is a story of love – love for intellectual pursuit, love for sociology, but also eternal love for my husband Vadim. In 2017, when I told him that I wanted to study across the ocean, he could have done a number of things. He could have asked what he would be doing for 5 years in a country where he hardly speaks the language. He could have said that he had a lot to lose – a career, a steady income and a community, leaving behind his parents and a newly bought house. At the very least, he could have pointed out how difficult it would be for someone in our country to come up with the thousands of dollars needed for applications, visas and plane tickets. Instead, he bought a carry-on bag before I even got my acceptance letter. He boldly stepped into this life with me, following his wife's dream at the expense of his own security. "Did he really let you do this?" friends and family would ask. No, he did not let me; he supported me. If that is not love, I don't know what is.
The night that we bought the tickets I could not sleep. Just because he was ready to come on this journey, does not mean that I wasn't asking for too much. All the questions he could have asked, I was now asking myself. I was picturing long days when I would be working in my office into the night. What would he be doing then? Would he sit alone in a cheap rental paid for by his wife's stipend, missing the comfort of our house for which we had worked so hard? Would he turn the tv on, to drone in a language he did not quite understand? With no one to call, with nowhere to go, what would he do? Four months later, when we were telling our parents "goodbye" at the airport, I felt that the weight of sadness in his mother's eyes was something I would carry for years.
On the first morning in South Bend I was excited to share our first American breakfast at the Yellow Cat Café and to take our first of many walks around the Notre Dame campus. Looking back on that day, almost two years later, I realize those moments were also part of the love story. This time it wasn't only mine, but also his. When he asked me to take his picture in front of the golden dome, the blue of his eyes was sunny.
Schools often call themselves family and that is often an empty promise. Notre Dame and my department have gone beyond just words by being a family not only for me, but for Vadim as well. I was worried he would have nowhere to go and instead he took full advantage of the spouse ID exploring the city by bus and going to the gym – something we previously couldn't afford. I wondered if he would be bored, but he went to sports games and concerts, telling me time and again "today I saw something for the first time." I was afraid that he would have no friends, but he was welcomed with arms wide open by everyone he met. There was no social function where he wasn't greeted by name, with a smile and a hug. In time we discovered that he could use medical services on campus, get help with his taxes and access resources that helped him improve his knowledge of English and get a job. This place has shown him nothing but care and love. As we walked around the lake, admiring baby swans, Vadim shared that he had never been happier. I know that I had to write about my experience in grad school, but after seven years of marriage, nothing is only mine or his anymore. There can be no intellectual freedom and enthusiastic dedication when you are weighed down by worries for the person you love. In taking care of my husband, Notre Dame has also taken care of me. I know this love story will only grow more beautiful in time.