Meet the wonderful members of my lab!
Alexandra Niclou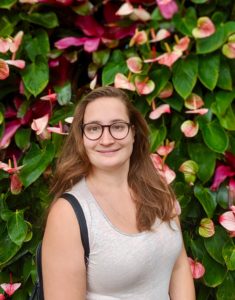 Originally from Luxembourg (yes, the country, no, not Germany) I hold a BA in Biochemistry from Clark University (MA) and a MS in biomedical anthropology from Binghamton University (NY). I am received my  PhD from the University of Notre Dame in 2022 with a focus on human energetics and physiological adaptations. My research looks at the variation in brown fat activity in adults under different climatic and energetic conditions. My work seeks to parse out the metabolic cost of brown fat and the effects of physical exercise on its activity. I intend to demonstrate the role of brown fat in seasonal acclimatization and its evolutionary function in human cold-adaptation. I am currently a post-doctoral research at Pennington Biomedical Research Center.
I have been an avid rower ever since college and I also enjoy hiking and participated in a two-week backcountry backpacking trip in the Talkeetna mountains of Alaska in 2018. My research allows me to merge my passion for the great outdoors, physical activity, and energetics and analyze those interactions from an anthropological perspective.