Over the  years, I have had the opportunity to teach a number of wonderful classes, and I am happy to share my syllabi here. If you would like further details for any of these classes, please do not hesitate to contact me.
Fundamentals of Biological Anthropology
Level: Freshman & Sophomore, though I have had plenty of upperclassmen
Description: This course will provide you with broad background in the field of biological anthropology with a focus on human evolution. The course is divided into 4 primary sections. 1) we will discuss the history and development of evolutionary theory and cover basic genetics. 2) we will focus on living non-human primates, their morphology, behavior and ecology. 3) we will focus on the fossil record to understand human evolution. 4) we will examine modern human dispersal, variation, and current topics in biological anthropology.
Fundamentals Fall 2022 Syllabus FINAL (not textbook)
Fundamentals Spring 2022 Syllabus (also no textbook)
Fundamentals of Biological Anthropology Syllabus Fall 2021 (No Textbook)
Fundamentals of Biological Anthropology Spring 2020 Syllabus (no textbook!)
Fundamentals of Biological Anthropology Fall 2019 Syllabus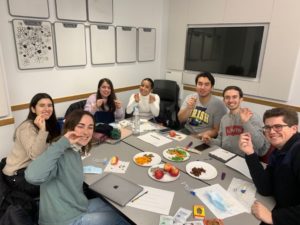 Exercise Physiology
Level: Junior & Senior
Description: This course will be a broad introduction to exercise physiology. The class will be split into two basic units: 1) Powerlifters and 2) Marathoners. Topics covered will include basic nutrition, cellular metabolism, response to exercise, muscle physiology, training, body composition, some methodological exercise testing, recovery, fatigue, and activity in extreme environments.
Spring 2022 Exercise Physiology Syllabus
Exercise Physiology Spring 2019 Syllabus
Exercise Physiology Lab Syllabus Spring 2019
Blood, Guts, & Glory: Anthropology of Sports
Level: Undergraduate All Levels
Description: This course will examine the interactions of culture and biology within sports. The anthropology of sports can help us gain valuable insights into broader social and cultural phenomena, the role of ritual in society, and illuminate how sports have been used to bring people together, but also to exclude people. A central focus of this course will be how sports and cultural stereotypes are used to perpetuate biological myths and misconceptions. Drawing on case studies from around the world, we will pay special attention to questions of gender, race, genetics, nationality, health, equality, and human variation. In addition, students will be encouraged to think critically about their own sporting experiences, both as active participants and as fans, and how sports impact their lives.
Anthropology of Sports Fall 2020 Syllabus
Anthropology of Sports Fall 2021 Syllabus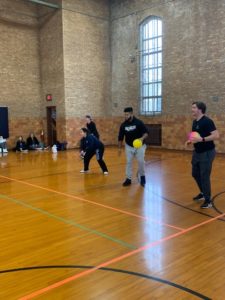 Humans at the Extremes
Level: Junior & Senior
Description: The Arctic Circle, Mount Everest, the Sahara Desert, poverty, and obesity, and even space! These are all extremes some humans experience. Using primary literature and pop culture resources, this course will explore how humans have biologically, culturally, and technologically overcome these extremes. Through this use of mixed media we will also discuss how the media misrepresents and misreports scientific studies, making us all more discerning consumers of information. You will be expected to compare and contract different types of resources for each topic covered. You will also be expected to work within a group to explore a human extreme of your own choosing and present it to the class.
Humans at the Extremes Spring 2019 Syllabus
Humans at Extremes Spring 2020 Syllabus
Human Biomechanics
Level: Junior & Senior
Description: This course explores how humans move with the goal of providing a strong foundation for future training and clinical practice. During the first part of the course, we will cover fundamental concepts and terminology, basic joint mechanics, muscle physiology, and applied biomechanics. The rest of the class will focus on the regional biomechanics and evolution of the human upper extremity, axial skeleton, and lower extremity. This course approaches human biomechanics qualitatively, not quantitatively, which means you DO NOT NEED PHYSICS for this class! Don't let the fear of math keep you away from learning how and why we move the way we do.
Human Biomechanics Fall 2018 Syllabus
Human Biomechanics Laboratory Syllabus – Friday Fall 2018
Human Energetics
Level: Graduate Seminar
Description: Like all animals, humans turn food energy into offspring, but, uniquely, humans also convert energy into art, music, and sport. Cultural influences on non-reproductive efforts and the human ability to survive and thrive across the planet are fascinating from an energetic perspective. This class examines the basic components (basal metabolic rate, physical activity, and thermoregulation for example) of human total energy expenditure (TEE, kcal day-1) and the important interactions among these components that affect overall energy budgets. As knowledge of human TEE has deepened, so too has the ability to interpret observable patterns in human metabolic physiology, such as limits on the amount of calories humans are able to burn and how those limits may mediate life history variables. We will also look at some of the new theories aimed at explaining these observed patterns. However, anthropological work on how humans interact with their environments to acquire and use energy does not occur within a vacuum. The growing obesity epidemic and public interest in ways to improve health and well-being means that human energetics research is highly sought after by a broad lay audience. As such, you will be expected to give short presentations aimed at the general public to hone your communication skills.
Human Energetics Fall 2018 Syllabus
Evolutionary Medicine
Level: Graduate Seminar
Description: Back pain, knee pain, allergies, morning sickness, and even the common cold. These are all common health problems we and most every person you know have had. But why do these health conditions exist? In this class we will investigate these questions and others by using evolutionary theory to better understand contemporary health conditions. More importantly we will ask the questions, "Will incorporating evolutionary theory into medicine improve practice and patient outcomes?" "How can we use evolutionary medicine in a public health aspect?" "Should and how can we incorporate evolutionary medicine in our own research?"