Nathan Miller, Senior Anchor Intern
"All you peoples, clap your hands; shout to God with joyful cries." Psalm 47:2
In my blog last semester, I reflected on the Litany of Humility prayer. In my blog this semester, God has given me a whole new life experience to understand humility…and right now, I can't say I'm all too thrilled about it.
Just a few days before Christmas, I had surgery to repair my torn ACL (and meniscus, as I found out afterward). But this wasn't a recent injury. I had torn it in the first couple weeks of fall semester playing football with my friends. If anyone asks though, just tell them I was wrestling a bloodthirsty bear while protecting a small child lost in the woods.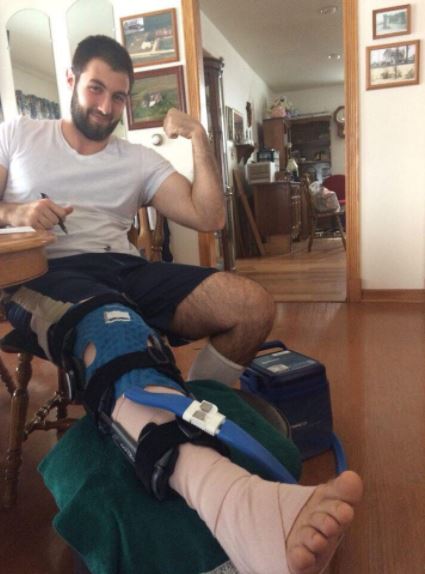 I celebrated the Christmas season with a big brace on my leg, using crutches to get everywhere. I needed help with simple things like getting dressed, showering, making food, and pretty much everything else that would normally require you to balance on both legs. Every task was a "big production" as I came to say, and my limited mobility kept me from getting out of the house very much. As someone who is used to providing for himself, I quickly grew frustrated with my temporary disability.
It is remarkable how quickly frustration can erode joy. On one hand, I had so many reasons to be thankful – the surgery was successful, I had adequate insurance, and my family and girlfriend went to great lengths to care for me and make me comfortable. Even more, I was still able to attend Christmas Mass and see my extended family as we celebrated the coming of Emmanuel. But yet, my frustrations mounted. Getting up at night to use the bathroom was a hobbling mess. Mom always offering 5 different ways to help when all I wanted was to rest. And probably above all, I felt incredibly lethargic and cooped up. My motivation to do things like reading books or study for my upcoming CPA exams was low, and even lower was my motivation to pray. You would think that having so much free time, especially over Christmas season, would have inspired me to pray. But I found many excuses: "I have to do my rehab exercises first" or "I need to take a nap first" or "now my family is home I should play a game with them."
Unable to move normally. Frustrated with being taken care of all the time. Not taking time for prayer. I realized about one week after surgery that my supply of joy was running on fumes. How did I deteriorate so quickly? Of course, there is something to be said for coming off of major surgery and still being on strong pain meds, but I also had to find the wellspring of hope to replenish my joy.
Two things in particular helped me reclaim a spirit of joy amidst my temporary disability.
First, I needed to express gratitude, internally and externally, for the gracious help of my family, but in particular my mom. As we were driving back from visiting one of my relatives, she sat in the second row of the van with me and let me rest my leg on her lap (since I needed to keep it straight and that's a difficult task in a vehicle). As my leg rested there, she silently started massaging my foot. In a few moments, I was unexpectedly overcome with a sincere feeling of gratefulness and humility. In that small moment, I saw how deeply she cared about me. For this time in my life, I once again needed to unabashedly rely on my mother's love. Recognizing this brought me one step closer to joy. I allowed all the kindness of my loved ones to soak in as I embraced my limited capabilities. Gratitude is a wonderful medicine for grumpiness.
Second, I brought myself back to a routine of prayer. As I sipped my morning coffee, I sat by the window and started with Morning Prayer from the Liturgy of the Hours. It has long been one of my favorite ways to pray because it makes me feel a deep connection with the universal church and puts words into prayer for a whole spectrum of human emotions. Even though it's my favorite prayer, it was still difficult most mornings to start it. After about five minutes of praying, however, I felt my resistance soften and my mind open for God to enter. From there, I was able to use my own words to talk with God about how I was feeling – my frustrations and my desire for joy. He in turn comforted me with His steady peace and directed me to embrace gratitude. This conversational prayer helped me see God amidst my little suffering, but was only possible because I first entered into formal prayer. It's amazing how the Holy Spirit works through our prayer, even when we feel we are at our weakest.
Joy is decidedly different from happiness. Happiness is fleeting, yet joy is sustaining. Even still, I found that joy can run dry, and it is in these times that we need to draw on the wellspring of love shown to us by our family, our friends, and above all, our Heavenly Father. Joy, invigorated by gratitude, is one of the marks of a Christian life. It is a mark I hope you will join me in striving for each day, on Our Lady's campus and beyond.
"May the God of hope fill you with all joy and peace in believing, so that you may abound in hope by the power of the Holy Spirit." Romans 15:13