Imanne Mondane, Senior, Anthopology major and African Studies minor
In deciding how to center this blog post, I found myself torn between many different topics. However, after debating with myself for long hours, I realized that as a student at Notre Dame (as rewarding as it may be) I am well-versed on a familiar topic: struggle. Most – if not all – Notre Dame students have experienced the universal hardships of living and studying at this top tier university. Whether a failed exam, empty pockets, financial struggles, familial issues, social awkwardness, depression, racism, roommate quarrels, lack of a social life, endless drama, lack of motivation, illness or health issues, we have each been blessed with our own, unique cross to bear. Notice that I said BLESSED. Yes, as hard as it may seem, struggle, strain, tears, hardship, pain, and storms are a part of our life's blessings. Such moments of great challenge present us with the opportunity to obtain and share our testimony. In these occurrences we experience God's love, grace, and mercy the most. Through the storms he is already pulling us out of, we should give him the honor and glory he deserves.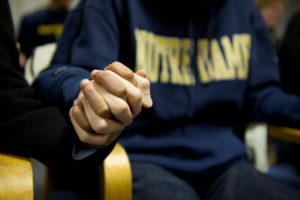 A friend of mine gave me a brief, priceless piece of advice, which motivated me throughout what I consider to be the most difficult week of my entire 21 years of life. After facing disappointment and heartbreak, and shedding a countless amount of tears, I felt that I was in an eternal place of darkness. I had lost hope for change and deliverance. As I shared this news with my friend, she told me the following: "Christ bore the cross for us. And although things may be hard now and the pain seems endless, there is still beauty in suffering. We cannot reject the tests and trials that God blesses us with. We have to embrace them just as Christ did. We have to embrace our cross because once we embrace it, we are also acknowledging that God is still in control and that our faith and trust in him enables us to hold out hope for the light that always follows darkness." These words meant the world to me. They not only enlightened me, but they reminded me of the ways in which I had given up on God's authority and mercy. I had forgotten that his will is greater than anything I can will for myself. Although the situations and feelings of sorrow that I was facing did not end immediately, this reminded me that God is Lord over my life and was enough to fill me with hope and faith in my Savior. I could worship him through the rough times just as I worship him through my triumphs. Hearing this from my friend, as well as words from my mother reminding me of the victories that God has declared over my life, encouraged me that day and every day to come, and I hope they are able to do the same for you.
Always remember that we serve a God who has already declared victory over our lives. There is no mountain that he has not conquered, and no obstacle that he has not overcome. He placed within each of us the will to fight, to persevere, and the strength to defeat the enemy. He has equipped us with the tools to tackle each test and turn it into a testimony. We serve a God who has conquered the world; thus, when you've reached your lowest of lows, and the stream of darkness seems never ending, I encourage you to remind yourselves of the following:
"We have peace with God through our Lord Jesus Christ, through whom we have gained access by faith into this grace in which we now stand. And we boast in the hope of the glory of God. Not only so, but we also glory in our sufferings, because we know that suffering produces perseverance; perseverance, character; and character, hope. And hope does not put us to shame, because God's love has been poured out into our hearts through the Holy Spirit, who has been given to us" (Romans 5: 2-5).