Emily David, Senior Anchor Intern
We all know the feeling of being overwhelmed. We have lived this pattern of trying to get everything done in a day to get to bed at a decent hour, working right up to deadlines, and then only being able to relax for a bit… repeat. We say we'll get ahead over the weekend -which probably only happens 5% of the time for me- and then Sunday 10 PM rolls around, and we're frustrated that we've paradoxically neither been "productive" nor honored the Lord's day of rest. In moments of overwhelming busyness, I tend to remind myself, "OK, this has happened countless times before. You've got a few late nights ahead. But it's all going to get done. It always does. Don't let perfect be the enemy of good… or done… just get past these papers due Friday… the weekend is almost here…" and so on.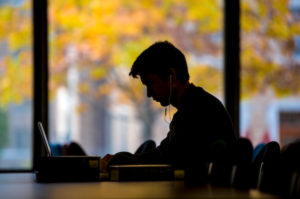 How many times have we found hope in the next thing? To what extent does having something to look forward to fill us with some consolation in the present moment? Reflecting on this has taught me two things: 1) I seek hope in something beyond myself, and 2) I want joy and consolation now. "Once I make it to Thursday after this exam, I'll be OK." But don't we want to be OK now, on Tuesday? Don't we want to live now? Something so much greater, something beyond ourselves promises life now.
I just returned from Rome where I led the Holy Week Pilgrimage for ND students studying abroad. It was a week of pure joy, which I carry with me now, despite the work left to do as the semester wraps up. Closing his homily on Easter Sunday in St. Peter's Square, Pope Francis encouraged us to think about the everyday problems of life and say, "with a humble voice…to God who's in front of us: 'I don't know how this is going, but I'm sure that Christ has risen.'" I could see that Papa Frank was hurting for the world. Yet, there was a peaceful serenity about him: he accepts reality because he is certain of something greater that fills the present reality with hope.
This "something greater" is the resurrection. My certainty is in God's mercy incarnated in the life, death, and resurrection of His Son. My certainty is in a past event of 2,000 years ago, because the Mystery present then continues to change everything now. We need a yearly reminder at Easter of the daily reality of the resurrection. Similarly, I have certainty that I will make it through my busy weeks and exams because my past experience reminds me that everything will be OK no matter how hard it seems right now. Our remembrance of Good Friday reminds us to acknowledge the real feelings of hopelessness surrounding Christ's death but to keep our hearts set on the hope of the resurrection that we know will be realized two days later. That one day is meant to help us acknowledge our own suffering while reminding us to seek hope in prayer through our personal "Good Fridays" throughout the year.
Don't get me wrong, reminding myself that the papers will get done and that the weekend is almost here does help me chug through everything. Additionally, in moments of overwhelming busyness, let's remember to pray. Just a short, simple prayer: God, please help me to get through this. I place myself and this work into your hands. I know that after praying, I still have work that needs to get done, choices I need to make, and consequences to accept. I may not feel a surge of peace after prayer, but even the simplest prayer is an act of trust that fills my soul with a deeper peace beyond emotions, with strength despite my sleep deprivation. Prayer is a powerful acknowledgment of the One who promises us life right now, of which we are reminded during our Easter celebration. God, "I don't know how this is going, but I'm sure that Christ has risen."