Julia Erdlen, Senior Anchor Intern
As we approach the final days of Lent during this Holy Week, I find the cross more and more frequently in my thoughts. Unsurprising, when Notre Dame was founded by the Congregation of Holy Cross, the motto became Ave Crux Spes Unica – Hail the Cross, Our Only Hope. The cross is never far from my mind. This past Sunday, we heard the full Passion narrative and will be immersed in the saving power of the crucifixion this upcoming Good Friday.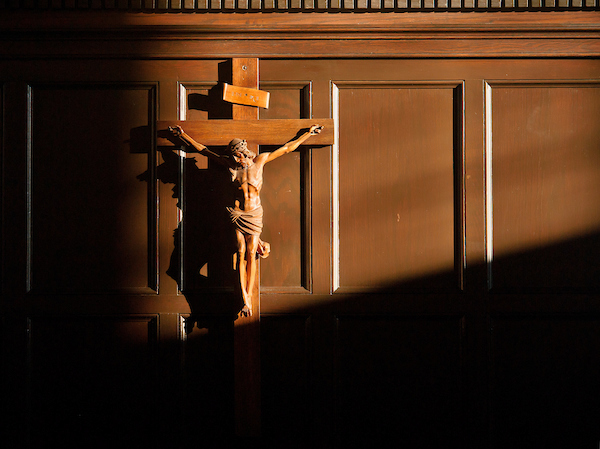 "Take up your cross, the Savior said, if you would my disciple be. Take up your cross with willing heart, and humbly follow after me."
These lyrics have been heard frequently during the Lenten season, for good reason.
We all have crosses, but Lent provides a distinct time to recognize their existence. We reflect, pray, and truly examine our lives during this season. We take up burdens, lift them up, and try not to begrudge the fact that we must carry them.
Simon of Cyrene carried the burden of Jesus Christ, the burden of the instrument of a death sentence that would save the world from sin and death. For however brief a time, he carried the weight. He was not exactly willing, but he nonetheless carried that unimaginable burden. He did not get to choose if he carried that burden. He was pressed into service in this way, drawn out of the crowd to take the weight off of Christ's shoulders.
Simon carried the weight because Jesus had fallen, had shown his physical, human weakness. Jesus fell, and others saw him do so. There was no hiding his human weakness, on display for those who watched him carry his cross to Calvary. But we can hide. Most of us lack the sort of crosses that are displayed obviously to the world, and the most complicated struggles are often those we can hide. It is easier to hide what we carry when we are not the center of a spectacle designed to mock and ridicule, with the added humiliation of carrying a gigantic wooden cross that will be the instrument of suffering and salvation.
We are not usually subject to quite such a public fall, and do not collapse under our burdens for all to see. Sometimes words fail. Sometimes it takes a visible fall to reveal the heavy burdens that another person could help you carry. If Christ, God made human, can accept the help, we are no weaker for imitating him.
The crucifixion was in front of a crowd, and Christ did not have to find the words to express his human weakness. We often are required to reveal ourselves, to lay down our sorrows at the foot of the cross, and ask for help.
Matthew's Gospel states "Come to me, all you who labor and are burdened, and I will give you rest. Take my yoke upon you and learn from me, for I am meek and humble of heart; and you will find rest for yourselves. For my yoke is easy, and my burden light."
The cross does not exactly seem like the easy yoke and light burden that is spoken of in Matthew's Gospel. But we are all called to be Simon as much as we are Christ. To accept the help of others and to pick up the crosses that are not ours alone. We exist in community, the catholic, universal church, sharing all in common for the good of us all. We must share in carrying the burdens of our friends, communities, and the whole world. It is why we share our intercessions publicly in the residence hall Masses. It is why we ask for prayers from friends when we have stressful exams. It is why we light candles at the Grotto for all to see, that they may pray for our intentions as well.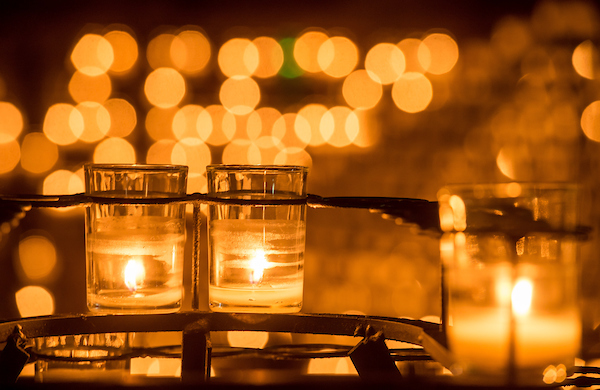 If we all were expected to carry our crosses alone, without the help of our communities which is ultimately accepting the help of God, we would not be able to rise after our falls.