Thomas Wheeler, Anchor Senior Intern
"By this is my Father glorified, that you bear great fruit, and so prove to be my disciples." (John 15:8).
Evangelization is a word that a lot of Christians get super excited about. Spreading the gospel! That's what Jesus wants me to do, and that's what St. Paul did, right? Sign me right up for that! But what do we often think we would do to achieve this high aim of preaching the gospel to all the nations? We look to the great saints like John Paul II and Mother Teresa whom God has blessed us with in this generation, who look like superheroes of love in a postmodern and anti-religious world. We see some of our fantastic theology teachers here at Notre Dame who live out their faith and inspire us through their brilliant minds and lectures. We look back to our times at conferences and retreats, where the talks and sessions, combined with powerful experiences of prayer, fill us with the zeal to go forth and proclaim the gospel to all nations.
Here at Notre Dame, many people who dream of using their education and talents to make drastic impacts on our society, our nation, and the world. Studying with engineers, I run into a lot of people who want to help design more efficient and innovative structures, compounds, and methods within their respective fields. And yet, the majority of people do not end up producing "game-changing" technologies and "never before seen" machines that will live up the expectation of making the world a better place.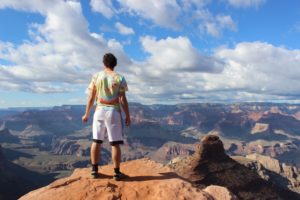 Within the realm of evangelization, I know I have definitely fallen into this temptation as well. I sometimes find myself desiring to be the new prophet to the nations that will bring the whole world to understand God's love for them. I want to be the one to convert droves of high schoolers to Christ through my passionate talks and dulcet tones as a worship leader. I want to be the one who knows all the apologetic responses to the pagans and non-believers who do not see the God who sits right before their eyes. I want to be the one people know because of the great parish mission or retreat that I put on that caused them to drop their nets and surrender their life to Christ. I want to be the one who writes that great book on the spiritual life that people will continue to read until the Second Coming. I fall into thinking that evangelization is all about the big things: giving talks, fighting off false prophets, teaching classes, and writing books.
But looking at my life, I know that this is not even the norm for evangelization or how people come to know the gospel. Speakers, theology professors, and other Christian "celebrities" are all great people and have shaped my life. However, my faith did not sprout from a single prophetic message, but from discipleship.
In his book, Set All Afire, Louis deWohl depicts the life of St. Francis Xavier, including his time in university before his conversion. Francis and his college roommate, now St. Peter Faber, are described as typical party-goers, good at athletics, and thriving in the successes of their academic life. One day, they are forced to add another roommate to their living quarters: an older student who would later take the name of Ignatius (of Loyola). At first, Francis and Peter despise the pious Ignatius, who always seems to be at peace, no matter what sort of drama and stress their school-life is putting them through. However, eventually, the two of them begin to question Ignatius and have conversations with him about where his joy and peace comes from. Thus begins the relationship and discipleship through which Ignatius, over the course of many years, leads them to know Christ. Peter Faber later becomes the great Christian teacher and the first priest of the Society of Jesus; and Francis Xavier becomes the first Christian missionary to successfully bring the Gospel to East Asia, impacting countless lives.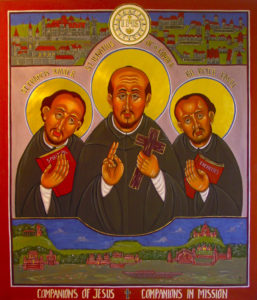 Simple discipleship and relationship is the norm of evangelization, and Jesus even demonstrates this in the Gospels. He gives great sermons and heals many lives, but he spent even more time investing in his closest disciples, who would become the foundation for the Church he planned to build here on Earth. Jesus still works to spread his message through the people who have mentored us and invited us into discipleship. Through the Life Teen missionary that led my friends and I through Bible Study during my senior year of high school, Jesus showed himself to me in a simple relationship, but has profoundly worked in my heart to continue to lead others to Christ in the same way.
I am reminded of the parable of the mustard seed, which we have all heard and read so many times before:
"The kingdom of God… is like a mustard seed, which, when sown upon the ground, is the smallest of all the seeds on earth; yet when it is sown it grows up and becomes the greatest of all shrubs, and puts forth large branches, so that the birds of the air can make nests in its shade." (Mark 4:30-32).
It is easy to discard relational ministry and discipleship as something too simple to affect enough people to actually make an impact on the world around us. We would much rather seek our vocation in ways that directly impact large masses of people, but in fact, we can never know the gravity of leading a single person to Christ through relationship. Most people are called to married life, and even the conversion of a future father or mother impacts the entire line of their descendants, who will likely be raised in a household where faith and love of God comes first. Ignatius could not have known how the relationship he had with Francis Xavier could have born fruit in the conversion of entire islands in the Indian and Pacific Oceans. But Jesus knew the importance of spending time discipling the Apostles, teaching them not only by his words, but with his entire life. If we want to change the world and set it ablaze with the love of God, we must imitate Christ's example and commit to a life of discipleship, both in following him, and in leading our friends to him.