Other than grinding out the homework this past week, there hasn't been too much excitement in the realm of learning Japanese recently. The relationship of language between my host family and me has certainly improved, and I'm sure it will continue that way, but I've been also becoming more acquainted with the area we're residing in, another asset to having this program centered in a smaller city than, let's say, Tokyo.
Along with the language classes we are required to take for the program, there is also an assortment of culture classes that are offered for us to pick from. One of these is called "sado", which means tea ceremony, and I, along with a few of my friends, signed up to attend. We traveled to a local all-girls high school where their sado club brought us treats and green tea to make ourselves.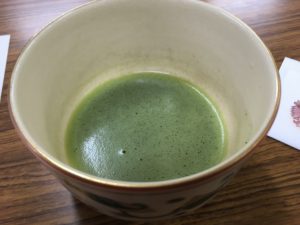 This was my finished product after stirring. Other than our interaction with the food, we had the opportunity to converse with the students as well. Although my conversation with the first girl to help me fell a bit flat (I completely forgot the word for "country" and she tried asking me where I was from), I was able to upkeep some dialogue with the second girl that stood near me. Her English was incredibly good, and I was pleasantly astounded with how easy it was to talk to her. Her skill in my native language definitely trumps any skill of mine in speaking hers.
Finally, the last event I wanted to talk about was the trip to Onuma Park everyone in the program participated in this past weekend. We barely had to talk in Japanese except when paying for miscellaneous things, so it was relaxing just to walk around and enjoy the nature without being overly stressed. It was a beautiful view (of one I have a picture of below), and I was really glad to walk and row around the small islands.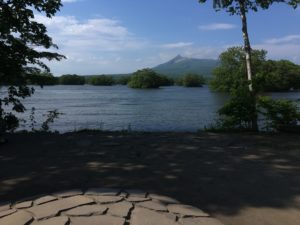 Saturday night was the talent show of the program, something I'm not sure many of us were looking forwards to, as each class had been practicing a dance they would each perform in front of everyone else. After a filling dinner, my class was up first, but thankfully our robotic dance moves were performed swiftly and we were off that stage before we knew it. After that was karaoke, and although some people were daring enough to sing in Japanese, my friend and I stuck to the basics – songs in English. The trip was overall enjoyable, but I was happy to return the next day.
As soon as I was picked up from the bus which had left from Onuma, the younger sister drove me to the church, where the elder was. We waited for Mass to finish, and that was when I had a bit of an embarrassing encounter. The older sister gave me a "present", she said, and told me to go thank one of the gentlemen sitting in the pews once Mass concluded. Typical me, I misunderstood and thought I was giving him the origami as a gift of thanks for something I couldn't remember, when, in actuality, he had gave the origami to me.  So, once I reached him, I held out the origami and said my thanks, becoming a bit confused when he didn't accept what I was holding. Now, remember, both he and the host sisters were talking in Japanese to me this whole while, so I had a bit of an excuse for messing this up. Luckily, I got the message after a few short exchanges, and he didn't seem to register my mess-up.
Other than that, my week was pretty mundane. The sisters and I traveled to see the night view of Mt. Hakodate, which was breathtaking and something you could really only experience being there. I'm hoping to return and see the view during the day with my friend. Anyways, until then, thanks for reading!