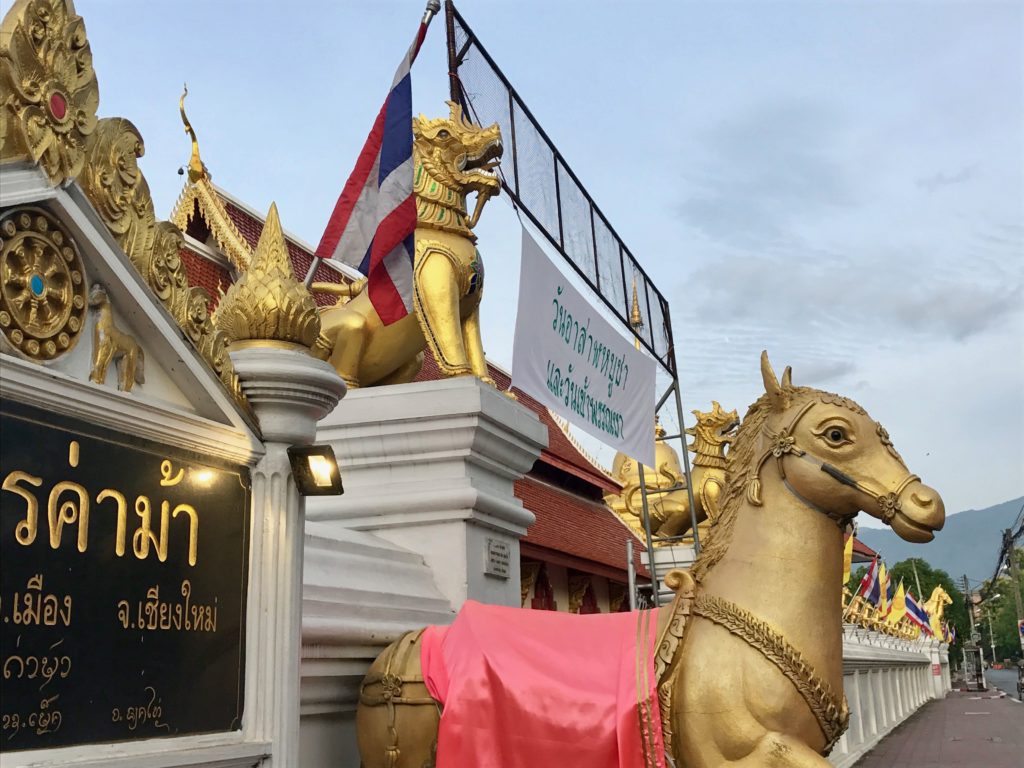 My first month in Chiang Mai, I had an apartment on Nimmanhaemin Road, which is a great location to access cafes, shops, malls, transport, etc. The area is known for the droves of digital nomads, hipsters, and yes, sigh, shopping tourists. I was craving a place with a little more authentic Thai flavor so I moved to the old city. Now, I live next door to a wat (temple) that is surrounded by golden horses. The monks' morning bells are my free alarm clock.
I've rented a bicycle for the month and life is so much more joyous! Sometimes I can't believe the busy roads and chaotic streets I ride through. It is terrifying and exhilarating all at once! The thing is, the traffic is actually very relaxed. People don't move hastily or aggressively. Red lights and street lanes are suggestions. The driving is creative and fluid. It feels as though I am floating down a river filled with motorcycles, songtaews, cars and other bikes. The invisible space bubble I am accustomed to is no longer. One must bobble, weave and expect the unexpected at every moment, and be completely present (and calm) while doing this. My bright pink helmet and neon yellow bag also help me to be more visible.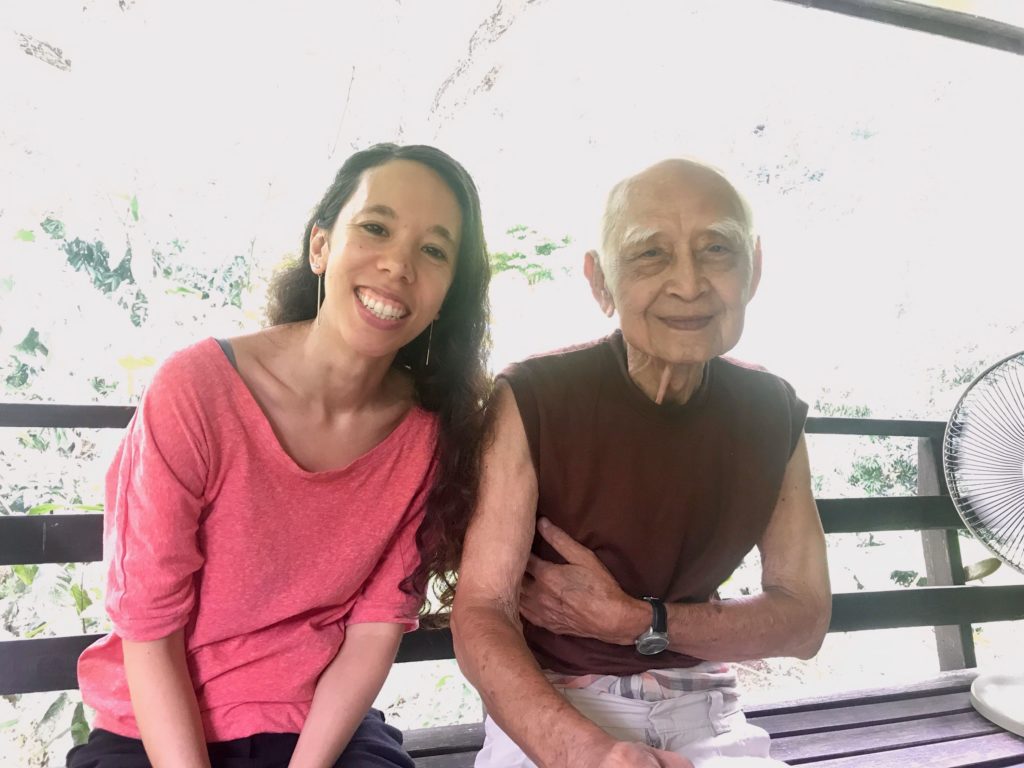 My uncle recently had his 90th birthday! I rented a car with Laos, my partner, and we took a day trip north to visit my uncle and cousin. It was my first international driving experience! I could read only some signs and did not have wifi or GPS – but I had a good feeling (and an excellent co-pilot!) and we just went with it. After only one U-turn (missed a turn due to construction) and we made it! We were so happy to spend a few hours together and enjoy fishball noodle soup and then eat some local sweet snacks.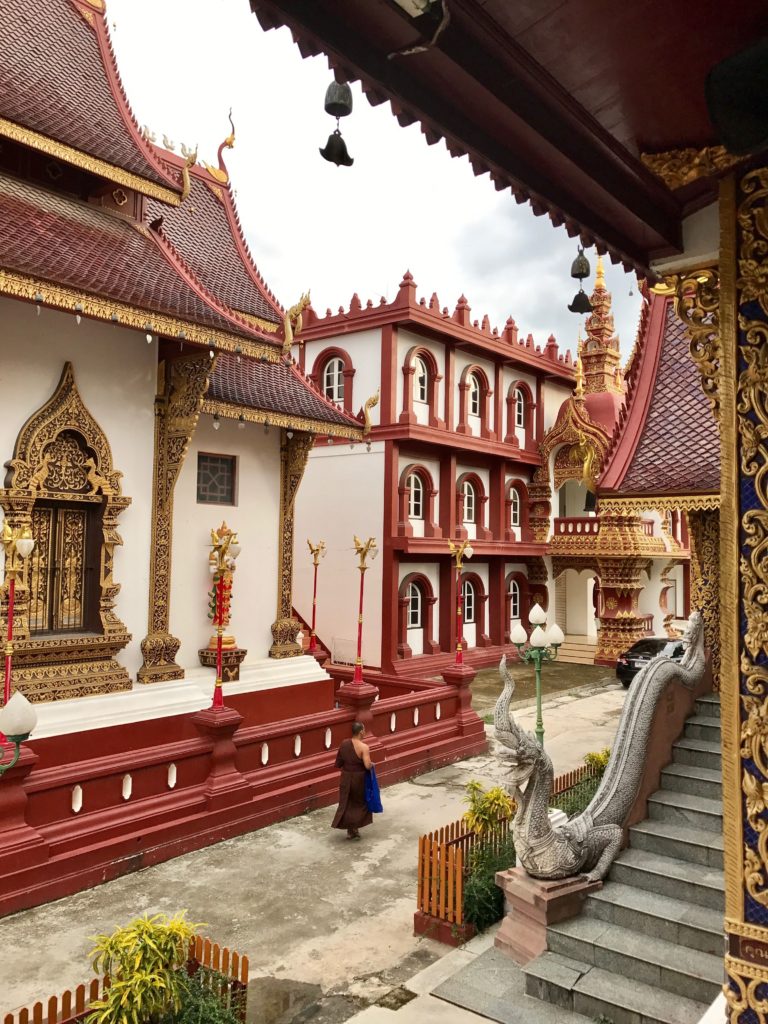 This past weekend was Asahna Bucha Day วันอาสาฬหบูชา and Kao Phan Sa วันเข้าพรรษา, Thai holidays. They fall on the full moon of the eighth lunar month. I made my first offering to a monk at Wat Phan On. It is a small quiet temple with a peaceful atmosphere and a lovely golden chedi. I chose my sangkataan – a basket containing everyday items like soap, toothpaste, and balms to donate to the monks. I went inside and kneeled down before a monk and said a few sentences in Thai. He asked me a few questions and we had a short conversation (mostly in Thai!). He said he had lived at that wat for 21 years. He sprinkled aromatic water over my head while chanting blessings. It was a very moving experience. When I walked out onto the street, it felt as though all strangers had smiling faces and everything moved in slow motion.
The following morning I awoke at 5:30am to do a dak bat offering at a wat near my new apartment. Many people were dressed in beautiful bright colored silks and carrying bags of food and rice to feed the monks for the special holiday. I sat down beside 2 women in front of a monk and and they showed me what to do. I poured water from a decorative container into a silver bowl while meditating as the monk chanted blessings. Then the water in the bowl is poured outside onto the earth.
Other highlights and new discoveries of the week:
Trying new fresh fruits!!! —> Mangostein (not at all like a mango!), guava, passionfruit, white dragon fruit —> all delicious!
I bought some peanuts from a little girl with big eyes. The following day, I brought them to school for a snack after class and was disheartened when I cracked one open and the nuts inside were black. I opened another. Same. With a sour face, I asked my teacher about it. She laughed and said "gin daai!" Meaning "Eat can!" I love these fresh peanuts. They are black or white or grey inside the shell, and a little bit wet. So very good!
Watched a Thai movie with English subtitles. Before the previews, everybody must stand up to respect the King while the national song plays. Images of the new King Maha Vajiralongkorn (Aka Rama X) are displayed in gilded frames amidst a luminous dawn. 

In honor of the late King Bhumibol, I made paper flowers for the upcoming Royal Cremation Ceremony taking place this year October 25-29. Flower-making hubs can be found throughout Thailand. I made the daffodil, which was His Majesty King Bhumibol's favorite flower. He often presented this flower to Her Majesty Queen Sirikit, when they stayed in Switzerland.
Another song to help learn Thai! This one is so funny and combines English and Thai, particularly common phrases many "farang" (foreigners) have difficulty saying in Thai.