This past weekend included the 14th of July, otherwise known as the "Quatorze Juillet" in France. My host mom clarified to us one night at the dinner table that it's really only the Americans who routinely call it "Bastille Day." The French prefer to just call it the "14th of July" since that title refers more to the idea of independence rather than revolution. You also don't really say "joyeaux quartorze juillet" (happy 14th of July) here. According to my host mom, it's really only an American thing to just declare "happy … !" for any event that comes up in our daily routine.
For the actual day of this French celebration, however, I took a trip to Paris with one of the other students living in my host house. We didn't arrive in time to see the parade on the Champs-Élyssés, but we did see the news and military helicopters from the event flying overhead as we walked along the Seine. Overall, though, it was interesting to just see so many people dressed in red, white, and blue because normally, there aren't many explicit national symbols of France on the streets. What I mean is that in America, we have American flags and political symbols everywhere. I'm remembering in particular how in elementary and middle school, there was an American flag in every room and we would all stand for the pledge of allegiance every morning. In contrast, French flags are hung only outside of official public buildings, so the 14 of July carried an expected, yet still exciting, change in seeing so many people celebrating their country since I haven't see that much explicit French patriotism since arriving.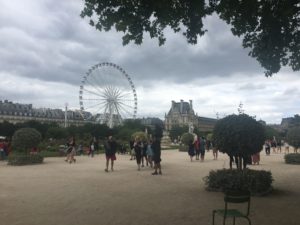 By late afternoon, this area in the Jardin des Tuileries was filled with people dancing and celebrating the holiday as they prepared to watch the firework festival later that evening.
Similar to Americans, the French close out their 14 Juillet with a display of "feux d'artifice" (fireworks). I arrived back in Tours just in time to see the finale of red, white, and blue over the Loire. We had a perfect view of the show on the bus as we crossed the bridge over the river and back into the city, so it was certainly a "jour de l'indépendance" of "rouge, blanc, et bleu" to remember.