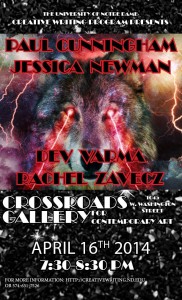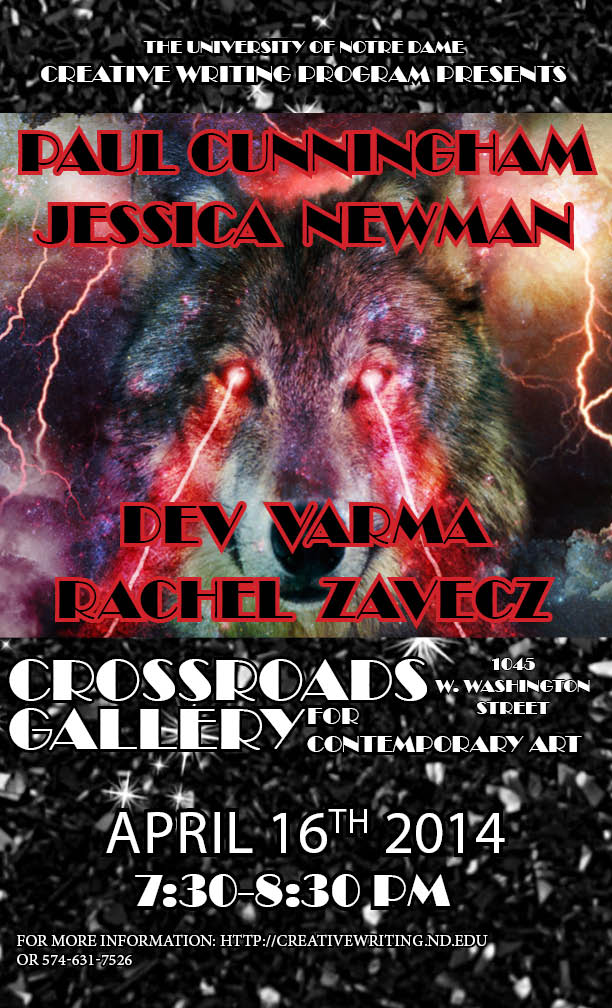 Come join us for a heaping helping of poetry, fiction, and fun at the Crossroads Gallery for Contemporary Art on April 16, 2014 at 7:30 p.m.!
The reading will include the work of two fiction writers and two poets.
Paul Cunningham's writing has appeared in publications including Aesthetix, DIAGRAM, A Capella Zoo, Witness, H_NGM_N, The Destroyer, and others. He is the founding editor of Radioactive Moat Press. Cunningham recently finished a collection of poems inspired by Winnie the Pooh that mutates the characters in ways that investigate a host of philosophical, linguistic, and cultural issues.
Jessica Newman's fiction has been published in elimae, Caketrain, PANK, Redivider and elsewhere. Her work is intensely lyrical and bends any common conception of the relationship between sound, sense, and the written word.
Dev Varma's fiction has been published in Oxford American Magazine; A Clean, Well-Lighted Place; mojo; and Mikrokosmos and has been nominated for a Pushcart Prize in Fiction. Varma is currently at work on a book project that interrogates the possibility of morality in metafiction as well as the possibility of being both literary and a good human being.
Rachel Zavecz is currently working on a book of apocalyptic poetry and is inspired by a myriad of ideas, including the rise and fall of civilizations, overwrought fashion and pageantry, science fiction and the beautification of the grotesque.
The reading will be at the Crossroads Gallery of Contemporary Art, located at 1045 W. Washington Street, South Bend, IN 46601.
The reading is free and open to the public.