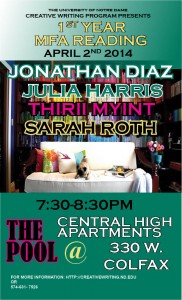 Come join us for a double serving of poetry and fiction to amp up your intellect. Our second installment of the 2014 First Year MFA Reading series is this Wednesday, April 2nd, 2014 at 7:30 p.m. at The Pool.
Jonathan Diaz's poetry is undergirded by the complexity of the city he grew up in, Los Angeles. A co-founder and co-editor of the online literary journal Californios, Diaz is interested in writing about California by historical residents of California (from which the literary journal gets its name).
Julia Harris's poetry project, entitled Raw, won the 2013 Laurie A. Lesniewski Award for Creative Writing at Saint Mary's College. Her nonfiction has appeared in The Avenue, and she has recently finished a chapbook about the deterioration of American sub-culture through the eyes of a split-personality.
Thirii Myint was born in Burma (Myanmar) and lived in Bangkok for several years before emigrating to California with her family. Her work, which invokes a mysticism and fairy tale quality, has been published in Caketrain, The Kenyon Review Online, The Literarian, The Bicycle Review, and elsewhere.
Sarah Roth enjoys writing very short fiction and very long poetry that interrogates notions of embodiment, historical narrative, and configurations of gender. She has work published and forthcoming in Spires literary magazine. She is also currently transcribing and translating a number of orally collected folk tales from Judeo-Spanish to English for publication.
The reading is free and open to the public. The Pool is located in the Central High Apartments Complex: 330 W. Colfax Avenue, Apartment 125, South Bend, IN 46601.
See You There,
Dev