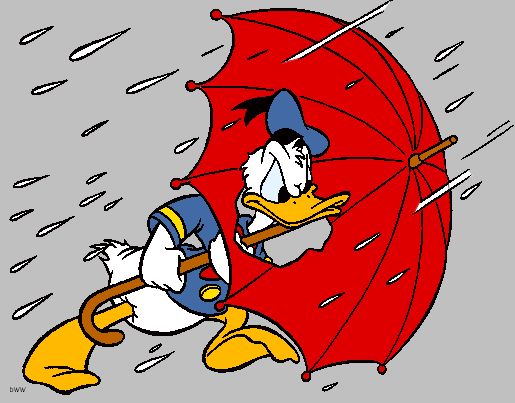 It's been raining a lot lately — good weather for reading.
The best weather for going to a reading?
Perhaps not. But that all depends on the reading you're thinking about going to, and this reading is well worth it. So make like Donald Duck and break out your umbrellas and make your way to Geddes Hall Auditorium and 7:45 PM tomorrow (if it's still raining tomorrow — if not it will look weird if you bring an umbrella), and listen to some top-notch fiction by three top-notch writers: Abby Burns, Ingabirano Nintunze, and Daniel Tharp.
Here are their bios:
Abby Burns earned her BA from the University of Wisconsin-Madison in 2015, where she studied English literature, creative writing, and rhetoric. Her writing primarily focuses on how grief and loss work to shatter our sense of normality. Queer rhetorical theory and writers like James Baldwin, Jeanette Winterson, and Toni Morrison, all influence her work. Abby's other interests include social movements, intersectional feminism, migration studies, and cheese curds.
Ingabirano received a B.A. in English Literature and Telecommunication from Texas A&M University. She has won the Gordone Award for undergraduate poetry and the UWC Writing Award for her short story, "A Midday Train Through Russia." She's worked as a production assistant on several professional video projects, performed as a theatre actress in Austin, Texas, and when she's not writing words, she likes writing music to go along with them. Her work explores urban and suburban magic, belief systems, genuine representations and romantic tragedy. She likes her protagonists average and her fantasy in excess.
Daniel Tharp attended Kirtland Community College for a year before moving half way across the country and graduating from Pittsburg State University with a Bachelors of Arts degree. A Teaching Assistantship, over a hundred students, and two years later, Daniel Tharp graduated from Pittsburg State University with a Masters of Arts degree with emphasis in fiction. His thesis entitled "Home," which is currently under review for the Distinguish Thesis Award at his Alma Mater, depicts a complex and brutal world where characters struggle not with outside forces but with themselves and what it means to be human. Tharp attends the University of Notre Dame's MFA program on a Prose Fellowship.
Time: 7:45 PM
Place: Geddes Hall Auditorium
Date: October 25, 2017
I will see you there!
Jake McCabe