Perhaps one of the most important things I have learned over the past six weeks is, put simply, learning a language is difficult. I would venture to say that before arriving in France, my language abilities were already decent. Therefore, mastering small grammar concepts, acquiring new and more precise vocabulary, and simply speaking that language in most nearly all of my daily interactions have been the factors which most greatly accelerated my language acquisition. As I mention later in this post, the most important skill I acquired this summer was a greater confidence to speak French. This was only made possible, however, by actually speaking with native speakers, whether that be an employee of a museum of my "host-parents." In addition to building confidence, speaking to native speakers provides further opportunity to employ techniques and vocabulary learned inside of the classroom. This opportunity complements the opportunity to make errors and be corrected, something which the French like to do but is actually helpful to those learning the language.
In reviewing and reflecting on my goals which I set for myself at the beginning of the summer, I believe that I achieved a degree of success relating to every one of them. As already mentioned, my inhibitions of speaking French to native speakers has been greatly diminished, largely through the experience of living in with a host family and having to sustain dinnertime conversation in French. The classroom lessons during my first four weeks at the institute very muted aided me in achieving my second goal which focused on grammar and verbs. Moreover, phonetics practice and simple classroom discussion advanced my pronunciation. Referring to my third goal on my blog page, while I did not study as much literature as I would have liked, I read independently and learned more than I imagined about French art. Regardless, I believe that my progress in other areas of my language capacity will aid me in my study of French literature at Notre Dame this fall. Lastly and on a more cultural note, my appreciation for the French political scene has greatly increased especially considering the unique nature of this year's election. Seeing the shared problems between France and the United States, and those problems unique to France, deepened my political knowledge and made me thing about American problems from different perspectives.
Considering that this is my first time traveling to France, and Europe in general, my SLA Grant experience in its entirety has been more than rewarding. I now fully realize the impact of history on the differences between American and French culture. I also realize that the United States attracts a great deal of attention from other countries. While the US is obviously extremely powerful no the world stage, I believe that it is easy to forget that many people from other countries follow American news somewhat regularly. Another component of American influence is the prevalence of the ability to speak English among students from other countries. As my new friend from Taiwan, Jennifer, said, "America is the only place I know where it is so common to be monolingual." It is true that as an American the need to speak another language is simply not that strong, but I now better comprehend the danger of this mindset. By adopting monolingualism as convenient and expecting others to speak English, one runs the risk of creating cultural disturbances and limiting his or her own potential. While I have has several opportunities in my life to change languages or stop pursuing one altogether, I now know that I will be forever thankful for my decision to continue to pursue French and the opportunity to become closer to mastering it through the SLA Grant opportunity. For those students considering applying for an SLA Grant, my first piece of advice is: Apply! As your trip approaches, you may be nervous about entering into a new culture for an extended period of time, I certainly was. Just know that as long as you make an effort to speak and learn, most native speakers will appreciate that and want to help you. After all, isn't that what you would do too?
In the coming weeks when I travel independently around France and in the coming months and years when I continue to study French at Notre Dame and hopefully abroad, I will call upon my experience gained through the SLA Grant for guidance. I firmly believe that the most valuable thing I will take with me upon returning to Notre Dame is the confidence to speak French in a variety of situations, a skill which only the experience of being abroad can provide.  During my first semester at Notre Dame, I typically hesitated to speak up in French class and the same was definitely true when I arrived in Tours earlier this summer. Fortunately, I believe that I have made enormous strides in the sphere of my character and language capability. To speak further of the general experience of being abroad for an extended period of time I look forward to my junior year at Notre Dame, when I hopefully study abroad in France, and will therefore already know(to a certain degree) what I can reasonably expect in terms of the culture and language. In addition to the academic advancements I have made during my time in Tours, my personal mindset has developed to a great degree. Namely, I have become very aware that as a student, I must be always be conscious of cultural differences and willing to respect those. And while I am certainly more knowledgeable of French culture, the friends of various nationalities whom I met enriched my view of the United States, life in other countries, and the common bond which humans, and particularly students, are capable of sharing.
While a professional utility of my SLA Grant experience may not have manifested this summer, I believe that it will considering that I would very much like to pursue an internationally oriented career, particularly with a Francophone nation. Together, the improvements in my language skills and cultural competency will permit me to not only continue my studies of the French language but form deeper connections with the cultural and its people.
As a concluding note, I would just like to take one last opportunity to everyone who has made my time in Tours possible. To the donors to the SLA Grant, the Nanovic Institute for European Studies, and the Center for the Study of Language and Culture, I say thank you. Also, I would like to express my gratitude to the Institute de Touraine, my host family, and all of the friends I made in Tours who truly made my summer remarkable. While I can view my time in Tours and in Europe in general as a valuable experience in and of itself (which it certainly is), I believe the true value of my trip manifests in the knowledge and experience which I will be able to use in coming years to continue to expand my relationships and knowledge in the most worldly way possible.
Attached I have included pictures of my independent travels after my program in Tours finished. The SLA Grant enabled me not only to study French and French culture but travel and see Europe in a much larger capacity than I anticipated.
St. Peter's Square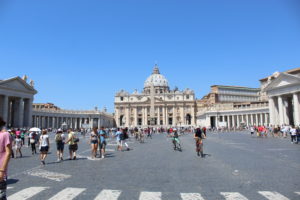 The Colosseum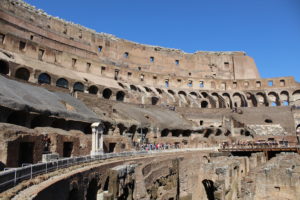 Trevi Fountain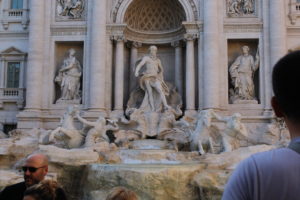 Lake Lugano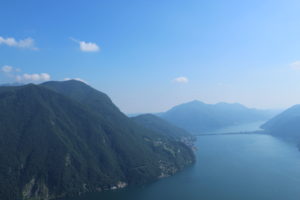 Duomo di Milano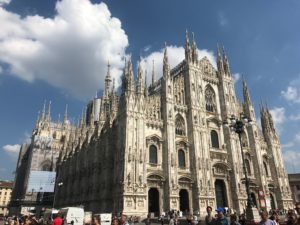 Luzern-chapel Bridge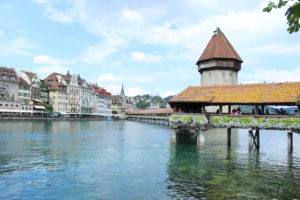 Lion of Luzern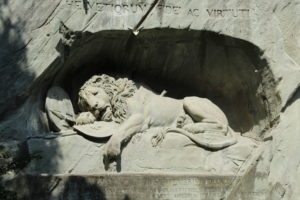 Zurich