The title of this post refers back to July 28th, when myself and five other students decided we'd make the trek out to Leitir Mealláin, a village/ island near Carraroe. Incidentally Leitir Mealláin is where my Notre Dame Irish professor, Tara, is from, as well as my bean an tí, Báirbre.
The original purpose of our journey (a turas, as Gaeilge) was to see the currach and hooker races. The Galway hookers are sail boats with three sails and need a certain amount of wind to race efficiently; unfortunately there wasn't enough that day to hold the hooker races, though they did have them out and about in the water.
The currach is another type of boat native to the west of Ireland, traditionally made from tarred canvas stretched over a wooden frame. They're propelled by paddle, much like a canoe, so the wind was less of a factor in determining if they would race. While it was nice to be able to see some traditional watercraft, the race itself was fairly short.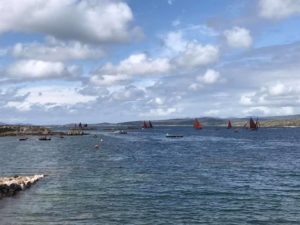 When we all had told Báirbre that we wanted to go to Leitir Mealláin she made a call to her brother, John Baba Jack, and told us that we needed to meet him at the Leitir Mealláin heritage center at 3:00 so he could show us the place; it was a Sunday and generally wasn't open, so this was a rare opportunity for us. So after the races finished we began the trek out to the village center and met with John.
John is an interesting character: he had a real love of history, particularly local history and folklore and it really shone through as he talked about this artifact or that one that he'd managed to collect over the years for the Heritage Center, all in Irish of course. He had been a fisherman for most of his life and knew the traditions of that life inside and out; he was fairly disappointed that so few young men pursued that life anymore as he saw that knowledge as dying out. There's a particular jargon that accompanies fishing, and many of those names and words were being lost over the years; John particularly dwelt on his knowledge of the names of nine types of breakers, and how that knowledge would be gone forever when he was gone.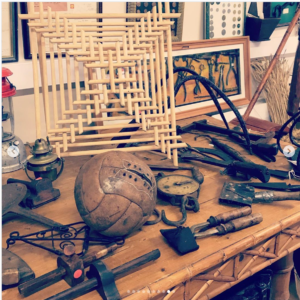 We all implored John to write this information down or at least get in touch with a folklorist to record it. This is the very reason the Irish Folklore Commission was founded, after all. John refused to write it, saying it was information that needed to be passed on orally. Later when we relayed this information to Báirbre she told us that John had been interviewed by TG4– the Irish language channel– several times already and that we shouldn't be feeding his ego. We all had a good laugh at that one, reassured that at least John was talking to someone about what he knew.