Today is August 3rd — the last full weekend that we have left here in Hakodate. It's almost been a full two months, but I'm not yet ready to leave. I'd love to see my friends and family back home, but this experience has been too fun and fulfilling for me to want to leave so soon. However, I was able to make the most out of this past weekend.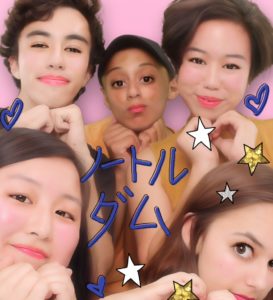 Last week was Hakodate's festival week, where there was a special event each day, Monday – Friday. Because of class and homework, I was too busy to contribute to the city's goings until Thursday. Thursday was the 花火祭り, or the fireworks festival. For this, I went to a restaurant with my host family, where they performed their gospel songs, and we ate and watched the fireworks afterwards. It was a really fun time because I was able to talk to a lot of the choir members in a more casual setting. It was also nice to be able to use all of the new grammar and vocabulary that I've learned throughout the program.
Friday was Hakodate's main event: the イカ踊り, or squid dance. It was a parade of sorts that everyone in the city was allowed to partake in. However unlike a normal American style parade, it was more of a big dance, where everyone walked through the town dancing and there were no big floats or attractions. It was a super fun and surreal experience for a number of reasons. First, we got to meet the famous musician Post Malone. For one reason or another, he was actually visiting Hakodate that same week, and by chance an intern at the school had ran into him the night before. He also invited Post Malone to come and dance in the parade with us, and we were able to talk to him and take photos. Secondly, the parade itself was like nothing I had ever experienced before. Dancing to a Japanese song in the middle of the street with friends from all over the world that I had just met two months prior was certainly a unique experience, and something that I will never forget.
Across these two days I definitely had some of my best experiences here in Japan. It has been such and amazing and enlightening experience, but I am really sad that it's almost coming to an end.