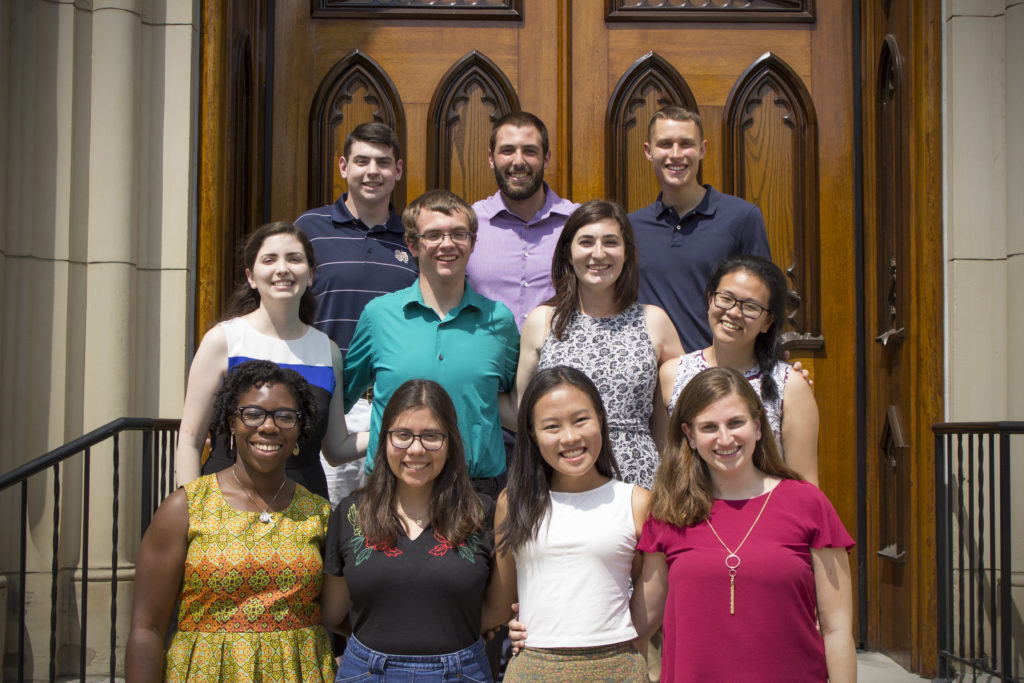 Did you know Campus Ministry has 11 senior Anchor Interns who desire to serve the church within our campus and assist in all areas of Campus Ministry? Over the course of the semester, each intern will be featured on this blog which is designed to encourage you, our students, to follow God's call in your lives.
Rosemary Agwuncha: Rosemary is originally Nigerian but was born and raised in Austin, Texas. She is majoring in Pre-Health and Thelogy, with a minor in International Development Studies. She currently lives off campus but lived in Breen-Phillips Hall during her freshman year. Rosemary's favorite group on campus is the Notre Dame Voices of Faith Gospel Choir, because she loves to sing and they have been like a family to her since freshman year. She will be working in African-American Ministry with Becky Ruvalcaba.
Michael Anderson: Mike is a senior from Tinley Park, Illinois, studying biochemistry and theology. While he formerly lived in Keenan Hall, he is now enjoying living off campus. He spends most of his time outside of classes doing cancer immunotherapy research though he also enjoys running, playing sports (especially volleyball), and doing service with the Knights of Columbus. He is planning on entering a MD/PhD program after graduation where he hopes to bring his Catholic values into his medical practice and research. This year, he is working with Christian to plan retreats and pilgrimages.
Regina Ekaputri: Regina is a senior studying Psychology with minors in Art History and Italian Studies. She grew up in Jakarta, Indonesia, but calls Flaherty Hall her home here at Notre Dame. Regina is really passionate about education and hopes to be an educator in the future. She also enjoys making art, reading, cooking, spending time with friends, having good conversations, going to art museums, and traveling to new places. She will be working with Christian for the retreats and pilgrimages throughout the school year.
Julia Erdlen: Julia is an English major living in Ryan Hall. She hails from Newtown Square, Pennsylvania, just outside of Philadelphia. When she finds a spare minute, she reads fiction that wasn't assigned for class and embroiders. She also rings in the Handbell Choir. Julia will be working in Liturgy with Allie Greene to assist with residence hall and other undergraduate liturgies.
Emily Greentree: Emily is a senior, with a double major in American studies and Statistics. She is a true Florida girl, hailing from the wonderful town of Jupiter Florida, but on campus she calls Ryan Hall her home. She is obsessed with all things Disney and can often be seen jamming out to music as she walks around campus. She loves spending time with her family and friends and enjoys getting to meet new people. This year she is working with Kayla August on the Compass Program.
Melissa Gutierrez Lopez: Melissa is a senior studying American Studies with a minor in Latino Studies. She is originally from Escondido, California and now calls Flaherty Hall her home under the dome. Melissa enjoys spending her spare time with her friends, but also likes to keep up with her favorite shows, journal, and spend time outdoors. This year, she is working with Becky Ruvalcaba in Latino Ministry.
Elizabeth Hascher: Elizabeth is a senior who is double majoring in political science and peace studies. A former resident of Lewis Hall, she now lives off-campus and is proud to call Grand Rapids, Michigan home. Elizabeth enjoys reading, spending time outdoors, baking, and drinking lots of coffee. She is also passionate about service and has been involved with the Center for Social Concerns throughout her time at Notre Dame. This year, Elizabeth will be working with Kayla August to develop new spirituality and outreach initiatives for campus ministry.
Danny Jasek: Danny is a senior living in Duncan Hall and studying Computer Science. He is also minoring in Theology and is passionate about the intersection of technology and faith. He is originally from Dayton, OH – home of the Wright Brothers and the professional sports team with the longest sellout streak in North America. Danny is the oldest of 5 children and enjoys spending time with his family and friends, running/playing just about any sport, spiritual reading, soundtrack music, and eating cereal at any and all times of the day. He is working with Fr. Matt Hovde and the Short Course Sacramental prep team this year.
Nathan Miller: Nathan is studying Accountancy and Theology here at Notre Dame. For the past three years he lived in Duncan Hall but for senior year is living off campus. He is originally am from Manitowoc, Wisconsin and is very passionate with his love for the Badger state! As an Anchor Senior Intern, Nathan will be working in a new area called Bible Study Ministry. His focus is to coordinate leaders, help establish community events and resources, and continually invite new students to explore a relationship with Jesus through opening the Scriptures. In his free time, he loves football, the outdoors, and listening to country music.
Flora Tang: Flora is a senior political science and theology major from Beijing, China (a whooping 15-hour-flight away from Notre Dame!), and for the past three years, has been living in the Best Place on campus– Breen-Phillips Hall. In the rare hours when she's not engaged in political debates with friends, Flora enjoys to cook, read social justice-themed books, and dabble in painting and watercoloring. She's looking forward to working with RCIA in Sacramental Preparation at Campus Ministry this year.
Joe Tenaglia: Joe is a senior studying Theology and American Studies. Hailing from South Weymouth, Massachusetts he now lives on campus in the great Stanford Hall. In his free time, Joe enjoys loudly and proudly supporting Boston sports teams, reading, listening to music, and above all spending time with family and friends. This year Joe will be working as part of the Retreats and Pilgrimages team, and is excited to work to provide engaging and enriching programming for his fellow students.