Dr. Patrick Kronner, Choral Program Director and Organist, Director of the Women's Liturgical Choir and Community Choir
God speaks to his people in many different and varied ways. For some it may be through the comfort of the Mass, or for others, the silence found when we're open to it. For me, I've always felt God's presence most in beauty. Whether it's in his creation, the words of a prayer, or in the kindness that people show to one another. However, the beauty that has taken the deepest roots in my life has been the gift of music.
I vividly remember first finding this beauty in Beethoven's symphonies when they were originally introduced to me in my second grade music class. From then on I would, as most grade-schoolers do, save up my pennies to buy cassette-tapes of Mozart and Bach (Oh, wait—was that just me?!) I felt a strong pull to immerse myself in this beauty. At the same time, I remember falling in love with the beauty of the Church as I experienced it in my community. It wasn't until high school, though, that these two areas of my life began to intersect.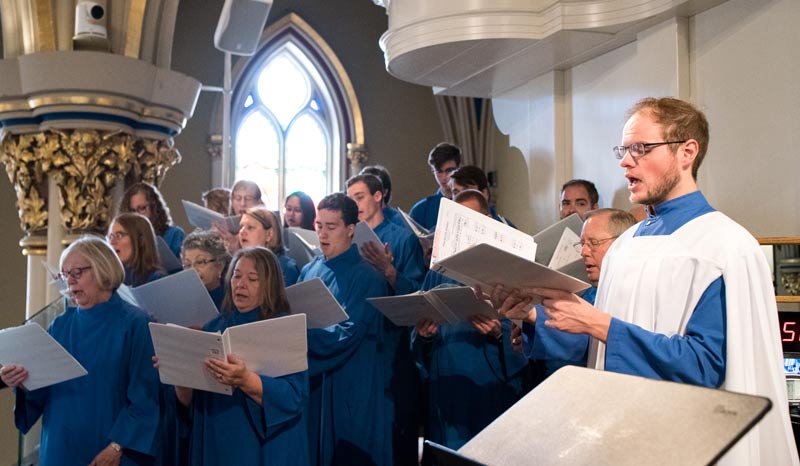 Through the encouraging guidance and example of a high school mentor, I began to see the peace found in a life devoted to serving God and his people through music. Through my mentor, I was introduced to the pipe organ, the human voice, various monastic traditions, and the vulnerability that necessarily accompanies creativity. This, along with his inspiring love for his family and vocation, became a powerful model of a music minister's life. It is a life which strives towards holiness through prayer and creativity.
As in most areas of my life, my sense of vocation did not come to me quickly. While I had a passion for music and the Church, it wasn't always clear that these things should work together in my life. I don't think I can pinpoint any one moment when I realized my vocation was to be a music minister. Rather, it has been through small moments, encouragement, challenge, and loving examples, that this picture has slowly come into focus.
I feel compelled to bring others to the beauty that I find around me. All of us are created in God's image and should strive to reflect this beauty in ourselves and in all that we do. I take comfort in the fact that we're all struggling together as we strive for holiness, just as many saints have done before us.
When I first arrived at Notre Dame for an interview over two years ago, the beauty of this campus was immediately apparent. Despite the gray and cold outside on that particularly frigid February day, I found warmth in all the people I encountered and in all the sights I saw. As I had felt at similar moments of my life, I was drawn to this beauty and curious to explore it further.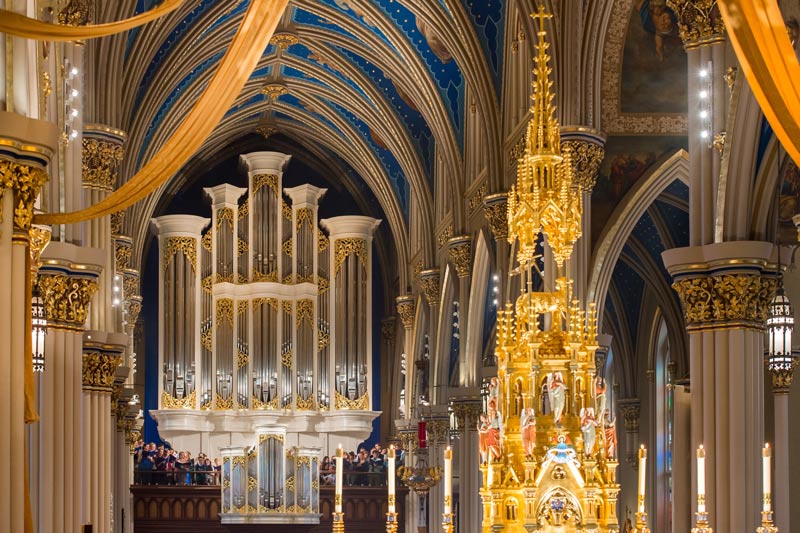 Having now spent two years as a campus minister at Notre Dame, I've been blessed with many moments of beauty. I've experienced it in the musical offerings of our choirs, in the familial care our students have for one another, in the intricate details carefully painted in the Basilica, and in the calm of a walk around the lakes. Most powerfully, I've seen it in the examples of service for the body of Christ that many of our choristers are boldly living out through their daily lives. All of this has enlivened my own zeal for ministry here on campus.
I minister because I hope to leave this world more beautiful than it was when I first found it. Jesus, through the greatest act of beauty, gave his life for us that we might fully experience his love and mercy. In the same way that my mentors, choristers, and students have inspired me to delve more deeply into this love, I pray that my work in campus ministry might do likewise for those around me. One of the most loving things we can do is to help others find this in the person of Jesus Christ.
Particularly in the spring, this simple quote from the Greek playwright Nikos Kazantzakis often pops into my mind: "I said to the almond tree, 'speak to me of God,' and the almond tree blossomed." If we use our creativity for the pursuit of beauty, we'll surely find God.