Karen Schneider Kirner, Choral Program Director and Organist

So often we're in the routine of doing things that we forget to stop and take stock of why it is we're doing what we're doing. We get so caught up in our busyness and keep charging ahead with everyday routines. That's why I've particularly enjoyed this "assignment" of offering a reflection on why I minister at Notre Dame as an organist and choir director. I've come up with a "top ten" list to share, but this is in no way comprehensive.
Reason Ten: Gotta love the diversity of skills required for someone working in music ministry! Not only do I direct choirs, play the organ, and occasionally compose music, but I also work with teams of students and colleagues. Other requirements are people skills and inviting students to join in our ministry, along with planning upcoming events. There is never a dull day in the office.
Reason Nine: The words we sing in Church remind us of our values and beliefs, and help keep us on the right and true path where we need to be, oriented towards God. This is why a church musician's job of selecting texts that we put on the lips of the faithful is so crucial and important. We are more apt to stand up for justice if we are regularly reminded of our values. I see a very high percentage of our choir members going into service-related careers after graduation, and that's something to be celebrated, living in a world that often seems to lack a moral foundation.
Reason Eight: Saint Augustine had it right when he said, "To Sing is to Pray Twice!" Music has a powerful way to ingrain texts within us and deepen our understanding of them, particularly when they've been set to music by inspired composers. Fostering the prayer of any gathered assembly has always been a top priority. Music can easily become a distraction, and the intent is always to keep the focus on the texts being sung, and put these texts on the lips of the assembly.
Reason Seven: We can instantly unite people coming from different cultural backgrounds by doing music of diverse music styles and time periods, languages, and through incorporating a diversity of musical instruments. As part of the universal Church, we want to ensure that truly "all are welcome." We have a broad palette of music to choose from that can unite us. We've seen in recent years how much our country is torn by disunity, so it's time we all took a stand for unity through whatever means we are able!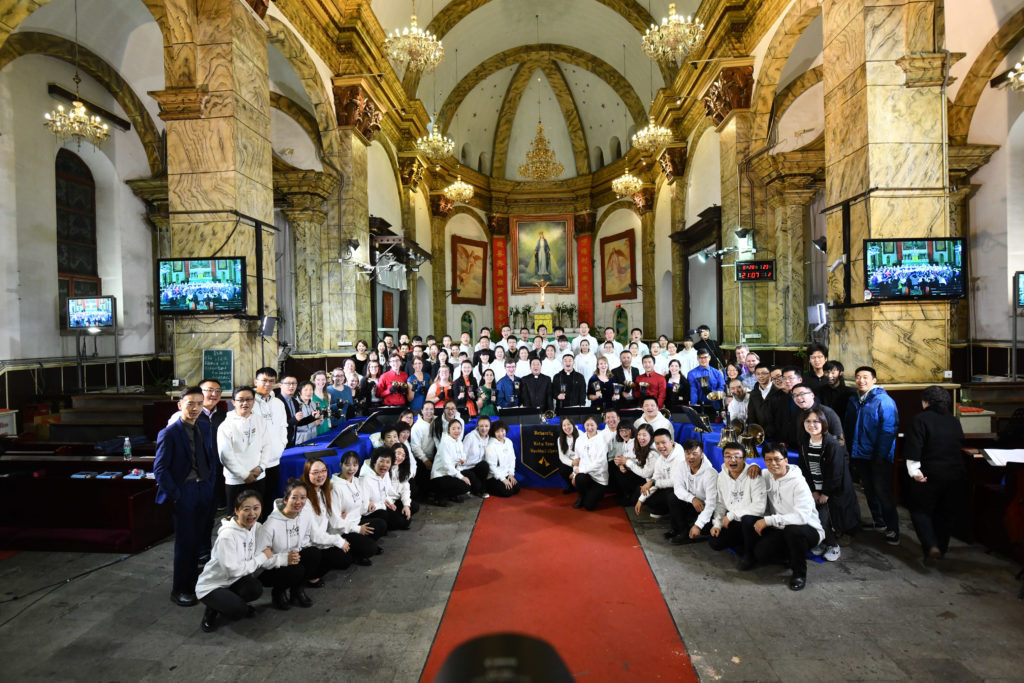 Reason Six: Serving as a musician at our Basilica of the Sacred Heart has always been a joy and privilege, that never gets old. The Basilica is truly the heart of our campus, where our community of N.D. and the community of the wider Church gathers to celebrate mass, highlighted feasts of the liturgical year, births, marriages, where we mourn our dead, administer the sacraments of initiation, and ordain men to the priesthood, representing the future of our Church. What a privilege and grace to experience so many powerful moments that really matter, throughout the entire year!
Reason Five: Unity. Liturgical music, whether singing/participating in it, powerfully connects people to one another, whether its with a group of people who know each other as in a choir that meets regularly, or a disparate group of people who will only all be together a single time, coming from many different places and walks of life. Music is a God-given instrument that connects us not only to each other, but us to God. It seems that people have grown more isolated with the rise of technology that was oddly designed to connect us, so we need music more than ever to bring us together. Did you know that scientific studies show that when a group of people sing together, their heartbeats often align? Singing is also found to decrease stress, depression, and anxiety, and gives us a sense we are part of something much bigger than ourselves, which is the Universal Church!
Reason Four: Music does save lives! This may seem like an overstatement, but I've witnessed this countless times. For those battling addictions, depression, loneliness or anxieties, not only does the act of singing elevate our spirits, but choir members are held accountable to the larger group, where it's important to show up on a regular basis, and members are instantly part of a loving, nurturing group that wants to see each and every member succeed. Singing in a choir or making music with another group of people is one of the best ways to stay healthy and be emotionally supported when we are living in very challenging times.
Reason Three: It's all about the PEOPLE. When I reflect back on my twenty years in music ministry here at N.D., it's the names and faces of those I've worked with that matter the most. So many students who were involved in sacred music here have continued lives of service after they leave this place, whether they are doing this full-time or part-time. Numerous couples have met/married through participating in our choirs. A good number of men have entered the priesthood. Through our choir pilgrimage tours domestic and around the world, we almost exclusively stay with families from the parishes we are visiting, who give us unique insights about their own Christian communities. What a gift!
Reason Two: Plain and simply, for evangelization! Pope Francis said this best in his 2013 document, Evangelii Gaudium, or The Joy of the Gospel. If you haven't read this yet, it's well worth a read. In my case, I'm serving countless pilgrims who make their way each year to our beautiful Basilica of the Sacred Heart, connecting young people more deeply with their faith through music and participation in our choirs, or taking our choirs to sing for our brothers and sisters who are incarcerated or homeless. God is with us in every situation we may find ourselves in life, and my most powerful experiences have often been going "off the beaten path."
Reason One: FAMILY. Family is created through our choirs and working closely with colleagues. The great thing about N.D. is that people keep coming back to this place, not only for football, but for things that really matter, like weddings, baptisms, for the Triduum, and times of loss, to be grounded anew in what drew them to this place initially: our faith in Jesus Christ. We are rooted in our Catholic faith, sent forth with hope, love and joy to bring to the world!