New at the Browning: Special Screening of Documentary About Catholic Anti-Vietnam War Protestors.
Visiting Director Joe Tropea will be screening his documentary Hit and Stay: A Story of Faith and Resistance at the University of Notre Dame in the Browning Cinema at the DeBartolo Performing Arts Center March 6th, 2014, at 7:00 p.m. The screening is co-presented by the Cushwa Center for the Study of American Catholicism and the Department of English.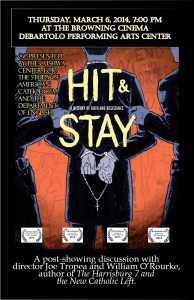 Hit and Stay tells the story of the Catonsville Nine, a Maryland group of Catholic activists protesting the Vietnam War, and those who joined them through interviews with many of the participants, as well as observers ranging from political critic Noam Chomsky to historian Howard Zinn, as the activists went to prison or underground, tangled with the FBI, and ultimately helped change America?s mind about the war.
The film has garnered many prizes and honors, including an Audience Award from the 2013 Chicago Underground Film Festival, Best Documentary Feature from the 2013 Sidewalk Film Festival, and Official Selections from the Maryland Film Festival, the Kansas City Film Festival, and the Indie Memphis Film Festival, as well as many others.
Joe Tropea is a public historian, writer, and filmmaker. He has been making films and video for over a decade, writes occasionally for the Baltimore City Paper, IndyReader, Baltimore Brew, and the history blog underbelly, and is Curator of Photographs and Moving Images at the Maryland Historical Society. This is his feature directorial debut.
After the screening, Tropea will be joined by Professor William O'Rourke, author of The Harrisburg 7 and the New Catholic Left and Professor of English at the University, for a discussion of the film and the lasting influence of the Cantonsville Nine and other Vietnam-era protestors.
See you there,
Suzi G