In this next installment of our Alumni Interview Series, I got the chance to chat with James M. Wilson (2005) about his life after the MFA, his fondest memories of the program, and his relationship to poets of antiquity.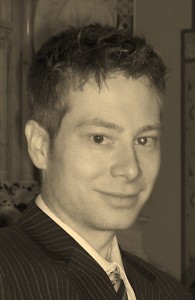 1) First and foremost, how did you go about deciding you wanted to become a writer?
As a boy, I suffered from insomnia.  I would lie in bed at night and craft political speeches.  This was in the early years of the Reagan administration, and so, no doubt, the speeches were all patriotic appeals, filled with images of bald eagles and lumbering bears, for Americans to stand tall against the communist enemy.  I thought this a symptom of a natural interest in politics, and dreamed of a career in Washington.  It was not.  I was only slightly more interested in politics than anyone would who has a proper understanding of what it means to be human.  Rather, it was the words I cared about, the resonance of sentences.  By the time I was a teenager, I was beginning to sense that.  I went to college with the intension of becoming a novelist, and by the time I gave up that ambition, I had written several novels and dozens of short stories.  All the while, what most interested me was the making of significant speech.  Early in college, I began to see that this meant I wanted to put words in measure and to rhyme them.  If I began life tossing through sleepless nights, dreaming up speeches, years later, I woke up one morning and realized that what I most wanted to do was to think about poems, about the form of poems, and, when I could, to write them.
2) Did you have any mentors along the way who really affected your approach to craft?
Early on, at the University of Michigan, I benefited from the encouragement of the novelist, Nicholas Delbanco, who took a personal interest in my first stories.  At the same time, Laurence Goldstein, who was a poet and editor of Michigan Quarterly Review, took my fledgling criticism and poems seriously enough to make me feel part of the long conversation of our literary tradition.  He also introduced me to meter.  That said, part of my sense of vocation as a professor derives from my own experience of not having any very close mentors when I needed them most.  A young man, a young writer, needs to be told what to do and how to do it, even if he does not end up listening.
In more recent years, the work and friendship of Timothy Steele, Dana Gioia, and Kevin Hart have all been decisive for me.  Without their work, I probably would not have known what was possible for me to attempt as a Catholic artist, critic, a scholar.  Without their friendship, I probably would have quit trying before I began to succeed at it.  At a greater distance, and in a different way, I would have to include the late Ralph McInerny in that list.
3) What's your fondest memory of your MFA years at Notre Dame?
It was my good fortune to come to Notre Dame from another MFA program.  When I came, I did so as a doctoral student who wanted to approach scholarship from the perspective of a writer, of a practitioner of an ancient craft.  Valerie Sayers very kindly invited me to apply for the MFA, and I was so grateful for that.  So, in six years, I earned the M.F.A. and the Ph.D, and have more than my share of pleasant and less pleasant memories.
In the academic realm, I think my dearest such are of hours spent talking with John Matthias, who exemplified that the ambition and seriousness of the high modernists was still possible for our time.  Somewhat outside that realm, most certainly my fondest memories are those nocturnal hours I spent shooting pool at the Oyster Bar downtown.  It seemed the whole city congregated around the green felt and lingered on until after three in the morning.  During some hundreds of games of pool, I got to know the girl who became my wife.
4) What are you doing for a living now?
I am an assistant professor in the Department of Humanities and Augustinian Traditions at Villanova University.  In such a department, I get to spend my days moving between the teaching of literature, philosophy, politics, and theology, and writing on all those things as well.  My hiring into that department was a saving moment for me, because I had so long been convinced that the way modern education typically fragments the disciplines, far from being a sign of sophistication, is an effect of decadence, and a dehumanizing one at that.  Here, at Villanova, I can help draw truths into a living whole again and offer a kind of education whose end is the contemplative life, a life well spent, a happy life.
Providentially, that has come to include teaching a course in the Art of Verse.  Thanks to my modest successes as a poet, it seemed appropriate for me to offer an apprenticeship in verse craft and the philosophy of poetry to our students.  In consequence, I am doubly fulfilled: I get to teach a curriculum that takes a comprehensive view of knowledge as an organic whole, and yet I get to do so from the angle of a practicing poet, as someone who comes to many aspects of art and the liberal arts from the perspective of someone who wants to make, in Jacques Maritain's words, a good work.
5) Jumping off from that, do you see connections between  your thoughts on education "draw[ing] truths into a living whole" and a couple of John Milton's prose tracts, namely, "Of Education" and "Aereopagitica"?
I've always had a vexed relationship with Milton.  In fact, in my time as a Sorin Fellow at Notre Dame, I mocked him, in my biweekly Observer column, as a "would-be divorcee, propagandist and future regicide," and rather failed to mention he was a poet.  His theology is hard to sympathize with, and his character perhaps even less so, and yet, of course, there's both the alternately rough and lavish genius of his poetry and the genuine humanism of some of his prose, with its effort to draw all things together and address man to the absolute, to the whole of the divine mind.  In my column, I quoted his Apology:
[He] who would not be frustrate of his hope to write well hereafter in laudable things, ought himself to be a true poem; that is, a composition and pattern of the best and honourablest things; not presuming to sing high praises of heroic men, or famous cities, unless he have in himself the experience and the practice of all that which is praiseworthy.
That classical conviction that the liberal arts, and even the fine arts, are a form of discipline that cultivates the reason, prepares it to be raised up to the contemplation of God, and also forms the soul in the pattern of greatness is here memorably expressed.  I know I had a sense of it long before I had read Milton, though, if only because I doubt, as a young reader, I would have let Milton of all people plant such an important idea in me.
It probably finds richer expression in places like the De Musica of St. Augustine, and elsewhere in the Christian-Platonist tradition, but it means something to me, on a personal level, to hear the poet Milton envisioning the artist's shaping of a good poem as an analogue to, and even an exercise in, the shaping of the soul in virtue—as did it, when I encountered much the same vision of the connection between the art of verse and the art of life in the literary criticism of Yvor Winters.  He is the poet and critic who has most profoundly shaped my view of these things.
6) Are there classical poets whom you still go back to?
Though my Latin is every bit as poor as one would expect of someone who studied it one night a week with an ex-Jesuit after working all day in Boston, I've been deeply influenced by the classical poets, not to mention Dante.  One of the great satisfactions of trying to write poetry is the experience it gives of toiling in the same, long tradition that Homer, Virgil, and Dante worked and developed before me.  So, as I think of it, here are three particular joys of poetry: first, that sense of drawing the whole of truth, goodness, and beauty together in the unity of the art work; second, of being informed by it; and, third, the filial communion with the dead that participating in a tradition affords to us, that keeping of faith.
7) What kind of writing projects are you working on now? How are they going?
Well, my second chapbook, The Violent and the Fallen, just appeared in December and my next two books, a full-length collection of poems, Some Permanent Things, and a longish essay that will also be published as a book, The Catholic Imagination in Modern American Poetry, are in early stages of production.  Wiseblood Books will publish both this coming November.
In the meantime, I am finishing the revisions on The Vision of the Soul: Truth, Gooodness, and Beauty in the Western Tradition.  That has  been an agony, but I am hopeful that the book, which draws several years of published essays and public lectures into a single argument regarding the proper ends of a life well lived, will make a difference to its readers.  If I have a spare moment from that, I continue to plug away at a sequence of Spenserian sonnets that are, actually, in part inspired by the dive bars I knew so well—too well, perhaps—in South Bend.
8) Do you have any secret for getting writing done out "in the real world"?
With longer projects, there is no need for a secret.  If the work is before you, just keep plugging away and making your own life miserable until you get to the end.  With poems, I wish I knew the secret.  One of the curses of writing lyrics is that there is usually no task at hand waiting for you.  You often have to wait for the materials in your mind to prepare themselves, and then start writing when they have.  Sometimes, this takes me a decade.
9) Is there one piece of advice you wish you had heard when you were starting out?
I wish I had read Timothy Steele's All the Fun's in How You Say a Thing before I learned anything else about verse craft.  It was published the year I started writing poems with any seriousness, so I wish someone had made me read it then, and advised me not to write until I had finished reading.
Cheers,
Dev