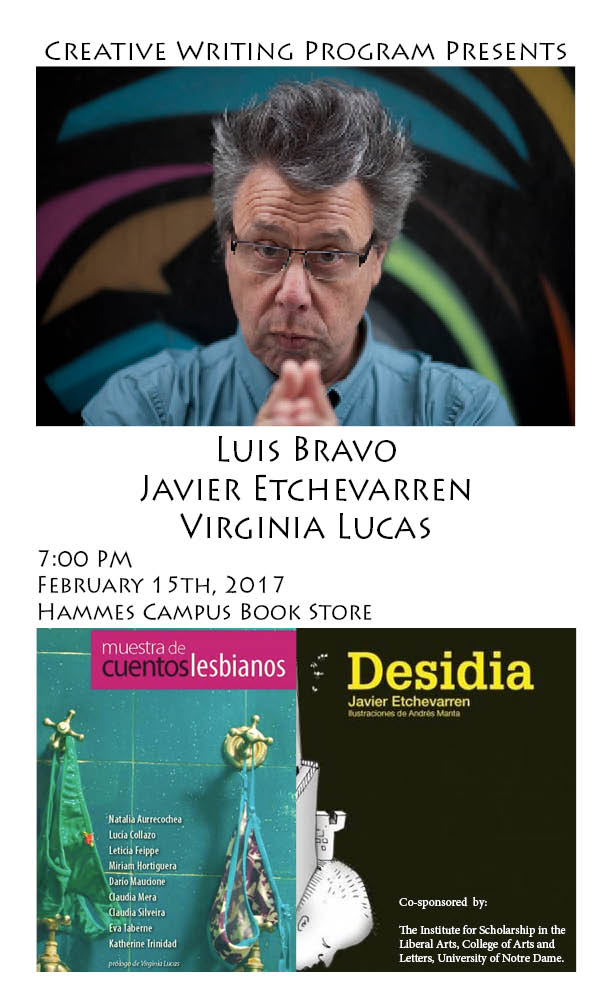 Float a boat. Wear a hat. Bloom a flower. A little origami never hurt anyone. My favorite was the frog. You would hold and release its posterior and it would jump, nothing like the amphibian it was modeled after, but it still sailed through the air and there's no challenging that fact. What use are cranes? Being lucky doesn't cut it when you're in my shoes, fingers in the slits of the fortune teller. Where have they all gone? Did we bury them in the garden, in the sandbox, place them askew on the water fountain or benches with peeling green paint?
Now paper planes are for writing on or typing on. Our digits bend words through time and fold languages. I've read that translation is but a crooked mirror. I've heard some call it a crime. If it is indeed evil, then let us be glad that gulf shall not separate these three poets of Montevideo from us.
Luis Bravo, Javier Etchevarren and Virginia Lucas will read Wednesday, February 15, 2017, at Hammes Campus Bookstore on Notre Dame. The reading begins at 7:00 PM. It is free and open to the public.
There will also be a Question & Answer Session with the poets hosted by Johannes Göransson in Room 119, O'Shaughnessy Hall, at 2:00 PM on the same day.
Luis Bravo has published ten books and recordings of poetry since 1984, including Árbol Veloz, a referential work in Latin American multimedia poetry; Tamudando, a multiphonic concert recorded live at Zavala Muniz Theatre in Montevideo; Areñal /ene topos bilingües & other sounds, along with the poet John Bennett; and Lichen (bilingual Spanish-English), translated by William Blair & Pablo Rodríguez Balbontin. Bravo's poems have been translated to English, French, Germany, Swedish, Estonian, Portuguese, and Farsi. His most recent poem published in English is "The voice", translated by Catherine Jagoe (Drunken Boat, 2016). His most recent book of essays is Voz y palabra: historia transversal de la poesía uruguaya 1950-1973, which received an award from Uruguay's Ministry of Education and Culture. Bravo participated as a Fellow in the International Writing Program at the University of Iowa in 2012. He is currently a PhD candidate at the University of Notre Dame.
Javier Etchevarren is the author of the poetry books Desidia (Yaugarú, 2009), Fábula de un hombre desconsolado (Yaugarú, 2014) and Fable of an Inconsolable Man (Action Books, 2017), translated by Jesse Lee Kercheval. His poems have appeared in in the American Literary Review, the Los Angeles Review, Drunken Boat, the Notre Dame Review, the Colorado Review, and in América invertida: An Anthology of Younger Uruguayan Poets (University of New Mexico Press, 2016).
Virginia Lucas is a poet, editor, and literature professor. Her books include the poetry collections Épicas marinas (Artefato, 2004) and No es de acanto la flor en pie-dra (Lapsus, 2005). She is Literature Director of the National Office of Culture at the Uruguayan Ministry of Education and Culture and Research Coordinator of Queer Studies Montevideo. Lucas's Amé.RICA, translated by Jen Hofer, is forthcoming from Litmus Press. Her work also appears in Earth, Water and Sky: A Bilingual Anthology of Environmental Poetry (Dialogos Books, 2017).
Something else that I've learned is while people tend to focus on the distinctions between different cultures and languages, it can be more valuable to see how they are similar. To return to what is common and core for humanity and what they choose to create. Come join us on February 15th, to not only enjoy what is unique but also what we share as familiar strangers. You will become a frog.
-Moon