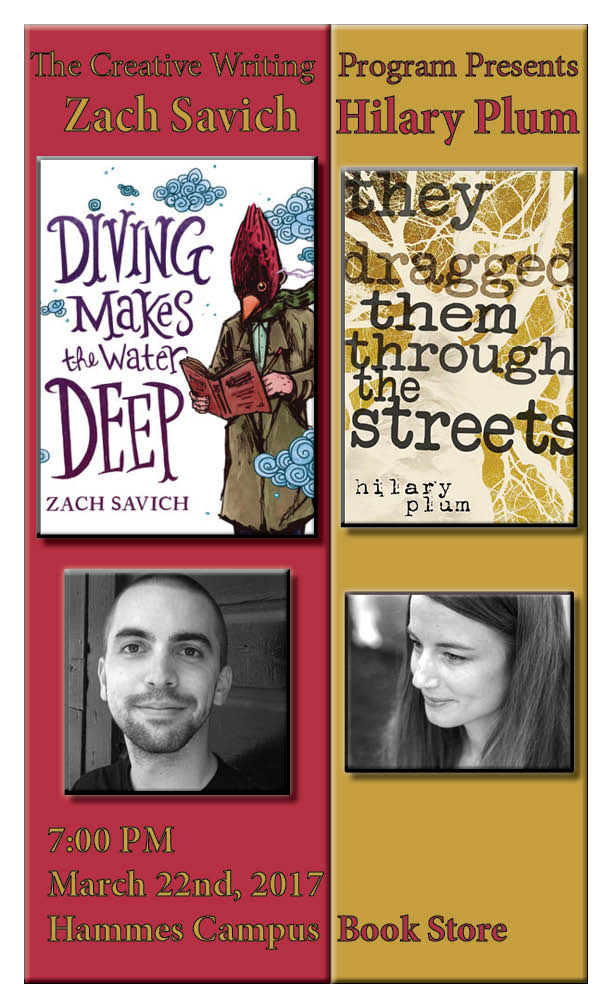 I don't know how to swim.
My early childhood at the local indoor pool instilled a fear of the burning sensation when water fills my nostrils. Even to this day I feel I must pinch my nose if I were to submerge my head below a surface. As a result, one of my fantastic fears is to discover a loved one drowning in the depths, yet being unable to aid them just because of an unpleasant formative experience. It would be as if I wasn't able to eat a can of beans to defeat bean aliens threatening my family or refused to caress a beetle to save my friends from bug aliens.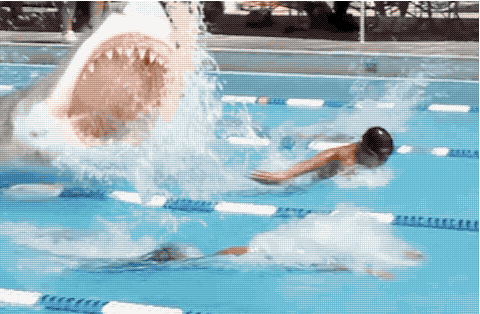 Yet much like heights, bodies of water remain enchanting. There is no need for a siren to call me, I just look down at them, into them. I feel like I should be there, regardless of the consequences. I need to be there.
This is my problem.
Now, how about a reading event?
Hilary Plum and Zach Savich will read Wednesday, March 22, 2017, at Hammes Campus Bookstore on Notre Dame. The reading begins at 7:00 PM. It is free and open to the public.
Hilary Plum is the author of the work of nonfiction Watchfires (Rescue Press, 2016) and the novel They Dragged Them Through the Streets (FC2, 2013). Recent prose and criticism has appeared in Full Stop, Bookforum, the Seneca Review, Poetry Northwest, the Massachusetts Review, and elsewhere. With Zach Savich she edits Rescue Press's Open Series. She lives, teaches, and edits in Philadelphia.
Zach Savich's fifth collection of poetry, The Orchard Green and Every Color, was published by Omnidawn in 2016, and Diving Makes the Water Deep, his memoir of cancer, teaching, and poetic friendship, was published in 2016 by Rescue Press. His work has received the Iowa Poetry Prize, the Colorado Prize for Poetry, the Cleveland State University Poetry Center's Open Award, and other honors. His poems, essays, and book reviews have appeared widely in journals and anthologies, including American Poetry Review, Boston Review, A Public Space, Mid-American Review, VOLT, jubilat, Best New Poets, and The New Census. He teaches in the BFA Program for Creative Writing at the University of the Arts, in Philadelphia, and co-edits Rescue Press's Open Prose Series.
They write like water. Formless thoughts attempt to establish themselves as something solid, like the concept of a river, a lake, or an ocean. Then they dissipate, as it is their nature, leaving a rippling impression, and reform themselves as another wave. An amorphous dance that is unlike and like what has been said before, reaching for a conclusion but unable to stop the current. Not until the pen (or keyboard) is dropped, the 'death of the author.' Perhaps that is why I am drawn to the deep. My heart and mind sense a flow that is the same but greater than their own, and manifest their desire to reunite against rationality. How little of it I possess now, eroded by the times. Keep or throw?
-Moon