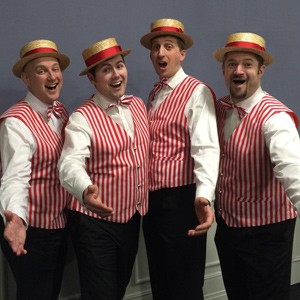 Happy International Barbershop Quarter Day!
That's April 11. Are you in a barbershop quartet? Me neither. Would you care to be in one? Me neither. Do they even perform in barbershops? I don't know. I don't think I've ever seen a real barbershop quartet. I've only ever seen them on film and television. I don't think there's any reason to observe this holiday.
So….
I'm going to go to Johannes Göransson's translation reading instead. He'll read from a range of translation projects on April 11, at Hammes Campus Bookstore. Among the translated projects will be Hackers by Aase Berg, Which Once Had Been Meadow by Ann Jaderlund, the special Swedish poetry issue of the journal Interim (https://www.interimpoetics.org/), Karantanen Ater Min Kropp, by Sara Tuss Efrik, and more.
I'll be there, I hope you come, if you don't have plans to watch four guys sing in a barbershop.
Jake.