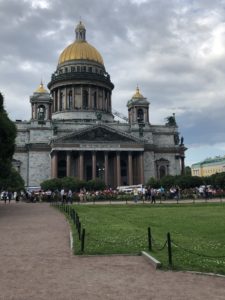 At this point, I have about a week and a half left in Russia. I decided to write my final thoughts today as starting tomorrow, everything gets rather hectic and busy. On Monday and Tuesday, we have our final exams for the summer, which do require a bit of time to prepare. The very next day, we move out of our host families and board a train to Moscow, where we will spend the next week seeing as much as we can in the city and in the surrounding area. This also means that I may not have access to the internet and I decided to recap my entire experience before my final week of traveling.
Overall this experience has been amazing. Whether it was the food, culture, sights, language, or friends made, everything about this trip was amazing. I not only tried everyday Russian cuisine but also Georgian cuisine, which I honestly have to say might be some of my favorite food I have ever had. I also had the ability to see numerous historical sights, which rank among some of the most beautiful buildings I have ever scene. Whether it was the Winter Palace or the Peterhof Palace and even the beautiful and skyline-dominating St. Isaac's Cathedral, I truly do not believe there is a more beautiful city in the world than that of St. Petersburg, where the modern-day exists in the city of St. Peter, built to the beauty of European architecture and grandiose designs of Russia.
Finally, the friends that I have made, whether they were fellow Americans or Russians, I am glad I was given the opportunity to not only meet them but also interact with them and learn about them. I am especially happy about the Russian friends I have made as I was given a further and deeper insight into all of Russia. I will most definitely miss being here, in St. Petersburg, and will not be able to wait for my next chance to visit again but I also know that I will look forward to coming home, as living here has also given me a new insight and appreciation for everything I have at home. This has been one amazing summer and I never truly thought I would have been given such an opportunity, but I am glad I have been and I am glad I will have many more opportunities like these to come.