Brett Perkins, Assistant Director for Sacramental Preparation & Catechesis
"The results of your physical came back, and I'm sorry to say that you have cancer." These are never the words that you want to hear from your doctor. They are especially devastating to hear when you're an otherwise healthy 18 year old who is flying high after graduating from high school and preparing to enter Notre Dame as a freshman that fall. Yet these are precisely the words I was hearing from my doctor on that hot, humid central Illinois afternoon in June 1997. In that moment, I felt disconnected from myself, as though I was floating above the room and looking down into that doctor's office, like I was somehow a passive onlooker to some other person's misfortune. Yet this was my diagnosis, not someone else's. Questions raced through my mind. Now what? Was college out of the question? Would I even be alive to go to college? But the doctor wasn't finished.
"I know this is hard to wrap your mind around," the doctor continued, "but I'd like to propose that we take you over to the hospital for surgery ASAP, to remove the tumor."
"ASAP? You mean, like, in the next day or two?"
"No, like this afternoon. I'll be heading out of town tomorrow and this tumor really needs to be dealt with now."
"Ok, doctor, uh, whatever you think."
And off we went to prep for surgery at the local Catholic hospital.
As I gradually awoke in the hospital room after surgery, I remember the sudden release of so many tears as emotions tied to pain and fear, frustration and anxiety rushed into my consciousness. Then, lying in that hospital bed, I had what is to this day one of the most profound encounters with the love of God that I have ever had in my life. As my eyes began to focus as I struggled against the anesthesia, my eyes were drawn like a magnet to the crucifix on the wall at the foot of the bed. In the midst of my own profound brokenness and without clarity on what my future would hold, I looked at our Lord's own body, broken on the cross. Bringing His suffering into dialogue with my own, I became aware in some small way of what Jesus must have felt on that first Good Friday. Once again, tears began to stream, yet this time they were coming not from pain or fear, but from becoming personally aware of just what Jesus had done for me by dying on that cross. I was also made aware, in that instant, of my own unresponsiveness and passivity in the face of such love: the Lord knew well that I had plenty of mess-ups and sins in my life, and yet His love for me was so much greater than any sin I could ever commit. While I wouldn't have been able to reference it then, one of my favorite Scriptures today reflects well the life-altering realization I had in that hospital bed:
For Christ, while we were still helpless, died at the appointed time for the ungodly. Indeed, only with difficulty does one die for a just person, though perhaps for a good person one might even find courage to die. But God proves his love for us in that while we were still sinners Christ died for us. (Romans 5:6-8)
In that room at St. Mary's Hospital in Decatur, Illinois, I experienced personally the mercy and love of Jesus for me. I came to understand that He would see me through my cancer, whatever the outcome; I had nothing to worry about, for He had conquered death and brought new life to even the darkness of the cross. While I had grown up in a Christian household, this was perhaps the first moment that my faith "clicked" for me, when I experienced for myself God's faithfulness, tenderness, and loving kindness. In some small way, I also began to sense that I would be called to share this love of God with everyone, though I couldn't have imagined then what form that might take.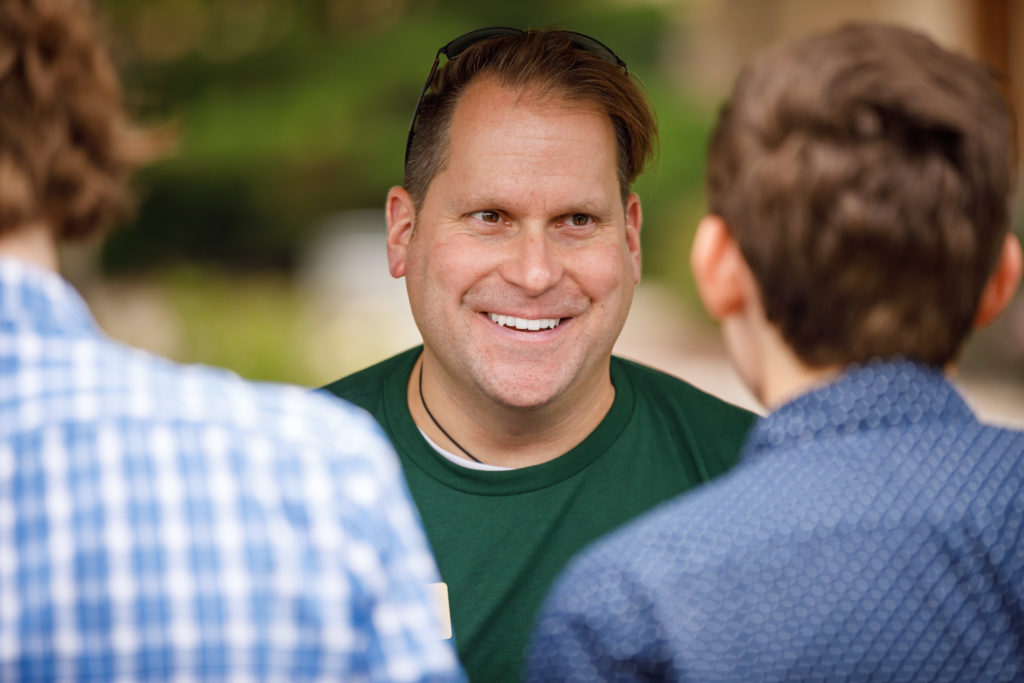 Fast forward to 2004. In the seven years that had passed, I'd beaten cancer, had an incredible experience of collegiate life at Notre Dame, and graduated with a major in finance and a minor in theology. While at Notre Dame, I'd also become Catholic. A friend's invitation to Mass got that ball rolling, and there I encountered again the love of Jesus giving Himself to us fully in the Holy Eucharist, an encounter that was only reinforced by the witness of the lives of so many on-fire Catholics I'd met at Notre Dame, especially through the RCIA process. Upon graduation, I had taken a job with a prestigious financial consulting firm and, alongside dozens of friends, made the move to Chicago. Everything in life seemed to be landing perfectly for me…yet I knew that something deep down was missing. A phone call I received in July 2004 from one of my Campus Ministry mentors helped me name that void, when she invited me to consider coming back to Notre Dame to work in…Campus Ministry. Whoa. This was not a part of the life plan I'd worked out for myself. What could God possibly be doing now in the midst of my otherwise perfect life? Countless hours of recollection and prayerful discernment followed, including many conversations with others. In the course of that discernment, and through others' affirmation of my gifts, God made one thing abundantly clear to me: I had an explicit call to ministry in my life, and that the trajectory of my life had indeed been leading me to this decision point. I knew what I had to do.
I'm now completing my fourteenth year of young adult ministry at Notre Dame. Here, I finally discovered my heart's desire: to accompany young adults as they, too, searched for meaning and grace in their lives. Looking back on my experience of God throughout my life, I can now explain why I minister. I minister because I have experienced personally the love and mercy of Jesus Christ, to whom I owe my life, and I desire only to lead others to an encounter with that same love and mercy. There is no other reason that I am where I am today, except for the grace of God and my simple openness to follow where He was leading me. But I don't minister simply out of nostalgia for one particular experience of God from 20+ years ago. No, I minister because God has never stopped sending His Son to me (and to all) whenever I encounter Him anew in prayer, in Scripture, in family and friends, in those I serve, and especially when I receive Him in Holy Communion at Mass each day. Nope, I'm no saint; I'm a work in progress like everyone else. But I know that it is precisely because I remain open to encountering the love and mercy of Jesus each day that I have the courage and strength to keep building God's Kingdom, one person at a time, and no matter what else life throws my way.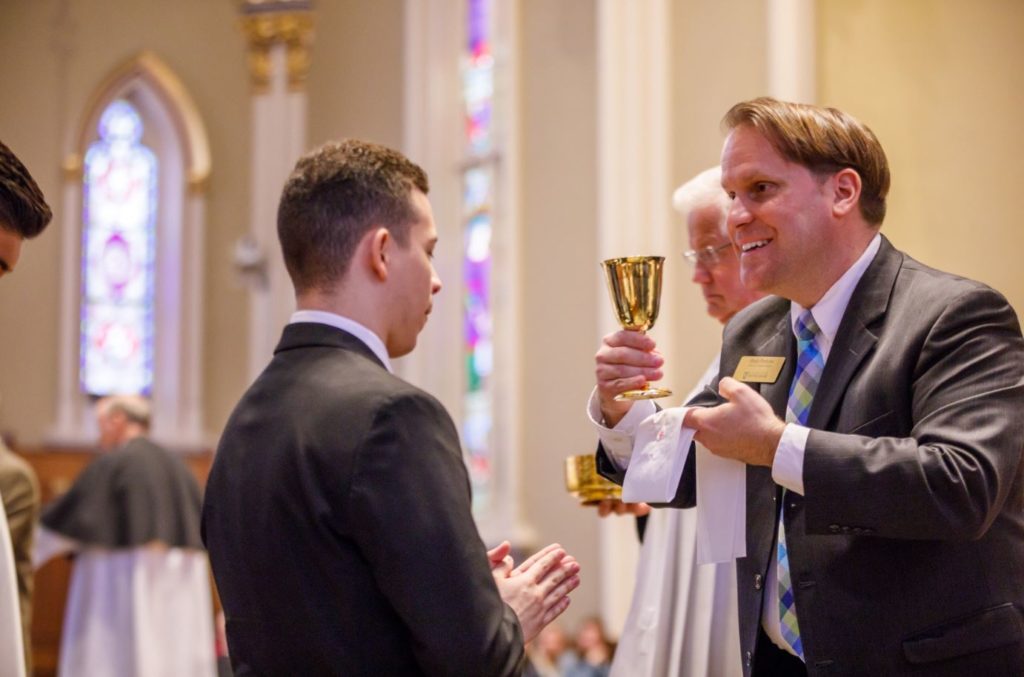 For the past five years in Campus Ministry, my primary work has been to direct the very ministry that helped me come home to the Catholic Church, the RCIA Process. With each new group of students, I am blessed to hear the stories of individuals who have had their own "aha" moments, who have encountered God and felt the nudge of a loving Father who calls them to investigate the Catholic Christian faith or go deeper in their previous faith commitment. I hear stories of divine Providence that led them here to Notre Dame, perhaps firstly for academic pursuits but then, sometimes quite unexpectedly, to discover the God who fulfills the deepest longings of their hearts. I then have the distinct pleasure of accompanying them as they make their own response in faith, which is then sealed in covenant through the celebration of the Sacraments of Initiation at the Basilica each year. I minister in RCIA because of joy, which I experience whenever new intentional disciples of Jesus are launched out into our world and then go off to build the Kingdom of God wherever they are planted, that even more might come to know, love, and serve God. Each time we celebrate the Sacraments with one of my RCIA cohorts, I'm reminded of my own journey that God began in me so many years ago. And it is precisely because of my own experience of the mercy and love of Jesus, that day in the hospital and every day since, that I minister today.
"The most beautiful and stirring adventure that can happen to you is the personal meeting with Jesus, who is the only one who gives real meaning to our lives." – Pope St. John Paul II