Fr. Pete McCormick, C.S.C., Director, Campus Ministry
Out into the Deep
As Faith began to wade out into the water, I attached her skis and taught her the basics of what to do when the boat began to pull. Confident that she had a good enough sense of the mechanics, I told her to sit down in the water and close her eyes. After a quizzical look, she settled into the water, closed her eyes and at that moment I cupped my hands and splashed her in the face with enough water to get a quick "What did you do that for?" I looked at her and said, "Most water skiers your age fail not because they can't pull themselves out of the water, but because the water hits them in the face and they start to panic."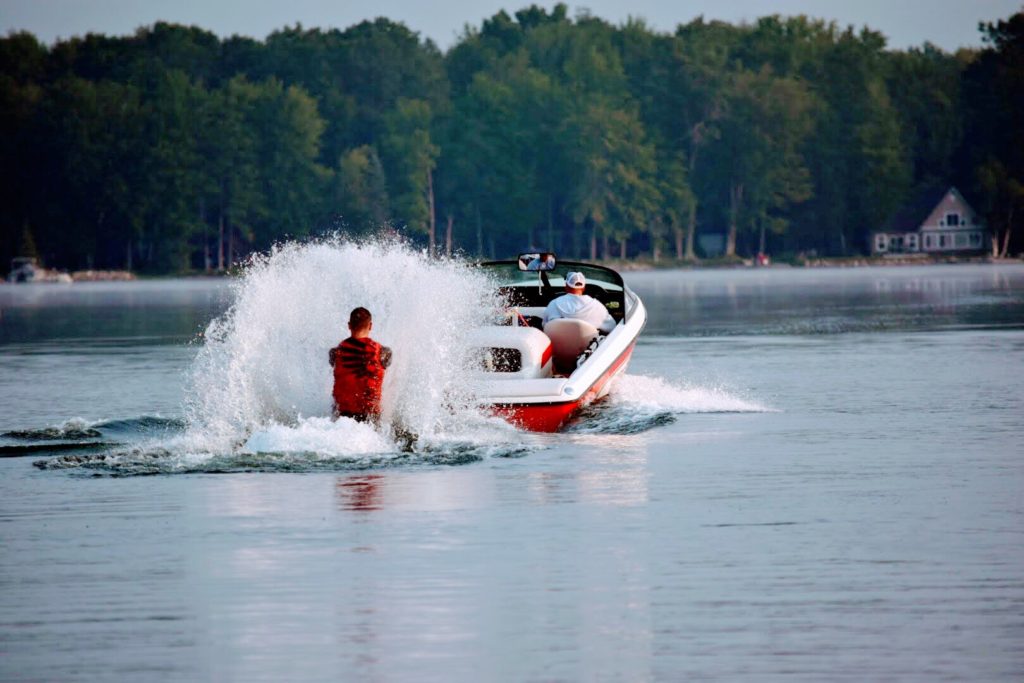 With water dripping from her face, she smiled and settled in for her first attempt. It wasn't until the fourth try that we hit pay dirt. Faith made almost an entire loop around the truncated path that my uncle carved out on her maiden voyage. About 100 yards from shore Faith encountered a set of waves that looked fierce, and in fact they were fierce. I watched her go up and down, up and down, and then just down.
Splash! After my uncle circled back and began bringing Faith to shore I could see her standing on the boat like George Washington on his way across the Delaware. When she finally made it back, Faith looked over and said, "Now that was a lot of water."
The key to our spiritual faith is to be equally expressive. Jesus asks his disciples in St. Matthew's Gospel to clarify who people think he is. They respond by saying: John the Baptist, Elijah, Jeremiah or one of the prophets. However, St. Peter filled with faith replies, "You are the Christ, the Son of the Living God."
St. Peter, the fisherman by trade, the one who had a documented temper from time to time, who would go on to deny Christ three times, recognizes that Jesus is the Messiah. Jesus' response was clear and direct: "… you are Peter, and upon this rock I will build my church…".
Was St. Peter fully ready for Jesus' invitation? Debatable. Yet, the compelling fact about faith is that it never leaves us where we started and rarely offers a complete road map for how to get there. When Jesus first encountered St. Peter on the Sea of Galilee he didn't unfurl a ten-point plan on the benefits of following Him. Jesus simply said, "Come after me, and I will make you fishers of men." That same invitation to follow is extended to us today. How do we respond?
First, we can stay near the shore and play it safe. The waves will pose a minimal threat and we'll have no fear of the water hitting our face. This lifestyle tends to be more predictable, minimal risk, less stress and a greater reliance on our own abilities.
Or, we can let Jesus pull us into the deeper water where the waves are bigger, trust and belief are essential and we are reminded that the answers we seek are sometimes too big to solve in a lifetime.
When answering the question of "Why I Minister?", I hope that it is because I'm willing to let literal and figurative water hit me in the face. To be out a little deeper than I'd prefer, but always trust that the one who called and even tugged me here will also see me through. As St. Paul so beautifully points out in his letter to the Romans, "Oh, the depth of the riches and wisdom and knowledge of God! For from him and through him and for him are all things."
I cannot promise that a life lived with faith will be perfect. You will fall and fail. Further, I cannot guarantee that everything will go according to plan: majors will change, relationships will change, priorities will change, and you will change.
I can promise that lives dedicated to faith will ultimately transform relationships, improve communities and bring us all a step closer to the Kingdom of Heaven.