We excited  to announce that  James Redwood, the inaugural winner of the Notre Dame Review Book Prize, will be reading at the University of Notre Dame at the Eck Center Auditorium on February 5, 2014 at 7:30 p.m.  The reading is free and open to the public.
Redwood's prize-winning collection, Love Beneath The Napalm, traces the enduring effects of colonialism and war in Vietnam, where he spent years devoted to assisting children displaced by war. The tales in this collection ruminate on Vietnam from multiple settings—from the former imperial capital of Hue at the end of the Nguyen Dynasty to contemporary San Francisco and Schenectady, New York.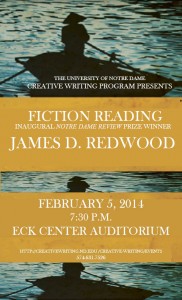 Redwood began publishing short stories based on his experiences in Vietnam in 1993. In the spring of 1999, his story "Numbers" appeared in the Virginia Quarterly Review. The following year, "The Son Returns" was published by the Black Warrior Review. Then, in the fall of 2004, "The Photograph" was published by the Kenyon Review. "The Black Phantom" appeared in North Dakota Quarterly in the fall of 2005, followed shortly thereafter by "Love Beneath the Napalm," the title piece of his collection and the first of four stories published by the Notre Dame Review (Winter 2005). This story was reprinted in the anthology, Notre Dame Review: The First Ten Years, edited by John Matthias and William O'Rourke and published by the University of Notre Dame Press in 2009. In 2006, TriQuarterly published "The Stamp Collector," and then in the Winter/Spring 2010 issue of the Notre Dame Review, the story "Brother Daniel's Roses" appeared. "The Summer Associate" was published in the Winter/Spring 2012 issue of the Notre Dame Review. Redwood's most recent story, "The Angel of the Tenderloin," appeared in the Summer/Fall 2013 issue of the Notre Dame Review and is featured as a "web extra" on the journal's website.
See you there,
Suzi G