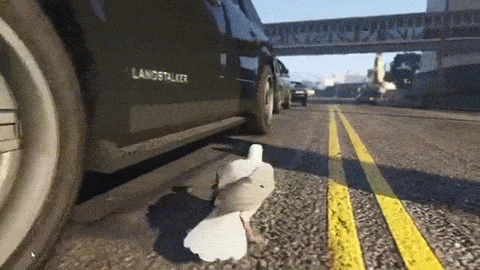 The insecurity associated with driving a car usually occurs at night, when you have to watch out for creepy stalkers who conceal themselves in the backseat of your vehicle. But as the urban animals (pigeons, squirrels, bunnies, etc.) have enhanced their intelligence by mingling with humans in the pretense of begging for food to learn humans' weaknesses, they are secretly developing an intricate plot to conspire against humans. They decide to walk in an innocent manner on the road and  drivers have to be extra cautious so they won't crush them. When the humans are blocked by the seemingly ignorant animals and come out the car to chase the animals away, these evil creatures will bring you down with martial arts they picked up from watching Kungfu Panda, and hijack all the cars to crash nuclear stations to destroy humanity.
If you are interested in hijacking and resurrection, you should definitely come to see Joyelle McSweeney's play Dead Youth, Or the Leaks. In the play, the protagonist called into life teenagers from all over the world who died violently on a containership to Magnetic Island, and have to deal with two potential hijackers: a young Somali pirate and a female Antoine de St-Exupery. The play explores survival amid violence and obscenity, and subverts misery and death resulting from capitalistic exploitation.
Here is the bio of Joyelle McSweeney, the author of Dead Youth, or the Leaks:
Joyelle McSweeney is the author of two hybrid-genre novels: Flet, a sci-fi (Fence, 2008) and Nylund, the Sarcographer(Tarpaulin Sky Press, 2007), a baroque-noir. She is also the author of two volumes of poetry, The Commandrine and Other Poems (Fence, 2004) and The Red Bird, which was chosen by Allen Grossman to inaugurate the Fence Modern Poets Series in 2001. Her most recent titles include The Necropastoral: Poetry, Media, Occults, a book of transnational, transgenre poetics essays (University of Michigan's Poets on Poetry Series, 2015), Percussion Grenade(Fence), and Salamandrine, 8 Gothics (Tarpaulin Sky Press). With Johannes Göransson, she publishes Action Books  and Action, Yes, a press and web-quarterly dedicated to international writing and hybrid forms. She teaches at the University of Notre Dame.
McSweeney's areas of interest and teaching include poetry, prose, and translation; performance and dramatic form; manifestos, art and politics; theory and media studies; mixed and intermedia art and writing; mixed, hypergenred and non-genred writing; disability studies and gender studies; as well as modern and contemporary literature and various avant gardes. She has written critical articles and manifestos on all of the above as well as review articles on such authors as Alice Notley, Hannah Weiner, Anne Carson, and Lyn Hejinian for such journals as the Boston Review, American Book Review, and boundary2. Other authors and artists of special interest include Antonin Artaud, Jack Smith, Kenneth Anger, Kate Bernheimer, Roberto Bolaño, Pume Bylex, Hiromi Itō, and Aimé Césaire.
The play will be performed at Philbin Studio Theatre in DeBartolo Performing Arts Center from 7:30 p.m. to 9:30 p.m.
I will see you there.
Lavinia