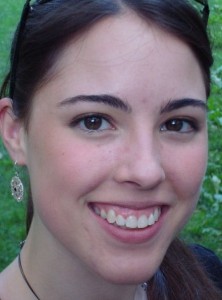 Name: Julie Wamser
E-mail: jwamser@nd.edu
Location of Study: Paris, France
Program of Study: Alliance Française
Sponsor(s): Bruce Broillet


A brief personal bio:
Hi, my name is Julie, and I am a fourth-year student at the University of Notre Dame.  I am pursuing a dual-degree between the College of Engineering and the College of Arts & Letters in Computer Science and French, respectively, through the five-year Reilly Program, of which I am a Reilly Scholar for the 2012-2013 academic year. I am originally from Connecticut and have called Lewis Hall my home for the past four years.
Why this summer language abroad opportunity is important to me:
I have always sought a balanced education; at Notre Dame, I have pursued this goal through the Reilly Program, which has allowed me to merge my studies in the technical fields with pursuits in the humanities. One aspect of my humanities education that I have found missing is a study abroad experience in a French-speaking country.  As I have sought a balanced academic experience, so too, do I hope to pursue a career which allows me to best combine my technical proficiencies with my foreign language skills.   In recent years, I have discovered a personal interest in international development; as the developing world rushes towards modernity, I see a greater need for bilingual technical experts.  I believe there is great potential for collaboration with governmental and non-governmental organizations in the francophone world, specifically with regards to global health.  I will be more able to assist the development of aid projects in the francophone world if I can communicate effectively not only with my own team members, but also with the local population.  Communication is the fundamental building block of every successful human endeavor, particularly those involving individuals representing multiple nationalities.
What I hope to achieve as a result of this summer study abroad experience:
The French classes offered by Alliance Française in Paris are focused on polishing French grammar as well as practicing written and oral skills.  Honing my skills in these areas will assist me in achieving fluency in the language, which is my chief goal this summer.  Moreover, twenty hours of class a week will not only provide me with a formal classroom setting through which I can sharpen my French skills, but will also provide me with the time to go out into the community to practice these skills with native Parisians.  This is incredibly important to me as a French major, as I have not yet had the opportunity to spend any sort of significant portion of time in a French-speaking country; in language, there is no substitute for living in the native country.  In addition to classroom instruction, the Alliance Française provides multiple cultural immersion opportunities for its students, which will allow me to combine formal instruction with more interactive sessions focused on French culture.
My specific learning goals for language and intercultural learning this summer:
At the end of the summer, I will be able to communicate effectively, with little pause, in French with native speakers; the range of discussion will be from the everyday interactions to discussions on academic topics and cultural/social issues, such as the French presidential election.
At the end of the summer, I will be able to engage in cultural and linguistic interactions outside of my traditional comfort zone.
At the end of the summer, I will have learned a great deal about French history and culture  both through in class learning, conversation with natives, and an in-depth exploration of the many museums and festivals native to Paris.
My plan for maximizing my international language learning experience:
There are many ways I plan to integrate into the Parisian community; mainly, I will be staying with a host family provided by Professor Douthwaite.  With this family, I will have an excellent window into and a valuable source on true French culture as we eat together, speak together, and live together for six weeks.  Moreover, the family has three daughters close to my age, who have already offered to introduce me to and include me in their circles of local friends.  Through them, I will have an inside connection to a large number of native French speakers, which is an exciting and valuable opportunity to not only improve my language skills, but also to meet Parisians my own age.   Paris itself abounds with cultural immersion and education options, ranging from museums and operas to festivals.  One festival that interests me in particular is the Paris Jazz Festival held annually in May and June, in which local and international groups perform.  There will also be an ongoing event, the Printemps de Poètes, which features numerous poetry readings in streets, cafés, and museums throughout Paris, a distinctly French cultural opportunity.    Finally, at the recommendation of a student who previously lived in Paris, I hope to volunteer with Les Restos du Coeur, a community service group that drives vans to various regions of Paris in order to provide hot meals for the homeless.

Reflective Journal Entry 1:  Sunday, May 27 – Saturday, June 2, 2012
Week 1 Reflections
As a general rule, the beginning of any language immersion process is difficult. My experience thus far settling into Paris is no exception. Having just concluded a difficult semester and said goodbye to a number of friends graduating this year, I spent a total of four days home before setting off on my language adventure: 6 weeks in the capital of a foreign country with a family I've never met. The first few days of this week can be summed up in one word: stress. Stress about travel plans, stress about settling into a new family, stress about finding my language classes at the Alliance Francaise, stress about learning the public transport system, stress about properly setting up a mobile phone, stress about navigating Paris safely…not to mention the stress of managing to organize and arrange it all in french! In fact, Dr. Askildson mentioned in our pre-departure session that, within our first few days abroad, we would likely experience a few headaches from the mental strain of communicating in another language; he could have not have been more correct. My host mother, who met me at the airport, immediately began conversing with me in rapid french; in just under an hour and a half I had myself a throbbing headache compounded with my exhaustion from a long, overnight flight. To say I was overwhelmed would be an understatement.
Fortunately, most of my fears and stress were allayed within the first two days of this week. I have settled in to live in an adorable house with my host mother and her youngest daughter (just entering high school). I am a two minute walk from the metro, which takes me directly to within a four minute walk of my classes. I have my books for my classes and have settled into the rhythm of the french language intensive course with a fantastic teacher – 9am to 1pm with a short 15 minute break around 11am.
With the more administrative concerns resolved, I have now been able to focus solely on my french language oral skills, which this week alone has demonstrated to me as woefully lacking. There is nothing quite like the experience of being talked at by a 14 year old teenager at dinner in rapid, conversational french to show you just how far you need to go in 6 short weeks! However, I have been quite pleased to discover that, despite my continuing slow responses in coversation, my ear has relatively easily become attuned to french language after only a few days. Four hours of class a day in french (class which combines listening, speaking, and grammar in an intriguing and intellectually stimulating manner) combined with homework, combined with the continuous french environment along with dinner every night with my host family has allowed me to adjust relatively quickly to understanding spoken french. That is not to say I understand everything that is said; quite frequently I need to ask them to explain various key words or phrases and at other times I end up completely lost because of either the speed at which the conversation takes place – 14 year old teenage girls speak very, very fast – or the slang and idiomatic expressions used. However, what I have been frustrated to discover is that my brain tends to automatically reply in english – I listen and understand the majority of the conversation, then find myself ready to respond immediately, only in english, not french. Quite frustrating! My host family has assured me, however, that this is quite normal for the first few weeks. Fortunately, they are patient with my responses, and correct me and help me as needed. The other key problem I've encountered is my vocabulary, or rather the lack thereof. To remedy this, I am attempting to learn a number of new words each day, using them in conversation; class has also so far been quite helpful in expanding my vocabulary.
Of course, not all of my plans have been carried out perfectly in this first week. I'm thinking now of that Robert Burns quote: the best laid plans of mice and men often go awry. I had planned to work with the Restos du Coeur here in Paris, however, volunteering with them is a bit more difficult than anticipated. While I am looking for an alternative activity, I have so far discovered that many volunteer positions here are looking for an individual who can commit to something more along the lines of 6 months to a year as opposed to 5 weeks. In the meantime, I am focusing on as much conversation as possible with my host family. I also just made the acquaintance of the family's oldest daughter (about 25 years old) who lives nearby; she has promised to introduce me to several of her friends throughout the summer, as well as to chat when she's not working, which hopefully means that I will have ample Parisians with which to practice my french. This will also be a great source of people with whom I will be able to complete my four journaling cultural tasks required as a part of this grant.
A bientot,
Julie
Postcard(s) from Abroad: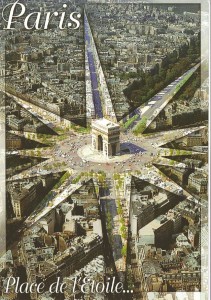 Reflection on my language learning and intercultural gains:
My SLA Grant experience revealed to me two seemingly paradoxical truths about language acquisition: its complexity and its utter simplicity. On one hand, it takes an incredible amount of planning to set oneself up with the most efficient and productive opportunities available for language learning. On the other hand, it's straightforward – essentially, talk – as much as possible with native speakers.
By spending the summer with a host family, I was included in – and was often the reason for – a number of interesting dialogues on cultural experiences with both the family and the family friends, who frequently visited. I would have to say that I achieved my language learning goals, having a number of interesting conversations with various native French speakers. By the end of my six weeks, I was much more at ease carrying on conversation and my language comprehension had dramatically improved.
Reflection on my summer language abroad experience overall:
I found this experience to be invaluable to me as a student. While I had previous experience living abroad, it hadn't been, for any real length of time, in a country that wasn't predominantly English speaking. I discovered that there's a whole different plane of experience living in – not just briefly visiting for a weekend – a country like France. While I was there for comparatively such a short amount of time (6 weeks), my language skills showed marked improvement. More than that, I was able to learn a great deal more about the culture by living with a family and hearing them discuss various political and social topics; the experience really highlighted the idea of "different perspectives" – not just a difference of opinion, but a whole different way of looking at the world and society. Beyond improving my language skills, the experience brought me out of myself. I truly appreciated this opportunity and highly recommend it to others.
How I plan to use my language and intercultural competences in the future:
The honest answer to this, at this moment in time, is that I am not sure how this experience will come into play in my life, in a strictly practical sense. However, I know that God has a reason for my interest and development of my language skills. My pipe dream is to be able to work, possibly in international affairs such as international healthcare, to better communities with my technical knowledge while being able to converse directly with the local community – for example, local staff in an area of need. In the immediate future, I need to continue to develop my technical skills so that I can be effective in a tangible way in the international setting, which takes time. The challenge then rests with me to continue to increase my ability in the French language while developing these technical skills.
Outside the strictly direct application view of my experience, the qualities I cultivated as part of this experience, including self-resilience and perseverance, directly impact my daily life now. The experience taught me a great many other things as well, such as not to fear failure. Perhaps the best thing this experience gave me (aside from language skills) is practice failing. Once you fail, repeatedly, you will never forget that it is possible to laugh at yourself & your mistakes, and most importantly, pick yourself up to try again.