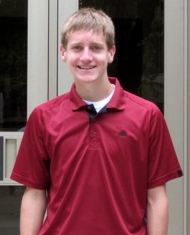 Name: Peter Steiner
E-mail: psteiner@nd.edu
Location of Study: Dresden, Germany
Program of Study: Goethe Institute
Sponsor(s): J. Patrick Rogers


A brief personal bio:
I am a rising sophomore at Notre Dame studying Mechanical Engineering and German and I originate from West Bend, Wisconsin. Family is an important aspect of my life as I have three siblings in addition to both my parents. Outside of academic work, I spend most of my time participating in, watching, or writing about sports. I enjoy my position as sports writer for The Observer and I am heavily involved with interhall sports with my dorm, Stanford Hall. Finally, travelling has played a large role in my life as I been fortunate enough to have visited many countries already.
Why this summer language abroad opportunity is important to me:
I am excited about this language program because it will provide me the opportunity to complete intensive classroom study of the German language as well as the chance to live in Germany -both of which will bring me closer to my goals of fluency and cultural understanding. As an engineering major, it is extremely difficult to study abroad in a country that speaks a language other than English.  Therefore, this program is my opportunity to study abroad in Germany and experience the remarkable things that the classroom cannot provide. I firmly believe that this study abroad program will become the foundation for my study of German in the future. As I look beyond this summer, I believe my German and engineering studies make it possible to explore a breadth of opportunities, such as receiving an internship in Germany after my junior year or working for a German Engineering company after graduation. Finally, while I am interested in engineering, I also value a well-rounded education. I hope this study abroad program will form the pillar for the liberal arts aspect of my education and help me broaden my horizons.
What I hope to achieve as a result of this summer study abroad experience:
When I look back on my summer study abroad experience next fall, I hope that I will have accomplished three main goals. The first of the three objectives deals with language learning. Through my classes and more importantly, by immersing myself in the language outside of class, I hope to greatly advance my German language skills. I also intend to connect with the community, classmates, and my host family. This program is an opportunity to make life-long friendships and I hope to take advantage of that. Finally, I am determined to leave my comfort zone by visiting many places and participating in a variety of cultural and community activities I wouldn't normally take part in. If I achieve these three objectives, I know that I will have a great study abroad experience.
My specific learning goals for language and intercultural learning this summer:
 By the end of the summer, I will be able to speak or write about engineering related topics. I will also have a grasp on some of the necessary vocabulary associated with engineering.
By the end of the summer, I will have corrected my pronunciation issues and my pronunciation will be at the same level as my speaking skills.
By the end of the summer, I will be able to hold a conversation with a native speaker without straining to find words or asking the person to repeat him or herself.
By the end of the summer, I will be able to speak using the correct adjective endings.
My plan for maximizing my international language learning experience:
I plan to maximize my study abroad experience by stepping out of my comfort zone. In addition to completing the objectives I previously mentioned, I plan on truly connecting with my community through various avenues. For example, I am excited to join the Bonn Tennis and Hockey Club on a trial membership because I am an avid tennis player. I also plan on being active in Bonner-Münster, a catholic church located in the heart of Bonn. I hope to find a few other activities that I love to do and participate in them during my time in Bonn. Finally, I intend to speak German in every aspect of my program. I will not fall into the trap of speaking English outside of class, even though nearly everyone in Germany speaks English. I recognize that the things I do outside of class will be the most memorable aspects of my experience and I want to make my time abroad the best possible experience.

Reflective Journal Entry 1:
Greetings from Bonn, Germany! I have officially been in Bonn for a week now and what a week it has been. I'm not sure I have ever experienced this mixture of emotions in such a short period of time. I can't touch on everything that happened, but here is a summary of my first week and my comments on my language learning thus far…
Needless to say, the first few days in Bonn were pretty difficult. Before I left for my trip, everyone kept telling me to "Have fun!" and I was so focused on the glamours of going to europe, that I basically forgot I was traveling alone to a place I'd never been before. In addition, the first few days were filled with what appeared to be disappointments, so I struggled to keep a positive attitude about my stay in Bonn. After tiring plane ride and checking into the hotel in Bonn, I wandered through the center of Bonn and began to realize that this was not going to be easy. Thankfully, I received a nice welcome in Bonn from an older women handing out fliers at a cultural informational event in the public square. After she detailed the small theater she supported, I explained that it was my first day in Bonn and asked her questions (all in German) like, what are some cultural things I need to do in Bonn this summer? We talked for a while and eventually ventured into other topics like her experience in the US. It was interesting to hear her opinion on my country, especially when she said her enthusiasm for the US declined when she realized that so many people live in poverty while others live lives of grand luxury. In the end, the conversation is a very positive memory from the tough first few days. The combination of weariness, unfamiliarity and loneliness made the first day hard, but I had hopes for second day when I would meet my host family.
After making my way through registration and placing into B2-2 (a level basically considered proficient), I made my way to my host family's house. My first impression was of disappointment. I had hoped for a large family with whom I could talk, eat, and spend time with. Instead I was introduced to Frau Mäueler, whose 4 sons are now working elsewhere, so she rents out a few of her rooms . I would have my own bath and kitchen and cook for myself…not exactly what I hoped for. The last disappointment came during my first day of classes. Most of the students in my class had been in Bonn for a month or two so they already had established friendships and schedules, unlike me who was just making my way! In the end, the first few days were difficult to handle, but from then things started rapidly improving!
Now after just a week in Bonn, I have a completely different perspective. I ended up meeting some people from other classes at the Goethe Institut through some of the tours and activities the Institut offered in the first few days. It has been fascinating to speak with these people from different cultural backgrounds. I have discussed politics, eating habits, marriage, language learning, history, and much more with friends from Greece, Venezuela, France, and Japan. My outlook on my living situation has also improved. I have become good friends with another young man also staying with Frau Mäueler. He has been able to show me around Bonn and has been a fantastic resource for questions. I also realize now that this situation allows me to be independent, even if I have to deal with my own cooking! Finally, class at the Goethe Institut has also been great. It's interesting and refreshing to be taking a class and learning for my own good, without a grade to worry about. While most students at the Institut have a specific goal for the German language, mine is less certain, but I enjoy learning a language because I can!
That brings me to my German language learning experience thus far. After only one week, my German has improved considerably. I am much more comfortable when speaking and it's becoming fairly natural. I have been able to incorporate new phrases, words, and structures, while still attempting to correct myself when I make mistakes. My biggest challenge that I can recognize so far has been speaking with correct adjective endings and using "sein verb" with a movement verb. Most of my speaking has been with other language learners and while it is good that I am always speaking German, I recognize the value in speaking to native speakers for extended periods of time. Thus I have begun my search for activities outside of class. I have a few good leads after my first week and I'm hoping some of them have positive results. I have set up a Tandem Partnership with a student at the University. We meet in order that I can improve my German and he can improve his English. I am also meeting with the trainer at the Bonn Tennis and Hockey Verein this week to determine how I can play there this summer. We had quite the interesting phone conversation in German! I have gone to a few masses at the catholic church here. Finally, I am attempting to get involved in the intramural sports system at the University of Bonn, of which the Goethe Institut is an external member. I'm lucky the institut is connected to the large University here and I hope I can take advantage of the fact that there are so many students in Bonn. Hopefully through these avenues, I will be able to build some relationships with native speakers.
Finally, I completed a journaling task in my first week because there was a holiday or "Feiertag" last week Thursday. I learned it is a catholic based holiday, called Corpus Christi in English or Fronleichnam auf Deutsch and it was the perfect opportunity to engage native speakers. First, I went to the actual celebration mass, so I knew pretty much what the holiday entailed. The mass was quite interesting and the procession through the city center after mass was fascinating. After mass, I asked a lady who had a mass program in her hand, what the Feiertag was all about. We had a nice conversation about the meaning and significance, though I made it seem as though I was uninformed. She was able to describe to me some of the traditions of the day in the catholic church, though she didn't exactly clarify the importance of the Bread and Blood of Christ. Then, I engaged someone who was not at the mass. He said he was catholic and knew it was a catholic holiday, but couldn't tell me what it was exactly about. Of course, it doesn't help that the name in German doesn't help with the explaining the day, but it was interesting to hear his perspective. Because Bonn is a predominantly catholic region, they have the day off from work. But not everyone knows the traditions or meaning of the day!
I hope that gives a little insight into my first week in Bonn. You can expect 7 more posts, one for each week I'm here!
Reflective Journal Entry 2: Week 2
It's hard to believe that I've only been in Bonn for two weeks now with everything that's been going on. I'm very thankful that I decided to combine two Goethe courses, because a month just seems too short.
After two weeks, I certainly feel that I have settled in nicely. I have established a few good friendships, figured out my typical daily schedule including food, and made a few connections with the community. Class is going well and I think the class work combined with always speaking German outside of class has helped me already make vast improvements. I would say that I am much more comfortable speaking and I rarely have to think out what I will say beforehand. I still find myself correcting my adjective endings, but my biggest difficult lies with my vocabulary. Occasionally I will encounter a topic where I don't know more than a few words and I struggle to express my thoughts. My goal for the next few weeks is to write down these words I don't know and look them up later. In class, we are working on noun and verb combinations, which is difficult due to the volume, but it is certainly practical to learn.
In my mind, my last week was dominated by three main events. Like most europeans, I have watched a ton of soccer on television because the European Soccer Championship started about 2 weeks ago and lasts until beginning of July. I have planned my trips to Germany pretty well because when I visited in 2010, the World Cup was taking place. Thus, this summer is not my first experience with German soccer, but it doesn't mean it still isn't awesome! Watching the games have been lots of fun and also a great way to interact with my host family as well as an opportunity to meet up with friends at night. The celebrations after Germany wins are pretty fantastic, with car horns and people celebrating at cafes all over the city.
It shouldn't surprise anyone that my second event also involves sports. On Wednesday I met with a trainer at the Bonn Tennis and Hockey Verein (Club). I didn't exactly know what to expect, but I thought we would discuss my options to play tennis this summer, as well as play a little so he could determine my skill level. Instead, it ended up being a private lesson with the trainer who was once a national coach in Yugoslavia. I had so much fun playing tennis all while receiving tips and instruction in German. Thankfully the night before I had reviewed some of the tennis vocabulary so I had a solid foundation. After playing for about an hour and becoming thoroughly exhausted, we discussed my options for the summer. He briefed on the different opportunities and we decided I essentially would participate in two group lessons. In these two lessons, I would try to make some contacts so I had people to play with. Then I also signed up for a 5 day tennis camp (2 hrs a day) in July. I'm really thankful I had the courage to explore this option and I hope I can make the most of it.
Finally, the week ended with a great trip to visit Christoph in Münster. Chris was an exchange student that stayed with my family for 6 months during my junior year of high school. Friday night I took the train Münster and hung out with his friends for the night. Then we woke up early Saturday morning, picked up two of Chris' friends and headed to Amsterdam! It was about a 2.5 hour drive from Münster and after utilizing the park and ride, we were in Amsterdam at about noon. From there we had the whole day to explore the city and see the sights. Because we only had one day, we didn't spend anytime in the museums. But we were able to see most of the famous buildings and monuments, while also getting a feel for the city. The combination of the canals with the all the smaller, old buildings lining the canals makes all of Amsterdam very beautiful. In the afternoon, we took a boat tour in the canals, which was pretty remarkable. It was also fun to learn some of the immense history contained in the city. A few fun facts: About one car a week drives into a canal. Most of the buildings have gables at the very top, from which hangs a large hook. They used these hooks to haul furniture through the windows since the stairs are so small! Even though our time in Amsterdam was short, it was still a great trip. Sunday, Chris and I hung out in Münster with a few more of his friends. I really enjoyed being reunited with Chris and it was also great practice to speak German with all his friends Friday night and Saturday in Amsterdam, especially because they were very helpful.
With two weeks under my belt, I'm excited to see what the rest of my time brings!
Reflective Journal Entry 3: Week 3
First off, another reflection on my language learning. I am trying hard to incorporate what I learn in class into my daily language. I have been relatively successful thus far and after using the words and phrases outside of class, they are then cemented in my memory and available for future use. As expected, I encounter new words everyday so I'm still working hard to expand my vocabulary. Finally, I have realized another challenge in my language speaking. Although I have been able to interact with some Germans, the conversation is surface level and always touches on the topic of where I'm from, why I'm in Bonn, etc. I can now breeze through these questions and I hope I can find a few opportunities to have deeper level conversations on topics where I'm not as confident. Yet another challenge, but I'm glad I recognize it now instead during my post trip reflections.
Now for a few highlights from the last week…
On Tuesday night, I decided to bike to the University of Bonn's Athletic Center in order to play Ultimate Frisbee, something part of the intramural sports system. I didn't exactly know the way there, but thankfully I saw some students biking in a similar direction and asked if they were headed there as well. They were and I had a nice conversation with one of the guys who said he was also playing Ultimate. That was quite the blessing, because he was able to show me where to go and I introduced myself to the coach. In fact, the intramural session was actually a practice for the Ultimate Frisbee team in Bonn and they practice three times a week and play in tournaments all summer. The practice was great and like tennis, it was fun to listen to instructions in German. I was also able to talk with a few others during practice. Ultimate will be an activity I continue all summer, so I was glad I had the courage to make my way there the first time.
Last week, I was also able to talk more with another renter in Frau Mäueler's house. We share the kitchen and bathroom and he is a professor at the Uni of Bonn. We had a nice hour-long conversation about ourselves, the euro crisis and sports. Although it was in English, I enjoyed having an intelligent conversation (something hard to come by when you can't always express yourself clearly in a foreign language)!
Finally, last weekend I made the trip to Heppenheim to visit my summer exchange partner from two years ago. On the two hour train ride down, I met a 20 year old in the German army who was traveling home for the weekend. After I asked the conductor something about our train, he turned and asked me if I came from Holland. Although it's unfortunate he recognized I was foreign, I remembered something my german professor mentioned during class. He said that if someone asks if you come from Holland, take it as a compliment because they learn the German language really well. Anyways, we talked for about 3/4 of the trip on topics ranging from family, to music, to the army. Eventually I was reunited with Lukas and the Stoner family and it was really fantastic to see them again. I certainly enjoyed my weekend and especially the meals we had together. I certainly appreciate the company and food after cooking for myself for three weeks. I was also great to see some others from the exchange program as well as do some more sightseeing in the surrounding areas.
I hope all is well by you. I'm looking forward to the coming week when I meet up with Aaron and Ellie in Portugal!
Reflective Journal Entry 4: Weeks 4 and 5
Per usual, I'll start with some thoughts on my language learning. I'm really proud of the progress I've made since I arrived in the beginning of June. I think I've advanced considerably, especially in the areas of speaking and listening and I've almost never resorted to English. Learning vocabulary will never end, but I always smile when I learn a phrase or word and then encounter it frequently when listening to others speak. I also think it's a good sign that I am frequently thinking in German without intending to do so. In my previous posts, I identified an area needing improvement and after speaking to more Germans and listening to the news, I recognize my listening still needs work.
Now for the fun stuff. Last weekend I had a fantastic trip to Lisbon, Portugal when I met up with Aaron and Ellie for about 5 days. After overcoming some flight difficulties (my flight was cancelled and had no way to contact my siblings), we all met up and enjoyed 5 days exploring a city new for all three of us, a hard thing to come by when your siblings are already seasoned travelers! We saw some great sights, ate out, did a lot of walking, and laughed a lot! My favorite sight was probably the Jerónimos Monastery built in the 1500s. One of my favorite memories occurred when the three of us went for a long run through the city at about 8 pm. The clapping, arm-waving and random words from strangers and restaurant hosts were rather hilarious, though at the time embarrassing! I'm already looking forward to our next adventure, though I don't when it will come along.
As for my last week in Bonn, it included some changes with the start of a new class. Many of the friends I made in the first month left, so I spent some time meeting new people and getting used to a new teacher. I also enjoyed practicing with the Ultimate Frisbee team twice. This week I also started participating in a short noon prayer service at the catholic church in the center of the city. In my free time, I have started reading the first Harry Potter book in German and am currently about 1/3 done. It's been very enjoyable and a great way to learn, especially since I've read the book multiple times in English. Finally, this last weekend I took an excursion to Cologne and enjoyed seeing the famous cathedral and wandering through the city center.
I hope everyone enjoyed the 4th of July. I look forward to updating you about my coming week that includes a tennis camp at a local club!
Reflective Journal Entry 5: Week 6
I enjoyed another fantastic week filled with a lot of activities. First, a language reflection. This week, instead of talking about my progress, I would like to comment on learning a language when your native tongue is English or the international language. Sometimes I question why I'm learning German since so many people here (and in the world) can speak English. Occasionally at the supermarket or on the streets, I will start a conversation and the other person will switch to English after I've replied a few times. I'm not sure if they think they are being polite or want to practice, but it's a little frustrating. Thankfully, this has decreased with my time in Bonn, but overall these events have made me question my goal of learning German when I'm most likely not going to work or study in Germany in the future. Now after 6 weeks, I recognize the rewards and benefits of learning a language even when your native language is English. Besides just interacting with people in their language and experiencing culture, it's also the learning process. Learning a language is a totally different type of education and not something I would get studying engineering. I'm thankful for this opportunity to really broaden my horizons and add variety to my education.
Now for the highlights of last week…
I took part in a tennis camp at a tennis club in Bonn Monday-Friday from 7-9. Even though the other participants were about 35-45 and at a lower level, I enjoyed playing everyday, playing on clay courts, and interacting with these other guys and my trainer. Then on Friday night at the end of the camp, we went to a bar and talked for about 2 hours on topics ranging from universities in Germany to Facebook in the workplace. I really enjoyed the conversation since I was able to follow it and contribute occasionally.
Next, I took a trip to Berlin last weekend and packed my 2 days full with exploring the city. Because I really wanted to see the city and my friend decided he couldn't go, I traveled alone which allowed me to do a lot. I enjoyed discovering the history of the city and seeing the sights.
Finally, the last highlight was talking to a 35 yr old man who lived in East Germany his whole life until moving to Bonn last year for work. We met on the train back to Bonn and spent about 4 hours of the train ride discussing in English the history of Berlin, the reunification, and his current work. It was incredible to hear all these experiences from someone who was 12 when the Wall came down and whose parents grew up in the GDR.
With only about 9 days left in Bonn, I will try to make the most of my last week and a half.
Reflective Journal Entry 6: Week 7 and 8
Greetings from West Bend, Wisconsin! As expected, my last two weeks went by quickly. First, I'll run through my last two weeks here in Bonn. In addition to my normal weekly schedule with Ultimate Frisbee and the noon prayer service, I also saw many sights in and near Bonn. I thoroughly enjoyed hiking through the Rhine-Ahr River region, which is filled with small villages dependent on the vineyards on the surrounding hills. I also checked off a few more museums and spent many nights with friends drinking and having great conversation. Finally, on my last weekend, I was able to visit Felix, a foreign exchange student I became friends with during my senior year of high school. It was a nice weekend and great to see the culture of a small town in Germany, including visiting "Schützenfest", a local festival.
Finally, I would like to give a quick reflection with my current thoughts on my 8 weeks. I am proud of the immense progress I made speaking German the entire two months. The SLA Grant Program is definitely well-designed as it allowed me to supplement intensive class room work with practical language use. Many people, like friends and my host family, commented on the language difference between beginning of June and now.
In addition to language gains, I also learned a lot of great lessons in my experience and three I will touch on now. First, I now recognize the importance of keeping a positive attitude, even when a situation appears disappointing at first. For example, my first class, host family, and tennis camp were all seemingly disappointing, but they turned out to be remarkable parts of my experience. Second, I am much more confident meeting new people and reaching out to a new classmates or teammates. Since I did not know anyone when I began in Bonn, I was forced to meet many new people and form new friendships. Finally, I have made significant cultural gains by interacting with people not just from Germany, but from all over the world in my Goethe classes. My awareness and knowledge of other cultures has increased by just talking with others and learning about their lives.
I am extremely grateful to have had this opportunity to study abroad and it won't be an experience I soon forget. I hope you enjoyed following my summer adventure and I'm looking forward to seeing everyone sometime soon!
Postcard(s) from Abroad:

Reflection on my language learning and intercultural gains:
It's been about one and a half months since returning from Germany, so time for a little reflection. I mentioned some of these points during my final weekly journal entry, but I'd like to reiterate them. I certainly made a lot progress learning German. I recognize I probably learned as much outside of class in my activities like Ultimate Frisbee and with my host family, as I did in the classroom. Although I've lost some of my progress after six weeks away, I can see the vast difference in my current German class from this year and last. Having spent time in Germany previously and the country's similarities to USA, I feel my intercultural gains were less significant, but still present and valuable. I now comprehend and am able to adapt to subtle differences between cultures. Part of my learning resulted from observation, but I also learned from making occasional mistakes. Certainly when I travel to another country in the future, I will be more prepared as a result of my experience this summer.
Reflection on my summer language abroad experience overall:
My two months in Bonn, Germany was a remarkable experience. I struggled the first week or so to adjust to my new environment, but I think those problems only served to enhance my experience. The ability to travel on weekends highlighted my time outside of class, while meeting people from all over the world was the greatest aspect of my classes. I also enjoyed living with my host family and participating in activities outside of class. I am extremely glad I stayed for two months because I was able to settle down, improve my language skills, and really connect with the people and things in Bonn. Finally, I learned some valuable life lessons. For example, I have gained confidence in meeting new people, the ability to stay positive despite the situation and a wide cultural perspective. Overall, I'm grateful to for the opportunity to have been abroad this last summer and it's an experience I won't soon forget.
How I plan to use my language and intercultural competences in the future:
I believe I can use the skills and knowledge I've gained this summer in numerous ways. When in the USA, I will have a nice cultural perspective to speak from. I have also built a great foundation for my German and liberal art classes and have a valuable experience outside of engineering. Communication is an essential asset and I made some great strides with that skill. When I travel abroad in the future, I will be experienced and have the ability to maximize future opportunities. In fact, I am much more inclined to travel internationally because of my experience in Germany. For example, I would really like to study abroad during my junior year, even if it's not in Germany, because I know how great the studying abroad can be. Finally, I think my language proficiency will be useful in the future, whether in my job or when I return to Germany for school, work or vacation.