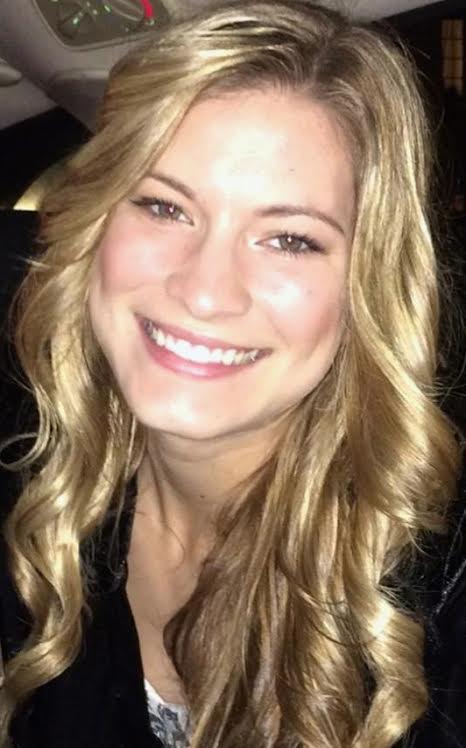 Name: Jennifer Blum
E-mail: Jennifer.L.Blum.32@nd.edu
Language: Chinese
Location of Study: Beijing, China
Program of Study: China Summer Language Program in Beijing
Sponsors: Center for the Study of Languages and Cultures

A brief personal bio:
I am a sophomore in the Mendoza College of Business studying Finance and Chinese. I am also a member of the Notre Dame Varsity Women's Lacrosse team. I have been studying Chinese since freshmen year of high school and I am very excited to visit China for the first time this summer.
Why this summer language abroad opportunity is important to me:
By receiving this grant, I will be able to achieve both my academic and career goals, which will allow me to further enhance my life in the near future as well as long term. I am determined to graduate from Notre Dame with a double major in Chinese and Business. China plays a major role in the business world today, not only in its dealings with the United States, but also globally. People who can speak the language are in high demand. This is a great opportunity because I believe immersion is essential to becoming truly fluent in any foreign language. Being able to study abroad in China this summer will give me an unbelievable opportunity to be immersed with native Mandarin speakers, to interact with many different Chinese people, and to learn more about their culture and history. I believe the most important factor for success in any business setting is to be able to understand and relate to the people with whom you are communicating and interacting.
What I hope to achieve as a result of this summer study abroad experience:
After studying abroad this summer in China, I would like to return to the United States with the confidence that I am fluent in the Chinese language. I also want to feel educated in and comfortable with the Chinese culture. I know that many opportunities to learn about Chinese culture will be presented while we are there, and I cannot wait to fully embrace them. Essentially by the end of the summer, I want to feel completely confident in my skills to the point that I would feel comfortable living there. I know that this program can get me to my desired level, and I am excited to get to work. I am so thankful to have this opportunity.
My specific learning goals for language and intercultural learning this summer:
At the end of my summer study abroad, I will be able to say with confidence that I am fluent in Mandarin, whether it be to someone I know, or in a job interview.
At the end of my summer study abroad, I will be able to read and discuss key aspects of business and investing in Chinese newspapers and with Chinese people.

At the end of my summer study abroad, I will be able to have a conversation in Chinese and understand subtle conversational cues relating to the language and culture that lead me to understand the other's true feelings, even if their feelings do not match exactly with their word choice and what they are telling me.
At the end of my summer study abroad, I want to feel confident that I could live and work in China comfortably, understanding the culture and local people I would be interacting with and also be able to share my culture and language with them.
My plan for maximizing my international language learning experience:
I intend to hit the ground running by staying very focused on my studies while in China, but still allotting enough time to take in the culture. One can learn a lot from Chinese textbooks alone, but there are most certainly intangible aspects of the culture and the people that one can only learn though first hand experience. In order to take full advantage of my time abroad, I am committed to staying on top of my studies, if not ahead, so that I can partake in last minute learning experiences as they arise. I am also excited to be able to experience China and this study abroad program with nothing else on my plate. It will be wonderful to be there, totally immersed in the program and culture, with no other classes or lacrosse dividing my time and attention.

Reflective Journal Entry 1: 
The first week here in Beijing took a lot of adjusting, to both a new sleeping schedule and diet. It took a full week to adapt, but by the end of the week I was sleeping full nights and we had found our safe foods to go to when in doubt. The first week of class at Peking University was challenging. We have 4 hours of class daily followed by one on one sessions one of our teachers, and then homework. Needless to say, our trip to the Great Wall on the first weekend was much needed. The Great Wall was stunning, although it was a lot harder to climb than I imagined it would be. I climbed until I reached a nice view, and then I sat down and took in the experience with a few of my classmates. It was absolutely amazing to sit there and think of all the history under our very feet. So far, although class is challenging, I am very happy and thankful to be in China. I know this is a great opportunity and I am excited to take full advantage my time here.
Reflective Journal Entry 2:
This week we left Peking University on Wednesday for a long weekend in Hang Zhou and Shang Hai. This was our first overnight trip and the most enjoyable experience I have had since being in China (possibly due to the break from studying). Wednesday night we took a sleeper train to Hang Zhou. This was my first time on a sleeper train and it was very fun. A lot of the girls on the trip the gathered in one room and chatted for a few hours, it was a nice bonding experience. After a full 13 hours on the train, we arrived in Hang Zhou to a full day ahead of us. We visited a few companies to network and they were all very interesting. The next morning we took a train to Shang Hai and we visited companies there as well. My favorite company was Illy Coffee. We went to their headquarters in Shang Hai which they have named Coffee University. Here, they share the history of the company and teach people how to best make Illy Coffee. The coffee was amazing and the homemade gelato was even better. We all left there very happy and with full stomachs. That night we had the opportunity to eat dinner with the Alumni Club of Notre Dame in Shang Hai. We went to a really nice restaurant on West Lake where we had the privilege of meeting incoming students of Notre Dame who currently live in Shang Hai. The next day we went to an old garden that was beautiful. We then went to a temple where a recent Notre Dame graduate and his mother graciously welcomed us and prepared a delicious meal for us. All and all, Shang Hai is my favorite place I have been yet. It has somewhat of a western feeling, while still feeling authentically Chinese at the same time. I definitely plan to return in the near future.
Reflective Journal Entry 3:
This weekend we went to a tea house near by. When we got to the tea house there were snacks and herbs for tea on the table. I had no idea what to expect. The show opened with an elderly man dancing to music while balancing a 80 pound pot on his head. He did all different kinds of tricks with it. He would take it off his head and then throw it up in the air and catch it on his head. One could tell that this took a lot of time and effort to master this skill, it was very impressive to watch. After him, there was a man that did magic tricks. I understood him when he said in Chinese that magic is not real. I thought it was funny that he said that while performing magic tricks. Next was the opera singers. Chinese opera sounds very different than what Americans consider to be opera. Chinese opera involves a lot of what sounds like screeching. Needless to say, this was not my favorite part of the performance. There was also a man who used his hands to depict animals and people. He did this along with music and he was so good at it that he could make it look as if the character was singing to the music. Lastly there was a Kung Fu performance because what would a traditional Chinese performance be without Kung Fu. This is also very impressive. All in all, the talents were very entertaining and the tea was good. I am not really a big hot tea drinker but I really liked the cold tea they gave us. It was very sweet and I found out it was made with plums. If I could find that tea in the states, I would definitely buy it.
Reflective Journal Entry 4:
This weekend we went to a place called 798 (Qi Jiu Ba) Art District. This now tourist attraction used to be home to a factory. 798 is filled with museums and stores housing unique artwork and souvenirs. This is my favorite place we have gone yet because not only does it have historical and cultural art, but also modern art. We got dropped off there as a group in the morning and had three hours to look around, eat, and buy things. I thought by the time three hours was up I would be ready to leave, but this was not the case. After three hours, I felt like I had not even seen half of what 798 had to offer. Me and my friends walked around buying things for about 2 hours, and then we found a delicious western restaurant to eat at. It is on a very rare occasion that one can find a delicious western restaurant in China, and this very reason may be part of why I liked 798 so much. While I was there, I saw an elderly man painting the inside of very small glass jars. His paintings were very intricate and he had to be very talented to be able to paint the inside of the glass from a very small opening at the top. I ended up buying one with a tiger on each side. I am very happy with my purchase and hope to go back again before I leave China.
Reflective Journal Entry 5:
This weekend we went to the Forbidden City. This was quite the adventure because we went on our own instead of with our program like usual. After spending about 45 minutes on the subway, we finally arrived at the forbidden city. It was so many to me how many people were there to see it as well. In America, I feel like when one goes to a historical sight the majority of the people there are foreigners. At the Forbidden City, as a foreigner I felt like a minority, which was kind of cool to me. We arrived decently early in the morning so as to beat the rush, and we still had to wait in line for a hour to get tickets. After obtaining our tickets, we entered the Forbidden City. I was in shock at the size of the place. It was truly amazing, such a beautiful place filled with so much history. Sadly the Sunday we went, the doors to most the buildings were closed for an unknown reason so we only had the opportunity to see the buildings from the outside. All of them match, being traditional Chinese architecture with mainly red walls and blue, green and gold adornment toped with animals on the corners of the roofs. This is definitely a must see sight for anyone in the Beijing area. We spent over two hours just walking though the place, without being able to go inside any of the buildings, if that helps explain just how big the Forbidden City really is. I am so thankful for the opportunity to see such a monumental sight in such a historical country. I will never forget this experience.
Reflective Journal Entry 6:
My last week in China went by very quickly. My friends and I tried to accomplish the last of the events on our to-do list and one of which was going to a nearby antique market. The market was nothing like a expected it to be…it was enormous. There were at least 50 rows of little shops set up, each with different goods. I was overwhelmed to say the least. I ended up buying my favorite souvenir there, though. I found two drawings: one of a leopard and one of a tiger. They were so intricately drawn and so beautiful. I cannot wait to put one up in my room at home and one in my dorm room. The next day we made the trip out to what is known as the most hip part of Beijing, San La Tun. It was one of my friends birthday so we celebrated with an amazing sushi dinner. It was the best sushi I have ever had and definitely my favorite meal I had while in China. After dinner we spent some time walking around the area, we really like it because it is very modern with westernized restaurants and shopping. The last fun thing we did before starting to study for our final exam that was quickly approaching was rent bikes to explore the university. We spent about two hours discovering beautiful places around campus. Beijing University is a very cool school and has a great campus. While we were on our bikes, we headed over to the famous west gate to get pictures there before leaving. I was shocked at the amount of people trying to do the same. There were at least 25 families with kids there trying to get a picture in front of this famous gate to Beijing University. This experience really showed me just how lucky I was to be able to study at a school that so many people aspired to attend.

Reflection on my language learning and intercultural gains:
I can honestly say that I grew a lot as a person while in China. I learned so much about the language and culture, most of which I could not have learned through time in a classroom. The class was very challenging and at some points I felt as if I was spending too much time studying and not enough time out exploring, but in the end I think it was worth it. My favorite part about the program was the local teachers they hired to teach us. They were great teachers, willing to help at anytime, and very friendly. I have been home for a few weeks now and have still kept in touch with my teachers. I miss them a lot already.
Reflection on my summer language abroad experience overall:
Overall, I am happy with my choice to study abroad in China. I typically think of myself as a homebody so I was worried I would not enjoy my time in China, but this was far from true. Although the language learning itself was very challenging and fast paced, being able to explore China on the weekends made up for the many hours spent in the classroom.
How I plan to use my language and intercultural competences in the future:
In the future I plan to use my Chinese language speaking ability though business. Right now, I am thinking that I want to find a job in international business relating to finance. I plan on applying for internships in Shanghai next summer. I think that if I could find an internship in Shanghai next summer, I could really improve my Chinese speaking skills in the business and finance areas. I would also love to work at a finance firm in China to gain better knowledge of how they operate and deal with their clients. I see the language and the country being a part of my life for a long time.