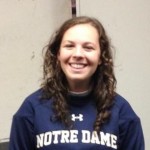 Name: Katelyn Markley
E-mail: Katelyn.R.Markley.6@nd.edu
Language: Chinese
Location of Study: Beijing, China
Program of Study: China Summer Language Program
Sponsors: Center for the Study of Languages and Cultures
A brief personal bio:
My name is Katelyn Markley. I am originally from a suburb outside of Philadelphia, Pennsylvania called Broomall. I am intended Accounting major with a supplementary major in ACMS. After attending both a Catholic grade school and high school and growing up in a Notre Dame-loving family, I knew there was no where else I wanted to go to college than Notre Dame. The day I received my acceptance letter will remain one of the greatest days of my life.
My language learning experience began during my freshman year of high school. I took Chinese my freshman through junior years while also taking French, which I took all four years. I decided that my interest in Chinese greatly exceeded that of French, so I decided to continue my learning in college. I am now extremely excited to further my learning in the country of China itself.
Why this summer language abroad opportunity is important to me:
My SLA Grant is very important to me because without it I would not be able to afford this amazing opportunity to discover China and improve my knowledge of its language. As a business major, I would love to foster my career not only in the domestic market but in the international market as well. I hope that this summer program will accelerate my learning of the knowledge and put me one step closer to being fluent which certainly would not be possible without my SLA Grant. I am extremely thankful and confident that this opportunity the SLA Grant has allotted me will open up a whole new path to my future.
What I hope to achieve as a result of this summer study abroad experience:
I intend to take advantage of every moment I have in China to improve both my knowledge of the language and of its culture. I want to immerse myself in all of the activities and learn all there is to learn about China and its people. At the same time, I hope to greatly improve my language skills, including my pronunciation and having typical conversations with locals.
My specific learning goals for language and intercultural learning this summer:
At the end of the summer, I will be able to speak, read, write and listen at a level of proficiency equal to two semesters beyond my current Chinese coursework placement at Notre Dame.
 At the end of the summer, I will be able to describe first hand what it is like to be immersed in Chinese culture and society and offer advice to anyone else who is planning on taking advantage of this opportunity in the future.
At the end of the summer, I will have confidence in my knowledge of the language and not be afraid to make mistakes because they are the best way to learn.
My plan for maximizing my international language learning experience:
This is the first year that Notre Dame is offering this Chinese Language Summer Program at Peking University, and I could not be more excited to be a part of the inaugural year of the program. The program requires us to sign a language pledge to only speak Chinese during the eight week program, and I intend to adhere to the pledge to the best of my ability. I believe that it will help build up my confidence in my speaking and listening abilities. In order to take full advantage of my language experience, I will be dedicated to my studies during the week but also set aside some time for fun and attend all of the outings and cultural experiences that the program has to offer. I am especially excited to see the Great Wall, as well as Beijing, Shanghai, and Hangzhou.
I hope that when I return from China in August, I will have not only improved my language skills but will have also grown as a person who is confident enough to leave her home country for eight weeks and explore somewhere completely new. I am eager to see what awaits me in China.

Reflective Journal Entry 1: 
Greetings from China! I am a quarter of the way through my eight week language program here in Beijing, and life has never been more exciting and overwhelming all at the same time. In the span of only fourteen days, I have managed to learn four lessons of Chinese, try new exotic foods, climb the Great Wall, visit the Summer Palace, and find just enough time for a few hours of sleep in between.
This summer, I am here with 22 other students as a part of the groundbreaking year for the Notre Dame China Summer Language Program. We have all committed to our language learning by signing a language pledge which requires us to only speak Chinese inside and outside of the classroom. I must say that it has been a struggle, but I believe that by the end of these 8 weeks, my Chinese will have significantly improved from where it was when I stepped of the plane on June 19.
My first sightseeing weekend was filled with trips to both the Great Wall and the Summer Palace. After years of seeing dozens of pictures in books and on websites of both, it was incredible to actually visit these historic sites in person. The Great Wall especially was something that I will never forget. The views of the beautiful landscape gave me so much perspective on the world we live in and how thankful I am to be a part of it. It was an experience that I am happy to check off of my bucket list.
The Chinese culture is so much different from what I know back in the U.S., but it has been fascinating learning how to adapt to the life of a typical Chinese college student. There is a saying that we learned last week that reads, "????." Literally, this means "When in Rome, do as the Romans do." My short time in Beijing has motivated me to "do as the Chinese do," and I am taking advantage of every opportunity that comes my way. I am really looking forward to an exciting and memorable rest of my trip.
I will report back soon on my newest adventures!
-Katelyn
Reflective Journal Entry 2:
It has been just over a week since I last posted, and so much has happened in such a short amount of time here in China! With three weeks under my belt, I definitely feel my Chinese improving. I can definitely tell that my vocabulary has grown since I got to Beijing based on the number of traffic signs and posters which I was unable to read before but can now both read and understand. I am learning roughly 200 new words a week, but with the help of my great professors and sticking to the language pledge, I find that I am able to retain more and more information with each week which is really exciting!
Despite the rigorous course load, I have found some time to do some great sightseeing. The first weekend of July was filled with trips to Fragrance Hill for a hike, the Pearl Market, and the Temple of Heaven. Being the Disney-lover that I am, it was really exciting for me to see the REAL Temple of Heaven which the China pavilion in Disney World's Epcot is modeled after. I made sure to take plenty of pictures which I will most definitely be flaunting next time I am in Orlando.
Last week's classes were cut short after Wednesday for a group trip to Hangzhou and Shanghai. We took an overnight train to Hangzhou Wednesday night and toured there all day Thursday. We then proceeded to go to Shanghai Friday morning where we stayed until Sunday. It was thrilling to see a completely different part of China after spending almost three full weeks in Beijing alone. My favorite city by far out of the three would have to be Shanghai. There is something about the city that incorporates both Chinese culture and a bit of Americanized modernization. In Shanghai, we got to visit the Yu Garden and the Buddhist YuFo Temple. The only damper in the trip was a typhoon that came through both cities which made for a bit of never-ending rain, but I did not let it ruin my one opportunity to experience these two famous cities.
I am now at the start of week 4 which will end in a midterm on Friday, and then I am halfway done my China adventure! It is hard to believe that my time will be over in a month. It feels like I just got here yesterday and have been here for months both at the same time. The transition to life here has been a process, but I can happily say that I think I almost have the hang of it. Much more to come!
-Katelyn
Reflective Journal Entry 3:
Reflective Journal Entry 4:
??????(Hello friends!) We are now well into the second half of the program, and I cannot believe that in less than three weeks my adventure abroad will be over. However, there is still much more work to do and goals to accomplish between now and then. We have officially completed nine lessons of our text book with only five left to go. This program has certainly fulfilled its description of being "intensive," but I know that it will be worth it in the end!
This past week was pretty quiet in terms of exciting experiences, but I still have a couple to share. Saturday morning, our whole class ventured to the 798 Art District where we could explore our more creative side. There were a series of really interesting art exhibits, cute shops, and restaurants. We were able to freely walk around and take in the sites. A few of us girls really enjoyed the shopping, and we also ate lunch at this great western café called Café Flat White. The authentic Chinese food has been great, don't get me wrong, but it's always nice to have a western meal every once in awhile ?
On Sunday, one of my friends and I ventured back to the Pearl Market to put our Chinese bargaining abilities to the test. I think we did very well, if I do say so myself, and got some great deals. I officially finished buying all of my gifts for family members which I am very excited to give them when I return to the states. After a long afternoon of shopping, we could not resist getting some coffee from the ??? (Starbucks) at the Pearl Market since there are none close to PKU. I successfully was able to order an iced vanilla latte (?????) which I made sure to bookmark in my Chinese dictionary app. In addition to treating myself to American coffee, last week I also tried a Chinese staple for the first time: bubble tea! It turns out that the "bubbles" are actually cooked tapioca. I really enjoyed it! It reminded me a bit of an iced latte with a fun chewy surprise from the tapioca every few sips. I will definitely be going back for more.
And with that, my recap of week 5 is finished! Here's a quick preview for this week: Wednesday we have a lecture about Chinese Law and no organized trips this coming weekend, so I am looking forward to hitting a few tourist stops that I still have yet to see before I leave. I'll report back next week on how it goes. Until then!
-Katelyn
Reflective Journal Entry 5:
This blog post is coming a little later than usual, but it is just because I have been so busy. With only a week and a half left here in China, I am already starting to prepare for my final exam as well as squeezing in any last minute sightseeing. It is hard to believe that the end is quickly approaching, but I am eager to return to the states and share my experiences first hand with family and friends.
A lot has happened since my last post. We ended up having a lecture last Wednesday on Chinese Business rather than Chinese Law. Since I plan on majoring in business, I was very excited to attend and here about the history and current state of the Chinese economy. This trip has given me a great opportunity to explore China and figure out if I really do want to pursue a career that allows me to interact with the Chinese people. I definitely will need some time to contemplate that decision once I get back to the U.S., but I think it is a possibility.
This weekend consisted of more sightseeing and shopping. Friday night, I went with some friends to the Olympic village to see the Bird's Nest and Water Cube. The Bird's Nest is home to all of the Olympic track and field events, and the Water Cube is where all the swimming events take place. Back in 2008, I never would have thought that in seven years I would be visit the sight of the Beijing Olympics in person. My visit to the site came just in time for the announcement of Beijing as the site of the 2022 Winter Olympics! Really exciting times here in Beijing.
Both Saturday and Sunday included trips to a big shopping district called Wangfujing. A few of us went briefly on Saturday and decided to return on Sunday to spend a bit more time exploring the shops and food options. While we were there, my friend was fitted for a qipao, a traditional Chinese dress. It was a great experience to be able to use our Chinese to communicate with the shop owners and tell them what she wanted. Those moments outside of the classroom are really where I can feel the improvements in my Chinese. We also got to see some of the street food stands that sell things like scorpion, snake, and squid. I was not feeling adventurous enough to try some myself, but I did take plenty of pictures. Maybe next time. And with that, we are another week down!
-Katelyn
Reflective Journal Entry 6:
My last week in Beijing was quite bittersweet to say the least. I have certainly had my fair share of cultural and social adjustments to life here in China that were not ideal, but this was an incredible experience that I will certainly never forget. Before I needed to start preparing for my final exam, I was able to fit in some last minute shopping and a second trip to my favorite place- the Temple of Heaven. My friend Carol and I returned to the temple last Saturday and had a fantastic day enjoying the beauty of the site and the air on a rare pollution-less day. Shortly after the weekend ended, I had to get back to the books and study for our final exam. And finally yesterday as I handed in my test, all of the intensive work and my summer study in China was over. All of us students and our teachers celebrated with a delicious lunch and graduation ceremony. It is exciting to think that I am now considered a part of the Peking University alumni. It certainly solidifies that I left my mark here in China. I am so thankful for the opportunity I was given to study abroad in China this summer. The knowledge I have acquired and memories I have made will last a life time. I can't wait to get home and share all of my stories! ????!
-Katelyn

Reflection on my language learning and intercultural gains:
My experience abroad in China really broadened my language knowledge as well as my worldly perspective. Since being back in the states and starting my Level 3 Chinese classes here at Notre Dame, I have noticed great improvement in my Chinese speaking level. Although there were certainly times when I felt weak and hopeless in my language learning, I feel that all of the hours studying and obstacles to tackle were worth it. In addition to my time in the classroom, I continued my learning outside of the classroom as well. China gave me great insight into a culture that is completely different from the one I know here in America. I certainly will no longer take the simple pleasures of my life for granted anymore. I have a new found respect and love for the lives of others, as well as my own life.
Reflection on my summer language abroad experience overall:
My summer language abroad experience was a time of personal growth and reflection as well as an opportunity to study Chinese. The culture shock I experienced in Beijing was exponential, but I survived. Now I feel like there is nothing I cannot accomplish. I had to deal with adjusting to a culture completely different from the one I knew at the same time as learning an extremely difficult language. I know that this was not the typical study abroad experience, but I am thankful for the lessons I learned about the Chinese culture and myself as a person.
How I plan to use my language and intercultural competences in the future:
I plan to hopefully incorporate my newfound knowledge of Chinese into my career path somehow. I also hope to educate my friends and family about the Chinese culture and hopefully learn more about how to bridge the gap between the U.S. and China. I think it is important for people like myself and others in my generation to learn more about different cultures in order to strengthen the future relationships of our country with others.