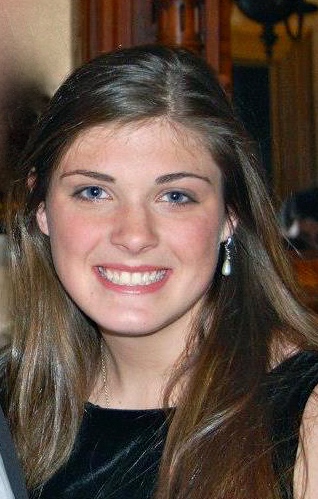 Name: Mary Comer
E-mail: Mary.K.Comer.14@nd.edu
Language: Irish
Location of Study: Galway, Ireland
Program of Study: Aras Ui Chadhain, Galway
Sponsors: Center for the Study of Languages and Cultures, Keough-Naughton Institute for Irish Studies

A brief personal bio:
I am currently a sophomore at ND. I am double majoring in Applied Computational Mathematics and Statistics and Sociology with a minor in Irish Studies. By the time of my immersion, I will have taken 3 semesters of Irish. After my immersion, I will be continuing my studies in Ireland at Coláiste na Tríonóide (Trinity College Dublin) for the fall term.
Why this summer language abroad opportunity is important to me:
The opportunity provided by the SLA grant will provide me insight, authenticity, and enrichment in the upcoming classes needed to complete my Irish Studies minor and Sociology major. Within the Irish speaking community at ND, I will share with others my ability to hear, speak, and differentiate between the various Irish dialects specific to where I will be studying. As I am also a double major in sociology, I have studied cultural society in great detail. Learning about the Irish culture through its native language and various dialects will add another dimension to fully understanding the Irish culture and people. I additionally intend to study abroad in Dublin after the SLA grant. As the SLA grant will increase my proficiency and confidence with Irish, I will be fully prepared to study other courses spoken in Irish which will further improve my skills and confidence in the language.
What I hope to achieve as a result of this summer study abroad experience:
As I have come to learn, the Irish speaking population is quite small; however, the SLA award will grant me an opportunity to learn Irish right at the heart of an Irish speaking community. I anticipate at the end of my immersion that I will hold a conversation with a native Irish speaker with ease and improve my proficiency in writing greatly. Most importantly, I hope to grow more confident in my speaking. While I plan to whole-heartedly immerse myself in the language, I am also eager to explore the music and culture of rural Ireland.
My specific learning goals for language and intercultural learning this summer:
By the end of the summer, I will be able to communicate well in Irish and hold comfortable conversations with native speakers and my classmates.
By the end of the summer, I will be able to identify the different dialects in Ireland, and become very confident speaking the Connacht dialect within Connemara.
By the end of my summer, I will be able to improve my writing and reading proficiency in Irish greatly.
My plan for maximizing my international language learning experience:
Many question my interest in learning such a less commonly spoken language. My passion for all things Irish began at a young age when my fiddle and I had the opportunity to attend a music festival in Dingle on the Western Coast of Ireland. In light of such experiences, I returned home intrigued by the Irish language, traditional music, and culture of rural Ireland. I carried this interest and passion to Notre Dame intending to take full advantage of the Irish Studies department. Upon learning about this SLA grant, I was enthused that my commitment to learning such a rarely spoken language could amount this rare opportunity With my out-going personality and dedication to fully immerse myself, I can guarantee that I will not let any opportunity to further my language skills pass me by. As my interest in all things Irish has carried me this far in my academic career, I can only imagine how the opportunity provided by the SLA grant will further complement and augment my all-encompassing passion for Irish language, music and culture.

Reflective Journal Entry 1: 
I arrived in Carraroe (An Cheathrú Rua) just over a week ago and I am pleasantly surprised how immersive this program is. I walked in the front door on the very first day and my bean an tí (woman of the house) immediately spoke to me in Irish. While our conversation did last a few minutes, I began to realize just how much work I would have to do to achieve my language goals for the summer. I was happy to find out that my roommate for the 4 weeks was another ND student, Caitlyn! It was amazing how quickly the language came back to me when I was hearing it both in class and outside of class. I have been exposed to so much more vocabulary here and the difficult Connemara dialect. It is fairly different than the other dialects I was exposed to on campus but I am slowly but surely getting adjusted to it. I attempt to speak the language with the local native speakers and my bean an tí which I find to be the most valuable practice of my language skills. Outside of class, we adventure around the small peninsula visiting the historic and beautiful scenery of Carraroe. Thus far this has been an invaluable experience and I am looking forward to the upcoming weeks!
Reflective Journal Entry 2:
Week two in the Gaeltacht has flown by! Half way done with the program, I am amazed at how well I am picking up the language. My vocabulary is expanding extensively and my conversational skills are improving every day. We spend a majority of the mornings working on grammar and writing and the afternoons working on conversation. We had our first of many oral examinations (scrúdú beal) this week and it went very well. In class we spent a lot of time preparing for the exam so I am becoming a lot more comfortable speaking with others. I have acclimating well the Carraroe peninsula. I spend my evenings walking to the beaches on the peninsula and stopping in at some of the many of the fine establishments Carraroe town has to offer! Throughout my stay, I have become very close with my housemates and other students in the program. Everyone has his or her own story to tell and I find everyone's reasoning for studying this unique language fascinating. We have gone on many excursions throughout the Connemara region – visiting Kylemore Abbey, strolling through Clifden, ferrying to the Aran Islands and hiking the Connemara National Park – each excursion is more exciting than the rest! The Kylemore Abbey was beautiful and I am curious to see what ND decides to make of the grounds and the abbey. The Aran Islands (Inis Oirr in particular) is just west of Carraroe and the Western Coast. Throughout Ireland's history, the islands have greatly preserved and promoted the Irish language. Our tour of the smallest island, Inis Oirr, was wonderful! All in Irish of course, it was a good test to see how much of the language I am able to pick up! And finally, the Connemara National Park was an exhilarating hike! Pictures simply do not do the park justice. We climbed to the top of a mountain to a point where we were basically in a cloud. Everywhere I turn there is yet another gorgeous view here on the Western Coast of Ireland. I never want to leave!
Reflective Journal Entry 3:
My favorite week thus far, Week three in the Gaeltacht has been one full of adventure. Three weeks in and An Cheathru Rua truly feels like home. I have become very comfortable conversing Irish in class, at home, and out and about with native-speakers. As classes and my oral exams have gone very well, I spent part of week in the Ard Level Class – full of students with extensive vocabulary and nearly fluent in conversation. While the Ard Level is a bit of a challenge, it has increased my confidence in speaking the language. Most days I spend the morning with the Intermediate class for grammar review and writing and then I jump up to the Ard class for discussion in the afternoon. The language has become a natural part of my thought process in conversation. Instead of speaking English, I naturally challenge myself to speak in Irish. Without a second thought, "gabh mo leithscéal, dia duit, go raibh maith agat, tigim, cinnte" and so many other conventional phrases (excuse me, hello, thank you, okay, I understand) are uttered from my mouth. Even in the more touristy sites and English speaking cities such as Galway, I don't even realize that I am still speaking Irish.
I had the incredible opportunity to spend hours outside of class exploring the region this week. Our excursions make the long days of class worth it! We spent last Sunday hiking the Connemara National Park. While many thought we were crazy to climb a mountain in the rain and wind, it was a remarkable experience. When we reached the top, we were basically in a cloud. Upon the return of our 4 hour hike, our bean an tí made us a fire and fed us yet again an absurd amount of food. It is impossible to go hungry here! On Wednesday, we spent the afternoon in Galway. It was a great change of pace from Carraroe. I purchased a few books in Irish including Harry Potter! And finally on Saturday we returned back to Galway for the races. The Galway races, comparable to the Kentucky Derby in the states, was great craic. While I lost 15 Euro in bets, we met with people from all over the country and even from the UK.
Reflective Journal Entry 4:
Three weeks in, I have also had a lot of time to reflect on my experiences here in An Cheathrú Rua. I find it fascinating and encouraging the number of locals who appreciate our interest in learning the language. Nine times out of ten the first question I am asked when conversing with the locals is, "Why Irish?" The constant questioning has given me a lot of thought about my answer (in Irish of course). For me, there's a reason that Connemara feels like home. While I do have family ties to the region and have always been proud of my Irish heritage, there's a certain degree of connection that I feel when conversing in the native language. I was first exposed to the language years ago at music festival in Dingle and for some reason, my experience learning to play traditional music on my violin in Ireland is something that has stuck with me for years. While I had no idea that Irish or Gaelic was even a language before I first heard it conversed in Dingle, I became fascinated with the entire Irish culture. However, I felt that just about anyone could come to Ireland, sit in on a traditional music session at the pub and drink a pint of Guinness to connect with the culture. And while there is nothing wrong with that, I felt like there was something else missing after my travels in Ireland years ago. I wanted something more and I ultimately decided that learning Irish was the final component to connecting to this culture. Thus, my reasoning for taking Irish 101 first semester freshman year. I would have never thought that my decision to take that course would have one day brought me to Connemara speaking the language!
After just three weeks in the Gaeltacht, I have never felt more at home here. I am starting to be on a first name basis with the locals I see at the pub, the Eurospar, and even the hackney drivers. While many locals are impressed that I even have the desire to learn Irish, I gain a sense of respect from them for at least attempting to speak Irish. The other night, I spent a great deal of time talking to a few natives of Carraroe for 40 plus years. I was determined to practice some of my conversation skills that evening so I requested that we spoke only Irish. I asked them kindly to speak slowly, pronunciate all the syllables (as Connmarians tend to only speak half of each word), and to not break into English no matter how confused I looked or how many times I said, "abair é arís, le do thoil" (Say that again, please). At first taken back my strong request, the natives were very patient with me. We continued to converse for an hour in Irish about various topics – Carraroe, my studies, my interest in the language, tourists in the area, and even the possibly that Donald Trump could be the next US president. It turned out that one of the natives actually owned the pub. I had the pleasure of listening to him discuss six generations worth of history that the pub has stayed in his family. He later recommended that I return to Carraroe in the future and write my senior Irish Studies thesis on the history of "An Chistin."I was honored. He explained that there's so much more to this pub than at first sight. While today the pub is a stronghold for the language and culture, it also has rich history as the pub rationed potatoes to the entire peninsula during the famine. I will never forget that evening. My opportunity to study the language so closely and actually practice it with native-speakers led to a truly rewarding experience.
Reflective Journal Entry 5:
Days after leaving the beautiful An Cheathrú Rua, I was greatly saddened to leave the friends I had made during the program and the local people. I knew upon my departure that I was going to miss the culture and the vast appreciation for the Irish language. My time in the Gaeltacht was precious and was certainly time well spent. I not only increased my competency in the language, but I also found myself more appreciative of the Irish culture as a whole. I felt as if my time in the Gaeltacht exposed me to many pieces of the culture that I would not acknowledge without fully immersing myself into the language, culture, and people.
I underwent quite the culture shock as I found myself in Dublin days after the program. I felt as if everyone I spoke to did not understand my reasoning for studying Irish. It was a rare to find myself in conversation with a Dubliner who was impressed by my "odd" determination to study the language. Naturally, however, students from the program and I spent our first night in Dublin at an underground Irish-speaking pub. After an afternoon of frustration and sad goodbyes departing An Cheathrú Rua, I found myself at home again the moment I heard a pub full of Irish speakers. I strongly believe that my time in the Gaeltacht has lead me even more determine to continue not only studying the language, but also promoting it. I have a fuller appreciation for the authentic Irish culture and I encourage all interested in the language to spend time in the Gaeltacht. I could not be more thankful for this opportunity. I look forward in the upcoming months to take advantage of opportunities to speak Irish throughout my semester abroad in Dublin. My teacher from the program has recommended a language conversation table to attend every Wednesdays during the semester in Dublin and even invited me back for a weekend language program in October in An Cheathrú Rua. As I continue my travels and study abroad program, I am determined to progress in the language and return to Notre Dame invigorated by my language experiences both in An Cheathrú Rua and in Dublin.

Reflection on my language learning and intercultural gains:
Reflection on my summer language abroad experience overall:
How I plan to use my language and intercultural competences in the future: