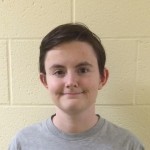 Name: Hannah Herbst
E-mail: Hannah.H.Herbst.3@nd.edu
Language: German
Location of Study: Cologne, Germany
Program of Study: Carl Duisberg Institute
Sponsors: Center for the Study of Languages and Cultures, Nanovic Institute for European Studies

A brief personal bio:
I'm from Ticonderoga, which is located in the Adirondack Valley in north-east New York state. I went to my town's public high school, where I was admitted into National Honors Society. I was president of my school's drama club and an active participant in the English program. I had been looking at a variety of schools, but Notre Dame has always been my top choice.
I'm currently a sophomore history major at Notre Dame, where my concentration is German history. I work in the Hesburgh Library Rare Books and Special Collections, where I assist the western European history curator. I will be going abroad to Berlin next spring semester, where I am hoping to be able to do research.
Why this summer language abroad opportunity is important to me:
As a German history major, being able to speak German is crucial to my academic growth. I am hoping to someday work in research, for which I will without a doubt need German. Even if I do not go into research, I believe that a good foundation in German will also allow me to communicate with a wide variety of people and read or watch incredibly important works in their original language, contributing to my intellectual and moral development. I have never been to Germany, and I feel that it is incredibly important that I expose myself to the modern culture of the country I'm studying, especially before I go there for a full semester.
What I hope to achieve as a result of this summer study abroad experience:
I hope to gain a better grasp of German culture and language through exposure to Cologne and a 4-week stay with a host family. When I get back to Notre Dame, I will hopefully have a good foundation in the language and be able to perform better and contribute more to my German courses. I think the SLA Grant will allow me to be more prepared for my semester abroad in Berlin, in the spring. I would like to be culturally competent in general, with a more open perspective toward foreign cultures and politics, and with a broader understanding that will allow me to formulate my own informed opinions on current events in Germany.
My specific learning goals for language and intercultural learning this summer:
By the end of the summer, I will be able to speak German with native speakers on a variety of complex topics.
By the end of the summer, I will be able to contextualize and recognize the unique modern culture of Germany and see where it developed from.
By the end of the summer, I will be able to write and read German better, to serve my academic pursuits and deepen my understanding of German history.
By the end of the summer, I will be able to discuss German political and economic issues with an informed, individual stance.
My plan for maximizing my international language learning experience:
I will be attending the Carl Duisberg program in Cologne, Germany. I will be flying into Düsseldorf and immediately take a train into Cologne. There I will probably explore the old city, as well as the Cologne Cathedral, and stay a night in a hostel before rooming with a German host family for the next four weeks. I am incredibly excited for this opportunity, because I will be able to see German casual life and culture firsthand. Even with roommates it will be entirely immersive, since Duisberg claims that none of the students staying in one house will have the same native language. At the language institute, I will be engaging with fellow students in a group course, with an additional "Lernstudio" each day. I believe that all this will maximize my experience abroad.

Reflective Journal Entry 1: 
I got in to Düsseldorf at 6 am German time. It was an immediately immersive experience, which definitely threw me for a loop. When I got there, they had lost my luggage, but they delivered to me the very next day at the Duisberg Institute, which I greatly appreciated. I commuted to Cologne through the airport train station. It was the first time I had ever taken a train. My host-sister, Loredana, let me into her apartment at 7 pm. She was located only 15 minutes from Hansaring station, which is located right next to the Duisberg Institute. I spent the day walking around the city and got to see the Cologne Cathedral, which was incredibly impressive. Pictures really don't do it justice. It's enormous and it seems to suck light into it, making it this enormous black monolith that you can see almost anywhere in the city.
The next day I had my first day at the Duisberg institute, where I was placed into the B1 class. I was the only American in my class and I initially had difficulty, because the class was on chapter 4 and I was dropped right into it. I was familiar with the concepts, but not the level of immersion. I spent most of the week getting to know my classmates, going to class, and exploring the city.
Reflective Journal Entry 2:
I spent a lot of my time exploring Cologne and got to see the Museum Ludwig, which is an incredibly amazing modern art museum. There was a retrospective on Sigmar Polke. There was a whole section dedicated to my favorite artist, Max Beckmann, which was amazing. It's my favorite art museum I've ever been and I loved every exhibit. One of my classmates in my B1 course studied art history. She was from Taiwan and was studying German so that she could complete her masters in Germany. We had a great conversation about modern European art. I had a lot of really interesting people from all over the world in my class. I was the only American. There was a Japanese woman, a Taiwanese woman, a Brazilian woman, a Swiss woman, two French women, two Indonesian men, a Russian man, and a Chinese man. We had a lot of interesting conversations about culture, in general, especially about etiquette and laws.
Reflective Journal Entry 3:
Reflective Journal Entry 4:
I had my B1 exam this week, which was three parts: an oral presentation, a listening section, and a reading portion. I gave my presentation on American poetry, concentrating on the works of e. e. cummings. My script was about four pages long. I chose the topic because I wanted to continue the cultural exchange I was having with my fellow students and instructor. My overall score on the listening and reading was an 87%, which means that I technically graduated out of B1 on my last day since I completed the B1 curriculum and passed my final tests. I didn't take an official B1 exam, however.
On my last night, my host-sister and I cooked a cheesecake for her sister. I'd never cooked with metric measurements before, so that was an experience. Germany has a lot of cheeses that I've never heard of, because they aren't sold in America. We watched a movie together. In Germany, a lot of their foreign movies are dubbed, which is definitely different than what I'm used to in America, where all the foreign movies I've seen have subtitles. I thought it was really funny to see an American movie with German voices. We talked about politics and cultural differences that we've learned from each other. On Saturday, I walked to the Cologne main station and took the train into Düsseldorf for my flight.
I have definitely improved as a speaker as a result of my time in Cologne and my retention and use of grammar is much more natural. It had always been my dream to go to Cologne and I'm incredibly thankful for having the opportunity to do so. I met a lot of amazing people and got to witness, firsthand, European culture and city-life.

Reflection on my language learning and intercultural gains:
After returning to America, especially after starting back at university, I've noticed that my German speaking is very much improved. My grammar and pronunciation comes a lot more naturally. I feel much more open to new experiences and other modes of thought since interacting with all sorts of people and places in Germany.
Reflection on my summer language abroad experience overall:
I feel as though the experience has allowed me to grow as a whole person, not only intellectually, and I am incredibly grateful and humbled by the experience.
How I plan to use my language and intercultural competences in the future:
I plan to use my language and intercultural competences to continue my education in the German language and study of German history. This experience abroad has given me valuable experience with German society and language, which will make future ventures much easier and more rewarding.