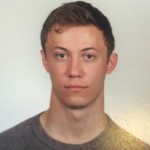 Name: Alex Groesch
E-mail: Alexander.J.Groesch.1@nd.edu
Language: Chinese
Location of Study: Beijing, China
Program of Study: Chinese Summer Language Program in Beijing
Sponsors: Center for the Study of Languages and Cultures

A brief personal bio:
I am from St. Louis, MO and attended Saint Louis University High School. I have a younger brother and a younger sister. I am a sprinter on the Notre Dame varsity track and field team. I am a cellist in the Notre Dame Symphony Orchestra. I am a rising junior, majoring in Finance and Chinese.
Why this summer language abroad opportunity is important to me:
I have enjoyed drawing for as long as I can remember. As a young kid, I used to draw cartoon characters, animals, and so on. One night, when I was in middle school, I had a homework assignment that involved drawing simple Chinese characters. After completing the assignment, I spent an extra couple of hours looking up more complex characters and attempting to draw them.
A few years later, when choosing classes for my freshman year in high school, we had to choose a language. When I saw that Chinese was a choice, I remembered how much I enjoyed drawing the characters back in middle school and wondered if it was possible to actually learn such a complex language. Throughout my high school years and first two years here at Notre Dame, my love for Chinese has grown. While my reading and writing skills are fairly advanced, my listening and speaking abilities need improvement. My SLA grant has provided me with the amazing opportunity to accomplish my ambitious goal of becoming fluent in Chinese.
What I hope to achieve as a result of this summer study abroad experience:
While studying in China, I hope to not only master the language, but to grow to understand a culture that is completely different from my own, learning more about myself in the process. My whole life, I have been very undecided about many things. I have no idea what specific career I want to pursue. I am not sure where I want to go after college. I have trouble balancing the pressure of finding a well-paying job to support myself and my future family and the underlying urge to follow my passions.
I plan to use my time in China to see the world through a different perspective. I have never been outside of the US for a long period of time, so my worldview is very limited and subjective. As I immerse myself into this fantastic culture, I hope to grow as a person and reflect on my plans for the future.
My specific learning goals for language and intercultural learning this summer:
By the end of the summer, I will be fluent in Chinese and will be able to communicate with native speakers.
At the end of the summer, I will understand every day life in China and will have learned the values, beliefs, and practices of the Chinese culture.
By the end of the summer, I will be able to watch movies in Chinese without subtitles. 
My plan for maximizing my international language learning experience:
In order to maximize my experience in China, I plan to speak absolutely no English at all unless it is completely necessary. I believe that by doing so, I will start to think in Chinese. I have grown accustomed to first thinking in English and then translating what I want to say into Chinese. I do not want to have to do this anymore. I will also hang out with people native to the country. I have a very good friend who lives in Beijing and she has already talked to me about showing me around the city and helping me understand every day life in China. In addition, before my travel abroad, I will continue to memorize characters and study even after my final exam in Chinese III.

Reflective Journal Entry 1: 
Our trip to Shanghai was a lot of fun! I particularly enjoyed visiting the Buddhist Temple. The train ride from Beijing to Shanghai took 12 hours, but the train ride on the way back only took 6. It was amazing how fast the train was moving. Our midterm is this Friday, so I look forward to relaxing for a few days and exploring Beijing after completing the test.
Reflective Journal Entry 2:
On July 18, we went to a tea shop and watched Beijing Opera. My favorite part of the show was the shadow play, in which a man used his hands to cast shadows of various creatures and people. He used his voice to make different animal-like sounds.
Reflective Journal Entry 3:
On July 25, we went to the 798 Art District. It was very interesting to see so many different types of Chinese art, while comparing it all to American and European art
Reflective Journal Entry 4:
On August 1, a few friends and I went to the Pearl Market, where we bartered with the salespeople to give us discounts. It was difficult not to give in to their high prices, but over time we all got better about continuing to try until we got close to the price we wanted.
Reflective Journal Entry 5:
Last weekend, a few of us went to Tiananmen. It was so crowded that we had to wait almost two hours to get in. The architecture was amazing and the nearby park was beautiful. Later that night we went to a Korean style barbecue. The food was so good that I will probably go back this Friday.
Reflective Journal Entry 6:
Our last week at Peking University was both exciting and sad. Classes went by a lot faster and everyone was more energetic, because we knew we were quickly approaching the end. Although I was looking forward to coming back to the US, it was hard to leave behind all of the new friends I made. I now know so much more about the Chinese language and culture. I may not be fluent in Chinese, but I am inspired to continue my studies and one day accomplish this goal. I am extremely grateful for the opportunity I had to go on this adventure and I will remember my time in China for the rest of my life.

Reflection on my language learning and intercultural gains:
Becoming accustomed to a culture takes a lot less time than I anticipated. After only about two weeks, I felt very comfortable and familiar with China. As for the language, I encountered a very major difficulty: my tones. Sometimes I would say a sentence or even just a word and the person I was talking to would have no idea what I was saying. Every single time it was due to my tones. Through hard work and endless help from my teachers, classmates, roommates, and others, I was able to begin improving my tones. Although I still have a lot of work to do, I now know how tones work and can continue improving until I am fluent. I may not have achieved my pre-departure goals, but I now know what I have to do in order to succeed.
Reflection on my summer language abroad experience overall:
I had so many assumptions about China, Chinese culture, and Chinese people that were proven wrong while I was abroad. The biggest surprise wasn't all of the McDonalds and Kentucky Fried Chicken advertisements that filled the streets, or the random collection of English words on the shirts people of all ages wore, unaware of the meaning. What surprised me the most was how easy it was to make friends. I assumed that due to cultural differences, it would be harder to connect with Chinese teenagers and young adults. I was wrong. It didn't take any extra work or effort at all. Chinese young adults are more like my friends in America than I thought possible. My advice to anyone considering applying for an SLA Grant is to go for it. Do not miss this opportunity. Even though you will be far from home for a very long time, it will be more than worth it in the end.
How I plan to use my language and intercultural competences in the future:
As I continue my Chinese studies at Notre Dame, I will always remember my time in Beijing. I miss the teachers I had while I was there. They all believed in me and told me that if I continue working hard, I can overcome my problem with tones. I want to prove them right. I will definitely go back to China. Before my travel abroad, I did not know whether I truly wanted to incorporate Chinese with whatever job I end up having. Now, on the other hand, I know that I want to pursue a career that involves speaking Chinese. At Peking University, I was able to act as a translator between someone who only spoke English and someone who only spoke Chinese. The feeling of accomplishment I felt when I successfully acted as their translator made me realize how much I enjoy speaking Chinese.