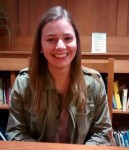 Name: Diane Casini
E-mail: Diane.S.Casini.5@nd.edu
Language: Spanish
Location of Study: Toledo, Spain
Program of Study: Summer Toledo Program
Sponsors: Center for the Study of Languages and Cultures, Nanovic Institute for European Studies

A brief personal bio:
My name is Diane Casini and I am from Burr Ridge, Illinois, a suburb of Chicago. I am a rising junior undergraduate student studying Biology with a supplementary major in Spanish. I attended St. Ignatius College Prep in Chicago, where I played tennis and softball. Here at Notre Dame, service is an important part of my experience. I volunteer weekly at the Early Childhood Development Center. Last summer, I participated in the Summer Service Learning Program in Tucson, Arizona, where I worked at a community center that provided financial and educational services for local families. I have always had the desire to learn and speak another language, and I have been fortunate enough to be able to do so at Notre Dame.
Why this summer language abroad opportunity is important to me:
Here at Notre Dame, I am studying Biology and Spanish. I plan to work in healthcare, and hope to serve Spanish-speaking populations; I am currently discerning what career within the field is the best fit for me. The SLA grant is critical to both my personal goal to be proficient in Spanish as well as my career goal to use my language skills in a diverse healthcare environment. It provides me with the opportunity to study abroad in Toledo, Spain, and thus increase my exposure to the Spanish language first-hand. An immersion experience is vital. It will help me become more culturally sensitive and language proficient through authentic interactions with native speakers, two skills needed in a world that is becoming increasingly interconnected and diverse. A lack of cultural awareness often serves as a barrier to intercultural communication. While in Toledo, my experience will expose me to new ways of communicating with varying populations.
What I hope to achieve as a result of this summer study abroad experience:
Through the grant, I hope to make significant achievements in my Spanish-speaking skills. Speaking in a classroom setting cannot compare to the enriching experience of being immersed in the Spanish language. Specifically, I would like to improve my fluidity and pronunciation. Each day, I will speak Spanish in a spontaneous manner and hopefully converse with a greater ease every time. When I return to Notre Dame and enter into higher-level Spanish coursework, I will feel more confident in my speaking and listening abilities. Also, the grant is providing me with the opportunity to expose myself to another culture for the first time. I will learn a daily routine, taste a wide of variety of new foods, learn new phrases, experience activities like Flamenco dancing, pray with a new community during mass in Toledo, and become more independent as a young adult studying abroad.
My specific learning goals for language and intercultural learning this summer:
At the end of the summer, I will be able to understand and communicate in Spanish in a more fluid, spontaneous manner.
At the end of the summer, I will have a stronger confidence in my speaking abilities, and will engage in more in-depth conversations that previously would have been beyond my level of mastery and comfort zone.
At the end of the summer, I will have gained a deeper cultural sensitivity that will allow me to interact with a wide variety of populations in a meaningful and respectful manner.
At the end of the summer, I will have gained a stronger appreciation for the Spanish culture. 
My plan for maximizing my international language learning experience:
The study abroad program in Toledo provides students with increased exposure beyond the classroom. I will interact with the people of Toledo through the additional cultural activities provided through the program, including 3 one-day excursions and guided visit of Toledo. I will take full advantage of any opportunity to have conversational exchanges because they will help me expand upon my knowledge of the language and speaking abilities. Also, voluntary work in the community has been an integral part of my high school education, and my education here at Notre Dame. I would like to extend it into the international community, increasing my time with native speakers. During my stay in Spain, I will challenge and improve upon my Spanish linguistic skills every day.

Reflective Journal Entry 1: 
¡Hola! I have been in Spain for a week, and it has been quite a transition. On Monday, June 15, I arrived in Madrid early in the morning. A coordinator from the school picked up many students including myself and drove us to the school in Toledo. The medieval city of Toledo has many small, winding roads with many shops, sights and historic architecture. Driving through Toledo, I was amazed that cars, and even buses, could fit through the "callejones" (alleys)! After receiving an initial introduction to the school and Toledo, other students and I met our host families. Many students who choose to live with host families are placed in the same neighborhood ten minutes outside of Toledo called Polígono. I was extremely nervous to meet my host family, aside from the jet-lag I was experiencing at the time! My host mother and father relieved my worries over coffee and acknowledging how nervous I was! I appreciated how understanding they were and how much they wanted to help improve my Spanish speaking abilities. We returned to their home after our first meeting, and my host mom cooked me a traditional Spanish meal: eggs over a tortilla, or "huevos con tortilla/patatas". It was delicious! The next day, my host mom showed me how to take the bus from Polígono to Toledo. This is the way in which most students who live with host families travel to and from their houses. I really like taking the bus because it allows me to participate in the daily life of many people who live in Toledo! Later that day, all the students participating in the summer program had dinner together. We were surprised by a Spanish band during dessert. My friends and I were able to dance with them and even play one of their instruments!
I am taking two classes at the school, Fundación Jose Ortega-Marañón: a cultural heritage class (Introducción a la herencia cultural española) and a literature class that studies the writers and literary movements of the 20th century in Spain (Literatura española del siglo XX). Both of the classes are taught by Spanish professors; I had my first classes this past week and they are both welcoming, knowledgeable, and interesting as people and professors. I have appreciated learning about Spanish history and culture through the lens of the country itself. It is definitely rewarding to finally witness in person the culture, history, and daily life of Spaniards that I have been learning at Notre Dame, and to use the language with native speakers! I am excited to delve deeper into Spanish politics, populations, economics, social science, and literature.
Aside from taking classes and living with a host family, I have many opportunities to immerse myself into the Spanish language and culture. There have been many times in the past week where I had to ask people for directions because it is easy to get lost in the streets of Toledo. When I was in the grocery store looking for chapstick (I forgot to pack some), I could not find it and needed to ask a worker if they had any. This past week, I had to go to the train station to buy tickets to Seville for the weekend. It proved to be more difficult than I had anticipated! Discussing all the times and schedules of trains with the clerk was a bit exhausting but I was able to finalize my plans.
In Seville, a city in the province of Andalucía, a few students and I visited the cathedral, the Real Alcazar, and La Giralda in the Plaza de España. The cathedral is one of the largest cathedrals, second to the Vatican. I climbed to the tower of the cathedral to get a view of the entire city of Seville from the top. In the Real Alcazar, a royal palace originally developed by Moorish Muslim kings, I toured the renowned gardens and outstanding architecture. It was very exciting to see another city of Spain that is quite different from Toledo!
Next week, I will begin meeting with an "intercambio", a Spanish student that wants to learn English. I have the opportunity to spend time with someone, learning Spanish from them through conversation while they learn English from me. I am looking forward to this program because it gives me another avenue to practice my Spanish even more! It has been quite exhausting to speak Spanish all the time, but I feel like I have improved so I cannot wait to see how much progress I make in the next few weeks.
Reflective Journal Entry 2:
Week 2 is complete! It is hard to think that I have been in Spain for two weeks already. In my classes, we have delved deeper into Spanish culture, history, and literature. My cultural heritage class is very interesting. It is truly neat to learn about the past and contemporary societies of Spain, and to experience first-hand what I am learning in class. We have discussed the Spanish political system and how it has evolved into a parliamentary monarchy. We also discussed Spanish demographics. It was interesting to learn that the Spanish population has grown immensely since the year 2000. Healthcare is essentially universal in Spain; this draws many immigrants to Spain, where they can receive rights to healthcare and education quite easily. They must register in their municipality. This is in stark contrast to the healthcare system in the United States. My class discussion on immigration and healthcare is an example of how I am learning about the economy, population, politics, and culture of Spain, and then comparing it to that of the United States.
While I have been learning a lot in my classes, I have also been learning a lot through my experiences with my host family and the people of Toledo. A friend of mine told me that she had noticed my Spanish was improving; this made me very happy! I feel like I can converse more fluidly, but I still know I can make a lot more progress. Since arriving in Spain, I have noticed I have a difficult time deciphering what native speakers are saying to me because of the accents. I have especially noticed this during my conversations with my family. Although I have discovered that I know what they are saying after they repeat it to me slowly and clearly. A goal I have set for the next few weeks is to improve my listening; I need to notice and be more attentive to phrases that are repeated and other patterns in the Spanish dialect. I did notice a word that is used often here: "vale". I assumed it meant 'okay' but I decided to ask my host parents how and when the word is used. They told me it is synonymous to 'okay', but it can also be said at the end of a sentence to signal the end of an idea or message. It can be used to tell someone "Estoy de acuerdo", or 'I agree with you' or 'I understand'.
Overall, this past week has helped me adjust to my life in Spain for the summer. I truly appreciate living with a host family because it not only improves my Spanish, but allows me to have a complete immersion experience. I live with a family, take public transportation to and from destinations, and take classes. This past week, I even attended a zumba class taught by my host sister, Mónica! It was a lot a fun and I enjoyed spending more time with my host sister. While I did not meet with an intercambio in week 2, I hope to begin to do so this upcoming week! I know it will greatly improve my Spanish speaking and I am excited to add another opportunity to make improvements.
Reflective Journal Entry 3:
Week 3 is complete! This past weekend was probably one of my favorite weekends I have spent in Spain so far. La fundación de Jose Ortega y Gasset organized a trip to Andalucía, the southern region of Spain. Our first stop was in Córdoba where we had a guided tour of the Great Mosque/Cathedral of Córdoba. The cathedral is most notable for its great hall with hundreds columns and red and white double arches. After the guided tour and lunch, we headed off to Granada, the city of pomegranates! Granada is located at the foot of the Sierra Nevada Mountains. The first night in Granada, we went to a flamenco show. It is my favorite memory so far. The show was just for the group of students from the Fund, and it was in a small Spanish style room in the Albaicín neighborhood (it has narrow, winding streets with a medieval Moorish history). There were multiple dancers, both women and men. They were accompanied by a Spanish guitar, singing, and clapping. The next day, we visited the Alhambra! It is a renowned Moorish citadel and palace. It has a castle as well as an attached garden area known as the Generalife. The Alhambra and the gardens sit on the slopes of hills above the city of Granada. At night, the view is incredible because the Alhambra is lit up above the lights of the city. Another stop we made was the Cathedral of Granada. It is incredibly large; I took I picture standing in front of and you can barely see me! It really gave me a perspective on the size.
My classes at the Fund have been going well. In my cultural heritage class, we learned about the Spanish economy and society. It was interesting to learn about the unemployment problem in Spain and compare it to that of the United States. It is difficult for young people in Spain to find work after they graduate from universities. It has become a major problem over the past ten years in Spain, as well as in other European countries.
On a different note, I learned more about a Spanish food I have eaten a few times here. It is called Tortilla Española, a Spanish potato tortilla. It is called tortilla Española to distinguish it from an omelette. It is a thick tortilla with potatoes, and can be great for breakfast, lunch or dinner. It also can be served as a tapa, or small dish. When I went to a restaurant, my friend and I ordered it. I decided to ask the waiter what was in the tortilla española that they served. He told me that there were potatoes, onions, garlic, salt and pepper in this one. However, there are regional variations, and you can add other ingredients into the tortilla/potato if you want. The most common though is with egg, potato, and possibly onion. To make it, potatoes are fried in oil, and onions and garlic are added. Eggs need to be mixed in order to make the entire tortilla. This dish is probably one of my favorite foods I have tried here in Spain!
Reflective Journal Entry 4:
Week 4 is complete! I have been in Spain for a month now, and I feel acclimated to life here. I know my way around Toledo, where my favorite tiendas and restaurants are located, and how to take the bus around the city and surrounding neighborhoods. I truly appreciate living with a host family because it allows me to be more immersed in Toledo. This week, I was attempting to explain to them a different bus number that I took to the train station. I was having a difficult time explaining it to them, and finished by saying my Spanish was not very good at the moment because I was not getting my point across. However, my family told me that my Spanish has improved quite a bit! This made me very happy, and makes me wish I had more than 2 weeks left to further improve! Nevertheless, I have enjoyed using Spanish whenever I have the opportunity. This week, I had to go to a pharmacy to buy band-aids. The pharmacist working there was very nice as I attempted to explain that I needed band-aids. Our conversation continued; she asked me where I was studying and any trips I have taken during my stay in Spain. It has been really nice and rewarding to have spontaneous conversations with native speakers.
This week I also met with my intercambio (language-exchange partner), Tania! We met for a drink and talked back and forth in English and Spanish. Her English is quite good, so we concentrated most of our conversation in Spanish. It was a neat experience to meet someone originally from Toledo who still lives here!
For blog assignment #6, I had a conversation with my host family about their general opinions of the United States. First, I spoke with my older host sister, who is 22 years old. She told me, in general, she associated the United States with money. It has a great economic potential with a lot of money. She thinks it is a very interesting country to learn about because it is so big. Everything about the U.S. is "grande". Next, I asked my host father. He told me that, in general, he perceives the U.S. as a very wealthy country whose economy is very good. However, he said that while the U.S. does appear grandiose in almost all aspects, there is probably a lot of things to the contrary in reality. Overall, in my homework assignments and class lectures, I have learned that many Spanish citizens associate the United States with money and economic potential. Spain is not in a good economic situation, especially with high levels of youth unemployment.
On to week 5!
Reflective Journal Entry 5:
Week 5 is complete!
I only have one week left here in Spain. This past week was my last week of normal classes because next week I will have my final exams. I have learned a lot, especially in my culture class because I can experience and keep an eye out for all the things I have learned about each city, demographics, food, the family unit and much more.
This past weekend, I traveled to Barcelona. I was really interested to go to Barcelona because of the cultural differences between there and other parts of Spain. I had the opportunity to visit the Sagrada Familia, Parque Guell, and the beach. The Sagrada Familia was the most impressive church from the outside that I have seen yet! The architecture is very unique, and is actually still being constructed! When I went inside, I was a little surprised because it seemed much more modern and different compared to the exterior. The inside did have large, stain glass windows. I also took a trip to Parque Guell, the famous gardens and park designed by Gaudí as well. They were really pretty to walk through, especially because the park is situated on a hill where you can get beautiful views of Barcelona.
When I returned from Barcelona, I asked my host dad if he had ever been there and if he liked it. My host dad told me he has been there, but he does not like it because the people of Barcelona do not identify as Spanish. In Barcelona, the people speak Catalan and some want to separate from Spain. My host dad told me he likes cities like Toledo and Madrid, because the people there have a lot of pride in Spain. In my cultural heritage class, we discussed this cultural/political issue. Many people in Barcelona do not identify as Spanish and prefer to not even speak Spanish. I found in my many encounters with locals there, they preferred to speak English to me and did not have much patience to speak Spanish. It has been interesting to experience different cultures and atmospheres in each of the cities I have visited.
Next week, I hope to visit the Jewish Quarter in Toledo. On to my last week!
Reflective Journal Entry 6:
It is hard to believe that my six weeks abroad in Toledo have come to a close. As the weeks have gone by, I have continued to develop a deep appreciation for the Spanish culture, meeting new people, and the time I have spent living with a host family. This week, I was able to tour the Jewish quarter of Toledo, meet up with an intercambio, and take a short day trip to Madrid! While in Madrid, I visited the Royal Palace, the park, and "el mercado de San Miguel" which is a market with various types of food, drinks, and desserts. I really enjoyed Madrid; at times I was a bit surprised because certain parts of the city seemed like New York!
My favorite memory of the entire abroad experience was my final night in Spain. On Saturday night, the Fund hosted a graduation and casual dinner afterwards. Most of the host families attended as well. It was such a great experience to share with my host parents, and to see all the other students interact with their host families. I was able to meet other host parents as well as spend times with others I had met too. It was a very authentic experience, and I cannot remember having as much fun as I did there with my host parents, other students, and their families. The "clausura" and dinner showed how much my language skills have improved. I remember the first day I met my family and the difficulty I had with understanding. Now, it is relatively easy for me to understand not only my host parents, but other Spanish families as well. I really enjoyed being able to make jokes, have conversations, and have fun speaking in Spanish (something that was quite hard and rather unnerving to do the first few days in Toledo). I also have a deep appreciation for my classes because I learned so much about Spain's history and contemporary culture that I was able to recognize throughout my travels. Towards the end of my time here, I did not think twice about raising my hand in class to say something in Spanish, or ask someone in the train station for directions when I was confused. The progress I have made in Spain provides me with a new confidence that I can carry over into my classes at Notre Dame in the fall.
Lastly, I would like to give a special thanks to the Summer Language Abroad program that made this summer possible. I am undoubtedly grateful for this experience that has truly been "once-in-a-lifetime". My knowledge of Spanish and my speaking skills have greatly improved. This new-found confidence is something I truly desired in order to continue learning the language. I would also like to thank the Fundación, its' coordinators, and the professors for devoting their time and care to the students. Saying goodbye to them and especially my host family was difficult, but I hope to return to Spain one day. I have memories that I will cherish forever.

Reflection on my language learning and intercultural gains:
While studying Spanish, I learned that it is very important to say something even if you know it might be wrong rather than refrain from speaking. I improved most of my language skills during authentic conversation with my host family and other native speakers, rather than the classroom. I was able to gain valuable insights into the Spanish culture through my homestay. I would ask my host family about Spain, common traditions such as the siesta, and their attitudes towards the U.S. Oftentimes, I would watch the news with my host father during the evenings and we would discuss the latest headlines. I learned a lot about the cultural difference between the United States and Spain through these discussions. In terms of my improved language skills, I believe I made the most progress in my listening and understanding abilities. The accents and speed of the language proved to the most difficult, yet the most rewarding. I really feel I can keep up with the pace of the language after my summer abroad. Overall, I did meet my language learning goals. I have developed a stronger confidence in myself, which I have noticed in my Spanish class this semester. I was also able to gain a deeper understanding and appreciation for the Spanish culture through my homestay. Full immersion was one of the most enriching experiences.
Reflection on my summer language abroad experience overall:
My summer language abroad experience really pushed me to go out of my comfort zone. Prior to the program, I was not very confident in my Spanish-speaking abilities, and I was nervous to live with a host family. It was the best decision I could have made with respect to my language skills. I gained many social, communication, and personal skills. I learned how to interact with new people of another culture, whether it be my host family, my intercambio language partner, or an employee of the grocery store. I learned how to initiate and continue conversations in another language. Most importantly, I gained a new confidence in Spanish skills that I can carry over into my last two years at Notre Dame. I feel much more open-minded with respect to my world-view. I was able to gain a better understanding of the culture differences and develop a cultural sensitivity. If other students were considering applying for an SLA grant or preparing to start their own summer language study, I would not only encourage them to do so, but I would also tell them to push themselves outside of their comfort zone. Full immersion in a language and culture is the best way to develop a sensitivity and appreciation for the culture in additions to language and conversational skills.
How I plan to use my language and intercultural competences
I am going to continue my Spanish studies at Notre Dame, and I hope to incorporate it into my future career. I have already noticed that my newly acquired skills have helped me in my classes this fall; I find my professor easier to understand, and I have a stronger confidence when participating and conversing. As I move forward, I am much more open-minded. I have a deeper cultural sensitivity that I can apply to future interactions with different cultures and populations. This experience has proved to be vital towards my progress in Spanish studies. I have immense gratitude for those part of the SLA Grant program that made my experience abroad possible.