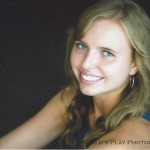 Name: Cailin Jerger
E-mail: cjerger@nd.edu
Language: French
Location of Study: Tours, France
Program of Study: Institut de Touraine
Sponsors: Center for the Study of Languages and Cultures, Nanovic Institute for European Studies
A brief personal bio:
I am a freshman majoring in International Economics with French. Originally from Decatur, Illinois, I now live in Lyons Hall, and this summer I will be studying in Tours, France with the SLA grant. At Notre Dame, I am involved in ballroom dance and social service clubs, such as She's the First and Building Tomorrow. In my free time, I enjoy running, reading, and traveling. I am looking forward to improving my knowledge of the French language this summer.
Why this summer language abroad opportunity is important to me:
This SLA grant is important to me because I truly love French. It is a beautiful language, and one day I hope to master its intricacies. This summer program will bring me much closer to fluency and will help with my future academic and career plans as well. I intend to study abroad in France my junior year, so this summer will give me the background necessary to study and live in this country. I also envision having an international career in business or in the State Department, so any exposure to the French language and culture now will only help me to achieve my future goals.
What I hope to achieve as a result of this summer study abroad experience:
As a result of this summer experience, I hope to achieve my goal of becoming fluent in French. My study of French began when I entered Notre Dame, but I have taken intensive courses both semesters in order to learn quickly and effectively. This summer abroad will cement all that I have learned over the past year while giving me a complete immersion experience that will propel me beyond textbook learning. Through classes at the Institut de Touraine, interactions with the locals, excursions to different areas of France, special film screenings, and other cultural events, I will achieve not only lingual, but also cultural fluency.
My specific learning goals for language and intercultural learning this summer:
At the end of my summer study abroad, I will be able to converse confidently in French with native speakers.
During my stay, I will make several excursions to regions in France outside of Tours, allowing me to fully experience this beautiful country.
 During my stay, I will discover new French authors and artists, whose works I can continue to enjoy when I return home.
At the end of my summer study abroad, I will understand and appreciate the French culture in ways that cannot be taught in a classroom, through activities such as volunteering and living with a host family.
My plan for maximizing my international language learning experience:
I intend to make the most out of my time in Tours by immersing myself in the French language and culture. I will take full advantage of all that the Institut de Touraine has to offer, which includes special culinary courses and opportunities to volunteer in the community. I plan on finding active ways to become involved as well, such as joining a soccer team or taking dance lessons at a nearby studio. My host family will play an influential role in my summer abroad because they will give me opportunities to practice French outside of class and to learn about everyday life in a foreign country. As a student at the Institut de Touraine, I hope to meet people from all over the world, creating contacts and friendships for future trips to France or other countries.

Reflective Journal Entry 1: 
I have officially been in France for one week. Last Saturday I was dragging my bags through Charles de Gaulle Airport, trying to find the right train to board to take me to Tours, the town where I will be living for the next six weeks. I discovered that my train was the same one that a large group of children were now boarding, being hustled along by their chaperones. I followed them onto the train but couldn't get around them to my seat because the group was so large. After a few moments of struggling to move, one of the chaperones looked at me and asked a question in French that I didn't understand. Suddenly all the children fell silent and about fifteen pairs of expectant eyes turned to look at me.
Um.
Bienvenue en France!
I managed to mumble a reply and finally make it to my seat. Despite that rough start with French, after an hour on the train, I arrived in Tours, where the real magic began. My host father met me at the station and brought me to his apartment on the Rue Nationale, one of the main streets in Tours. Once there, I was able to meet the whole family, which consisted of my host father and his wife, their two grandsons, and three other students also attending the Institut de Touraine. I was so delighted to discover this welcoming and uplifting atmosphere after traveling by myself all day. I was able to hold modest conversations with everyone that evening in French, but I am looking forward to seeing how much my language skills improve by the end of my stay.
I have been using a variety of methods to improve my French. I began my classes at the institute this week, and I believe that I have already learned so much from them. Conversation has been the most difficult concept for me to master, but by having classes every day with other students at my same level of French, I feel more comfortable talking. After just three days of courses I noticed that I could participate more actively in my family's dinnertime discussions. Of course, I still have a long way to go until I am talking fluently, but it is reassuring to know that I am improving. I have also purchased French books and have discovered new French songs to keep me engaged with the language during my leisure time, in addition to maintaining a journal to keep track of new vocabulary that I learn. One of the best ways for me to learn new words, though, is with my host parent's grandchildren. The two boys are here almost every day, and I am able to watch cartoons, play games, and talk with them. It is enjoyable to be with them because they like many of the same games that I played as a child, except they have the French versions, so I am quickly learning the French Pokémon names and what the best French cartoons are. I look forward to the days when the boys are here because of the fun and practice in French that they provide for me.
Before I left for France, I said that one of my goals was to travel often while I was here. Tours is in the Loire Valley, which is home to many of France's finest châteaux, or castles. I told my host mother about my desire to see as many castles as possible while here, and she immediately made a list for me of the best ones to see, how to get to all of them, and other attractions I should see near them. I am extremely grateful for her help and intend to visit the whole list during my time here. The transportation system here is extremely easy to use. I am used to driving a car to get around in my hometown in Illinois, but here in Tours I can easily walk, take a tram or bus, or ride the train for longer voyages. I am impressed by how easily one can get a ticket and how efficiently the system runs; most times the trams and buses arrive early, and I am fortunate enough to have a tram station right outside of my home here. I intend to make the most of this transportation system as I explore the Loire Valley and beyond.
Next week I am being moved up into a higher level of French classes, so while I am nervous, I am also looking forward to the challenge and improving my French even more. Wish me luck, and à la semaine prochaine! Until next week!
Reflective Journal Entry 2:
After two weeks in France, I feel much more in rhythm with the pace of life in Tours. I love this city more each day as I discover more about it, and I'm so happy to have the opportunity to be a 'tourangelle' (a resident of Tours) for the summer. This week at the Institut de Touraine I moved up a level of difficulty in my courses, which was quite a challenge. I left the institute each day feeling exhausted yet exhilarated, so tired from the classes but so happy to be studying something I love. It is wonderful to meet students here from around the world who share the same desire to learn French. After just two weeks, I have made friends from Columbia, Jordan, Algeria, Switzerland, and Taiwan, just to name a few. While we all have different native languages and cultures, we can all unite to laugh over our bad French grammar or to find a spot for lunch that serves crêpes. The welcoming, international atmosphere that the Institut de Touraine creates is truly incredible, and I am both happy and proud to be a part of it.
The institute offers ways to practice French outside of the classroom as well, and I have taken advantage of the more active opportunities. When one thinks of France, he or she usually thinks of the Eiffel Tower, pastries, and fashion, not rock climbing and rafting — but that's what I have done these past two weeks! Each Friday after class in the summer, the institute gives the students a chance to have fun and practice their French at the same time with different excursions. My first Friday here I went to a forest to complete an 'accrobranche' course, which is essentially an obstacle course in the trees, including rock climbing and zip lining. This week, I went rafting on the Cher River. Both activities gave me a chance to practice French with people besides my classmates and teachers while having a great time. I mentioned in my pre-departure questions that I would try to take dance lessons in Tours, and while I have not found a studio close enough to me, I have taken advantage of weekly dance nights that are offered at a nearby restaurant. Each Thursday night is Swing Night, and I love to go with my friends and spin around on the dance floor to both original French swing songs and the classic American ones.
While on the subject of songs and dancing, an exciting event occurred last Sunday in France: La Fête de la Musique. I had heard people mention that it was going to happen, but I assumed that it was just a local event; however, when I spoke to my host family about it, I discovered that it was a national celebration and that every city in France would have its own festival. The French Minister of Culture started la Fête de la Musique in Paris many years ago, and it became such a large success that countries around the world now take a day to celebrate music as well. The celebration in Tours was wonderful; bands were performing on every street corner and everyone was out, walking around and enjoying the diverse melodies. It amazed me how many American songs I heard; I did not realize that they would be so popular here in France. My family left the windows open during dinner so we could still enjoy the sounds of the festival while we ate, and later that night a gospel choir sang in a courtyard right outside of my bedroom window, so I had a prime viewing location as they sang well past midnight. Experiencing la Fête de la Musique in France was magical.
That's it for this week; à bientôt!
Reflective Journal Entry 3:
My third week in France was marked by an extreme weather condition known as 'le canicule,' which is an intense heat wave. Temperatures soared near 40 degrees Celsius, which translates to 80 or 90 degrees Fahrenheit. Evidence of the heat wave was everywhere; the morning news advised to stay indoors, the train stations warned against traveling unless absolutely necessary, and every window was open since the majority of buildings do not have air conditioning. The heat was oppressive, but I admired how everyone here kept up his or her normal routine. I also noticed that the French do not drink as much water as Americans; I always have a water bottle on me and continually refill it, an action that my host father described as 'très americain.' He explained that when the French get thirsty, they will most likely reach for a lemonade or another sweet drink, which to them is more satisfying. He laughed when I told him how almost all the buildings on Notre Dame's campus have stations to refill water bottles. Even though the heat wave was unwelcome, it offered another perspective into French culture and vocabulary. The word 'canicule' is very closely related to the word 'caniche,' which means 'poodle.' These two terms are so similar because eras before, whenever a heat wave occurred, the star Sirius (also known as Canicula, which means dog) was spotted. Thus the heat and the star became linked, eventually leading to the proximity between the words for heat wave and poodle. The heat wasn't so bad once I started thinking about poodle puppies instead of the temperature.
Despite the heat, I traveled to Paris this weekend! I am lucky enough to have friends from Notre Dame here in France at the same time, so we all decided to meet in Paris. The city was magnificent and many of the sights took my breath away; I had been to Paris before, but now after studying French, I can appreciate it so much more. We explored little shops along the Seine, ate delicious food, and practiced our French in new settings. However, my attempts to speak French in Paris were frustrating because as soon as I spoke, the waiter or shopkeeper would hear my accent and speak English back to me. This experience made me appreciate Tours more, because the people here are much less quick to switch to English and encourage you to speak French, even if they hear your accent. Overall, though, Paris was an amazing experience, and I cannot wait to return.
One of the most difficult parts of learning French has been diminishing my American accent. I do not mind having a little bit of an accent, and for the most part everyone here can understand me. However, as my experience in Paris has highlighted, I still have room for improvement. I am saying certain words and phrases more naturally now, and my sentences are becoming more fluid. Nevertheless, in class last week my professor fixed her gaze on another American and me and said, "You need to practice your "r's"; you sound too American right now." Thus, I have begun to practice French words that start with "r" in my room every night until my throat is sore; when my host family walks by, they hear a strange chant of "rouge, répondre, rose, robe, regarde." Slowly but surely I'm improving, and my goal is to speak French well enough one day that no one will switch to English when talking to me.
That wraps up another amazing week! Bises!
Reflective Journal Entry 4:
I went on two exciting adventures during my fourth week in France, and I'm going to dedicate this week's blog to their stories.
My first trip was to Orléans and La-Chapelle-Saint-Mesmin. My grandfather was in the US military in the 1960s, and he was stationed at an American military hospital in La-Chapelle-Saint-Mesmin. He and my grandmother lived in France for a few years, and my father was actually born there. I wanted to go see where my family lived and if anyone in the area remembered them.
To begin, I went to Orléans, which is the closest city to La-Chapelle. I had two hours to explore before my next train, so I made the most of that time by visiting the gorgeous cathedral, finding the famous Joan of Arc statue, and sampling some fresh pain au chocolat. When the time came for me to go to La-Chapelle, I was surprised by how small the town was after the hustle and bustle of Orléans. The train station was only a bench, and hardly anyone was out walking or driving. Following my grandmother's directions, I set off in search of the old hospital and our family home. After about 15 minutes I came to the road that my family used to live on, and at the end of that street I found the building that used to house the American hospital; now it is a retirement home. I spent a long time walking up and down that tiny street, trying to decipher exactly which house belonged to my family, and at long last, with my grandmother's help on the phone, I found it. Unfortunately none of its current residents were home, but next door a woman was working in her garden. Ready to put my French skills to the test, I went up, introduced myself, and asked if she knew anything about the Americans who used to live here. While she didn't know my family specifically, she did remember the time when many Americans lived in this area, and she was more than happy to talk about that with me. She enjoyed speaking about the history of the area and was curious to know why I was in France; I have a feeling that I could have chatted with her all day if I didn't have another train to catch. I left La-Chapelle-Saint-Mesmin feeling proud that I found this piece of my family's history and happy that I had the opportunity this summer to discover it.
My second adventure involves my weekend trip to Lyon. I am so pleased that I had the chance to meet up with a friend in Lyon because that gave me an excuse to see another beautiful region of France, the Rhône-Alpes. Lyon was gorgeous, and after sampling the food I can see why it is known as the gastronomical capital of the world. However, the most exciting part of the day was my return trip to Tours. Somehow I ended up in another train cabin with a group of schoolchildren, so after my experience with that my first day in France, I was prepared for any questions coming my way. However, the children weren't interested in me; they were too engrossed in their game that consisted of guessing the person that one child would pretend to be. I came in when they were finishing a round of one girl acting as Minnie Mouse, and I was there to watch as the next girl took her turn. She shyly began, with her voice soft and eyes on the floor, "Je suis homme célèbre… (I am a famous man…)"
The other kids wasted no time in guessing.
"NICOLAS SARKOZY!!"
"LE PRÉSIDENT DE FIFA!!"
"IRON MAN!!"
Unfortunately I wasn't able to hear the true identity of the famous man because then an announcement came over the speakers concerning my stop. When we work on oral comprehension in class at the institute, we sometimes practice listening to people speaking over scratchy intercoms with background noise, which can be extremely difficult to comprehend. I was so glad that I had practice with this situation as I listened intently to the announcement over the noise of the children's game; there was a small accident on the track near my station in Tours, so everyone traveling to that destination would have to get off at the next stop and take a bus the rest of the way back. While inconvenient, I appreciated how well the employees of the train system handled everything, making sure that everyone would be home that night (even though it was late) and providing us with boxed dinners for the bus ride. The experience could have been much worse; the bus ride passed quickly, and I even enjoyed myself as I talked with the other passengers, commiserating about the train and inquiring about their travel plans. This unexpected end to my night also gave me a confidence boost in my French; not a single word of English was spoken to me, but I was able to follow the complex directions and schedule changes in French without an issue. I felt comfortable speaking with the other passengers, and they seemed impressed with how well I was handling the situation when they discovered that I was American. While that wasn't the way I expected my night to end, I was pleased by my ability to navigate it; I'll gladly take any unexpected opportunity such as that to practice my French.
I hope you enjoyed my little stories; let's see what next week brings! Salut!
Reflective Journal Entry 5:
Vive la France! This past Tuesday, July 14th, was Bastille Day here in France. However, only Anglophones refer to this holiday as Bastille Day; the French call it 'la fête nationale' or more commonly 'le 14 juillet.' This day memorializes the storming of the Bastille during the French Revolution and celebrates the unity and liberty of France, very similar to how we commemorate the 4th of July in America. Le 14 juillet is a 'jour férié,' which means that there is no work or school in order to sufficiently celebrate this event. In the morning, I watched the military parade in Paris on television with my host family; my host father was able to explain almost every regiment of the military to me, and he and my host mother waited with bated breath for the planes to fly over the city. That has always been their favorite part, and after watching it, I can see why; the display is quite impressive, especially when the planes leave trails of 'bleu, blanc, et rouge' or blue, white, and red smoke. Tours put on a special celebration for Bastille Day, which included its own military parade, a dance, and a fireworks display. The dance was wonderful; there was a live band that would rotate between fast pop songs, slower waltzes, and classic French line dances. Decked out in all shades of blue, white, and red, little kids and near-professional dancers alike were out dancing for hours, and the atmosphere was so jovial and lively. After the dance, I watched the fireworks over the Loire with my family and felt extremely content to have been able to share in this French tradition.
This week I also traveled to Strasbourg, which is a charming French town close to the German border. This city, which historically passed between the control of Germany and France, is the capital of the Alsace region in France, and its mixed heritage is evident in the city's culture. While French is the official language, German is also extremely common (at each restaurant, the waiters ask if you would prefer to speak in French, German, or English), and the architecture and food have definite German influences. One of my favorite dishes there was spätzle, which is a kind of potato dumpling and is served like pasta. It could be found in almost every restaurant and was a common side dish with chicken or duck. One of the most visited attractions in Strasbourg is its cathedral, la Cathedrale Notre Dame. It is situated at the center of town and is surrounded by restaurants, souvenir shops, and museums. My friend and I climbed all the way up its tallest tower (on a tiny spiral staircase; I was very dizzy when we finally got to the top) to get a panoramic view of Strasbourg. Even though the day was cloudy, the view was magnificent. As I said the week before when I visited Lyon, I am happy to have been able to see another region of France. Each region is unique and has its own personality, whether it be the cultivated Loire Valley with its châteaux or the Germanic Alsace with its dual heritage. With 27 regions in all, I hope to return to France one day to explore the rest.
As happy as I am with how my French has improved here, I hit some frustrating roadblocks this week. While I feel more confident conversing with others, there are still moments when I do not comprehend what they are saying or they cannot understand what I am trying to pronounce. Normally I just brush these situations off, but this week, knowing that I am so close to leaving France and still have so much to learn, I became a bit disheartened. I love this language, but it will still take some time to master. However, instead of anticipating all that I still have to learn, I looked at how much progress I have made; a month ago, I would not have even dared to begin a conversation with a native speaker, and now I can navigate these interactions with more confidence and poise. Reflecting on it now, I am almost glad that I still have much to learn about French because that will give me an excuse to travel and study in this beautiful country again. As I begin my last week in Tours, I am keeping this happy thought in my head: my life with French is only just beginning.
Thanks for reading; ciao!
Reflective Journal Entry 6:

Reflection on my language learning and intercultural gains:
After this summer, I have learned that immersion is definitely the best method to learn a language. In a classroom, you can learn how to write and read, but by living with the language, you learn how to listen and speak. Common phrases, intonation, and talking pace all become more natural after hearing and talking with native speakers. After this summer, I have a much stronger foundation in French on which I can now build. The biggest culture shock I encountered was the language, and other differences, such as time for meals or the operating hours for stores, I accepted when I arrived and ended up enjoying more than I anticipated. I did meet my goals because I am much more confident with my conversation skills, I traveled all around France, I discovered new French songs and came home with a armload of French books to continue practicing the language, and I lived the French way of life for a summer.
Reflection on my summer language abroad experience overall:
Applying for an SLA grant was one of the best decisions of my life. I have returned to the United States with a greater respect for other cultures, an increased desire to study other languages and visit other countries, and a higher appreciation for my native language, English. After being in France, I have come to understand and appreciate more fully beauty and art, and I want to learn to cook with the same finesse as my host father. To anyone who is considering applying for an SLA grant, I have one piece of advice: do it. It will be scary, uncomfortable, and difficult, but it will also be one of the most exciting, influential, and enjoyable times of your life.
How I plan to use my language and intercultural competences in the future:
After this summer, I will return to Notre Dame in the fall and continue to study French. I hope to return to France my junior year for an official study abroad trip. I will maintain my French through classes at Notre Dame, remaining in contact with the friends I made at the Institut de Touraine, and reading and listening to French whenever possible. This SLA experience has prepared me not only for my future life with French, but also for my future life in general. This summer was incredible, but it was also difficult; I was pushed out of my comfort zone and had to adapt to living in a new country. However, after completing my courses at the institute and achieving all of my goals for the summer, I have a greater sense of confidence in myself and increased dexterity for dealing with new situations. Learning a foreign language will be invaluable in my future career, not only for being able to communicate with others, but also for the ability to accept and learn about a different style of living. This experience with the French culture has opened up a new world for me, one that I plan to continue exploring throughout my education and career.