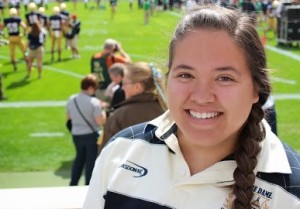 Name: Emily Montalvo
E-mail: Emily.R.Montalvo.5@nd.edu
Language: Catalan
Location of Study: Andorra and Girona, Spain
Program of Study: Campus Stay Ramon LLull and Up! Girona
Sponsors: Center for the Study of Languages and Cultures, Nanovic Institute for European Studies

A brief personal bio:
My name is Emily Montalvo, and I am a SCPP and supplemental THEO major.   Currently, I live in Walsh Hall; however, I am originally from Orange County, CA. I have one younger sister — Allison — who is a freshman at University of Colorado, Boulder.
Since freshman year, I have worked as a student athletic trainer. After graduating, I hope to return to California to go to medical school and become an orthopedic trauma surgeon.
Why this summer language abroad opportunity is important to me:
My reason for studying Catalan is more personal than anything else. I had previously visited Catalonia with my family in late 2011, and I fell in love with everything that it had to offer. I was absolutely thrilled when I had the opportunity to take a Beginning Catalan class freshman year; however, I wanted to learn more about its history and culture. And I believe that this SLA will help me accomplish this.
In addition, I hope to help build the Catalan program at Notre Dame. As previously mentioned, I am enthralled with the Catalan culture, and I would love to share that with my peers at Notre Dame.
What I hope to achieve as a result of this summer study abroad experience:
I have always struggled somewhat in the speaking aspects of languages, especially when I previously studied Spanish. I believe that spending time in Catalonia will greatly help to improve my conversational skills. Since ending the Catalan class, I have not had a lot of opportunities to speak in Catalan with other students. However, I believe that this SLA will be extremely beneficial to me: it will give me great insight into the Catalan language and culture. Through interactions with host families, Catalan students, and professors, I firmly believe I will gain a better understanding of the Catalan people, their culture, and the Catalan language.
My specific learning goals for language and intercultural learning this summer:
At the end of my summer study abroad, I will be able to speak fluently (at least a B2 level) in Catalan with other native speakers.
At the end of my summer study abroad, I will be able to speak more intelligently about the current political tension between Catalonia and the rest of Spain
At the end of my summer study abroad, I will be able to detect the variations in Catalan culture and language within different geographic regions of Catalonia and Andorra.
My plan for maximizing my international language learning experience:
After returning from my summer language abroad, I hope that the Romance languages department will be able to offer an intermediate Catalan course; however, if that class is not available, Professor Francalanci and I have discussed independent study for Catalan at the Intermediate level.   In this class, I hope to incorporate more Catalan literature and history, much of which I can connect to the places I visit during my SLA. I am very excited about the growing Catalan program at Notre Dame, and I do hope to continue studying not only the Catalan language, but also its culture and history.

Reflective Journal Entry 1: 
Pre-Departure!
Next week, I leave for my 4-week adventure in Spain! I am very excited, yet nervous at the same time. I am excited because who wouldn't be eager to spend a month in such a beautiful country; but I am nervous because I have not spoken Catalan with anyone in almost a year! I have brushed up on the language during the early part of summer break and most of the grammar is coming back to me, but speaking is a different matter altogether!
For example, in Catalan, the "r" at the end of a verb is not pronounced (e.g. anar — to go — is pronounced 'ana'). In addition, an "o" at the end of a verb is pronounced like a "u" (e.g. parlo — I speak — is pronounced 'parlu'). And many more!
For two weeks in Girona — a town to the north of Barcelona — I will be staying with a host family. I skyped them yesterday, and they seem like wonderful people! The mother, Carme, speaks pretty good English, and so does her husband, Victor. They have three boys: Pol (13), Eric (12), and Marc (7). I will be teaching the boys some English (while they teach me Catalan) when I am staying there. I am looking forward to meeting them!
But that's enough for now! I must finish packing!
Fins ara!
Reflective Journal Entry 2:
Barcelona
Yesterday, I arrived in Barcelona, and what a beautiful city it is! I visited Barcelona two or three years ago, but I am still awed by the city! I have only 3 days here before I leave for Girona, and I am going to make the most of it. I want to visit many of the touristy site: Park Guell, La Sagrada Familia, Camp Nou, etc. One of my favorite places to visit is Camp Nou, the arena of my favorite soccer team, Fútbol Club de Barcelona or Barça.
But today, I ate at the critically acclaimed restaurant Moments at the Mandarin Oriental! This restaurant has won 2 Michelin stars for its Catalan inspired cuisine. It was INCREDIBLE! I had a fatten chicken ravioli, Iberico pork with migas, and a mango, matcha tea, yogurt and black pepper dessert. Honestly, one of the best meals I have ever had!
Here in Barcelona, I spent the majority of my time translating for my family, who do not speak any Spanish (or castellà) or Catalan. I have not really had the chance to speak with anyone in Catalan because I mostly used my limited knowledge of Spanish or spoke in English. In Barcelona, there are many people who speak English, Spanish, and Catalan; however, I know that once I arrive in Girona, I will need to use my Catalan more because there will be less people who speak English.
That's all for now!
Visca el Barça!
Reflective Journal Entry 3:
One Week in AndorraHello from Andorra! This country is absolutely beautiful: mountains on mountains on mountains! I feel so small here! I am writing this on my second to last day in Andorra; and what a busy week it has been!Let me begin with the Campus group:There are 28 of us from all over the world — Israel, Poland, Russia, Cuba, USA, England, Czech Republic, France, and many more. We all have varying levels of Catalan studies: some have spent more than 3 years studying the language. We were split into two classes, elementary and intermediate. I was placed in the elementary level class, which is equivalent to a B1 level. My teacher is a native of Girona and has been doing this program for many years. In the elementary class, we played a lot of word games and listened to Catalan music to help us with vocabulary and pronunciation. In the afternoon, we have cultural activities: concerts, lunches with famous Catalan authors, tours of the Andorran government offices, food tastings, nature hikes, and much more.

The Ramon Llull program is actually quite famous in Andorra. Our first day here, there were journalists and camera crews to greet us; and the next day we were featured in three or four newspapers and on Andorran news. In addition, throughout the week, some of us were interviewed for either TV or the newspaper. It was definitely an exciting experience!

In two days, I will return to Girona for one more week! I have already arranged to meet with my host family again for a game night! I miss them a lot!

Que vagi bé!
(Take care)
Reflective Journal Entry 4:
Girona: Part 1My first two weeks in Girona are almost over! I am so sad to leave behind my wonderful host family and this beautiful city!For the past two weeks, I have been in class four hours a day: two in the morning and two in the afternoon. Usually in the morning, my teacher — Sara — and I would walk around the city, and she would teach the history of that specific part of the city. For example, last Wednesday, we walked around the Barri Vell, or the Old City. In the Barri Vell, there are many ancient buildings that still stand, including the Arab Baths and the Church of Sant Feliu. In addition, the Barri Vell stands next to one of the most important parts of Girona — the Jewish Quarter; and this old part of the city is surrounded by the Roman walls, which I hiked many times! There are spectacular views of the city and the surrounding mountains!

And just about every person I met in Girona was excited to tell me that Game of Thrones was recently filmed in the Barri Vell.

Now in regards to class, my Catalan speaking skills have greatly improved! Sara and I have been working very hard with the verb tenses and vocabulary. I feel more confident now, too. When I go to a restaurant, I can now order by myself (with a pretty good accent, I might add). I have even been stopped on the street by tourists for directions! I guess I look like a natural now.

Anyways, tomorrow I leave for Barcelona to meet with my group for the second half of my trip. I will now be participating in the Campus Program sponsored by the Andorran government and the Institut Ramon Llull. With this program, I will spend one week in Andorra (the only country where Catalan is the official language) and one more week in Girona.

Next time I write will be from Andorra!
Fins ara!
Reflective Journal Entry 5:
TASK 5: Identify a food/dish/cuisine that is unique to your location of study. Go to a local restaurant and order the food. Engage the waiter/restaurateur in discussion of its ingredients, preparation, and presentation. Ask about the historical or cultural significance of the food. Why is it so popular locally? What distinguishes a good preparation from a bad preparation. Note the culturally-bound attention to food and its role in nutrition, social interaction, and/or national identity.Pan amb tomàquet: The Staple of Catalan Cuisine

I have been in Girona for just under two weeks now. How time flies! In these two weeks, I have noticed one food that is everywhere and seems to be eaten with every meal — pan amb tomàquet, literally bread with tomato.

It is a simple dish: toasted bread with just the insides of a tomato, salt, garlic, and some olive oil. Sometimes, it is served with pernil (which is like pancetta or serrano ham), cheese, and other grilled vegetables.

I have eaten pan amb tomàquet probably twice a day, everyday. It's has now become one of my favorite foods!

So here are some quick facts about this very Catalan dish:

-It uses a special kind of tomato:
-A thin skin with "liquidy" insides
-Some restaurants use another kind of tomato and just grind it up; but, this preparation must be eaten quickly because it will become acidic
-There are many different any different names (or pronunciations):
-Pan amb tomàquet, pan amb tomata, pan amb tomate, pan amb tomaca, pan amb oli o pan con tomate, pan tumaca, pantumaca, …
-It tastes the best when day old, dense, rustic bread is used
Reflective Journal Entry 6:
Last Week in Spain
In two days, I will conclude my time here in Spain; and I am very sad to leave! The past weekend, we returned to Girona and immediately felt like I was at home again. I walked around with ease, taking in the familiar sites — the Cathedral, la leona, la Rambla, and many more. My friends in the Campus program relied on me to navigate through the city. I did have one more new experience yesterday: eating gelato at Rocambolesc, a gelateria owned by the "best restaurant in the world" — Can Roca. And let me tell you. It was the most amazing thing I have ever eaten.
I had lunch with the friends and host family. I missed them very much! And something exciting happened: my host mom said that my speech had improved exponentially in the week I was in Andorra. I am very excited about this because I really challenged myself the past week to speak only in Catalan.
In addition to Girona, we also visited Calella de Palafrugell, Pubol (where Salvador Dali has a house), Hostalric (for a culinary experience), and Figueres (the Salvador Dali museum).
Even though I have loved my experience in Spain, I am ready to be back in the States. I am excited to see my family and friends again and tell them about my wonderful summer!

Reflection on my language learning and intercultural gains:
At the end of my summer in Spain, I have reached a B1 level in Catalan. I did not completely reach my goal of a B2 level, but I definitely feel that my abilities have improved ten-fold.
In addition, I feel that I gained valuable insight into the cultural/linguistic differences within the Paisos Catalans. For example, I had two teachers: one from Girona and one from Andorra. By the end of the two weeks, I was able to identify many differences in their speech/vocabulary. Also, one of our guides was from the Balearic Islands, and his speech was very distinctive to this region. And, I had one friend who spoke the Valencian dialect, which I thought was one of the most different due to the fact there are different verb conjugations.
I also learned a lot about the political tensions between Catalunya and the rest of Spain. I was able to speak to many people of different age groups and backgrounds: all of whom had many different opinions about Catalan independence.
Reflection on my summer language abroad experience overall:
Overall, I had an amazing time in Spain. I really feel like this SLA helped to improve all aspects of my Catalan knowledge; and it helped to increase my love of the Catalan people and culture. One of my favorite parts about my SLA was living with a host family. I look forward to returning to Catalunya and keeping in touch with "la meva familia catalana."
How I plan to use my language and intercultural competences in the future:
This semester, I am enrolled in an Intermediate Catalan class. This class, however, will be more than just a language class: we will be studying culture, history, and even some literature in addition to the language. I am very excited to continue my Catalan studies. I hope to continue to use my Catalan with my friends from both programs, in addition to in class. Also, I am interested to see how the current political tensions in Spain will play out. I look forward to discussing my personal experiences with this situation in class.