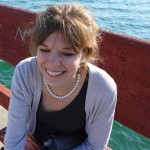 Name: Danielle Fulmer
E-mail: dfulmer@nd.edu
Language: French
Location of Study: Democratic Republic of Congo
Sponsors: Center for the Study of Languages and Cultures

A brief personal bio:
After growing up in rural Pennsylvania, I studied Peace and Conflict Studies at Juniata College. I studied abroad in the Gambia and India and became very interested in the role that gender relations play in international development and managing violent conflict. Following college, I worked on the national human trafficking hotline at Polaris Project in Washington, DC before returning to school to pursue my PhD in Sociology and Peace Studies, with a graduate minor in Gender Studies, here at the University of Notre Dame.
Why this summer language abroad opportunity is important to me:
This award is critical to my long-term goals and will impact my research and career in several ways. (1) I will be conducting dissertation research in French-speaking Democratic Republic of Congo (DRC) beginning in summer 2016. Receiving the SLA grant for summer 2015 will allow me to prepare for this subsequent summer of research. (2) Throughout my dissertation research, I will conduct interviews with representatives of international non-governmental organizations and community members in multiple villages. Many of these interviews will be conducted in French. A local research assistant will translate interviews conducted in a local language into French. (3) I will be able to read government and archive documents that contain historical and demographic information pertinent to my research. (4) Finally, I anticipate speaking French throughout my career, which will involve conducting research on gender and peacebuilding in Francophone sub-Saharan Africa.
What I hope to achieve as a result of this summer study abroad experience:
I have taken many years of French courses and have practiced a lot on my own, but since I have never been immersed or used French in daily life, I am not very confident in my ability to converse. After this summer study abroad experience, I hope to be able to speak and understand French much more confidently, and be more willing to take risks in speaking French that will help me to learn and grow. This is important, because I do not want my own hesitance or discomfort to impact interactions with research participants in the future. In addition, I have elected to use my SLA grant in the same location where I will conduct my dissertation research. This will be my first time traveling there, so I hope to learn much more about the social, political, and cultural context and the perspectives and types of issues that are most prevalent in relation to my research on gender relations, international intervention, and peacebuilding.
My specific learning goals for language and intercultural learning this summer:
At the end of my summer study abroad, I will be able to converse with native speakers about topics related to my research on gender and conflict, as well as topics pertinent to daily life.
At the end of my summer study abroad, I will be able to read newspapers, blog posts, and non-governmental organization reports written in French with ease.
At the end of my summer study abroad, I will demonstrate significant tolerance for ambiguity and be willing to take intercultural risks by engaging in cultural and linguistic interactions that are beyond my level of mastery and comfort zone.
At the end of my summer study abroad, I will have identified weaknesses and areas for improvement, including discipline-specific terms and vocabulary that will improve my ability to conduct interviews on my research topic in French.
My plan for maximizing my international language learning experience:
Following my immersion this summer, I intend to audit the French conversation course at Notre Dame next year and attend conversation-based or cultural events offered on campus in order to become even more comfortable conversing in French. I have friends who speak French and intend to interact with them in "French-only" in order to keep practicing in daily life. Independently, I will research and practice the vocabulary that I need specifically to conduct interviews and converse on my research topic. I will also maintain my French skills through practical, applied usage. I anticipate Skype conversations and email exchanges in French with potential local field partners at my research site. I plan to be in DRC for research intermittently beginning in summer 2016, so I will be able to maintain and indeed improve my French proficiency following this initial immersion.

Reflective Journal Entry 1: 
I arrived in Goma (a large city in the eastern part of the Democratic Republic of Congo, from here on out Congo) where I will be doing my language training, yesterday afternoon. It is now the weekend here, so my official lessons won't start until Monday, but I am already finding plenty of chances to practice my French in everyday life.
My trip to Goma was through Congo's neighbor to the east, Rwanda. I flew into the capital city, Kigali, on Wednesday evening. Interestingly enough, Rwanda proved not only to be a transit country for my physical journey, but also for my language journey. Like Congo, Rwanda was a Belgian colony for much of the 20th century. Following decolonization, all Rwandans continued to speak Kinyarwanda, but many also spoke French, which was the language of commerce and government. Following the Rwandan genocide in 1994, the new government decided to introduce English as a national language, which is now taught in schools. As a result, while many people in the older generations still speak French, most people of my generation and younger speak English proficiently and may not speak much French at all. (Note that I was in an urban area, and many people in rural areas will speak neither French nor English). Thus there were actually fewer opportunities to use French during my transit days than I might have hoped.
Nevertheless, I had an interesting opportunity to practice my French when I visited the Kigali Genocide Memorial. All text at the museum is presented in Kinyarwanda, French, and English. I challenged myself to read the signs in French first, using the English to check my comprehension and discern the meaning of unfamiliar words and phrases. This was challenging but not impossible. – Thanks to the French reading class I took at Notre Dame last summer, my reading comprehension is greatly superior to my verbal comprehension and speaking ability. I also noticed that the translations were not exact, for example sometimes there was more nuance in the French than the English translation. I wondered what additional meaning I would gather if I understood the Kinyarwanda text, too.
While my experience in Rwanda perhaps provided a "soft landing," I did not need to worry for long about a lack of opportunities to practice my French. As soon as I crossed the border to Congo, French became the modus operandi. (In the eastern part of Congo, most locals also speak Swahili). Even though I know how to express basic phrases related to transportation, buying food, and the like, I was surprised how nervous I was to use them. However, I am already finding that nearly everyone is more patient than expected, for example in understanding my accent or excusing poor grammar. A good family friend, who moved to the United States from Spain years ago and spoke almost no English upon arrival, foresaw this experience. I spoke with her last week, before leaving, and she reassured me that if you try your best, people will make a sincere effort to understand. She said there is no reason to be afraid or nervous. My experience so far suggests that her observation transcends borders.
Reflective Journal Entry 2:
This week I have settled into a routine, with French lessons in the morning and activities that contribute to both my French proficiency and my future research here in the afternoon. I practice my French as I travel to meetings and talk to staff at the various organizations I am visiting to learn more about gender and peacebuilding in eastern Congo. These meetings have reinforced that it is essential for me to know French if I want to conduct research here, – especially if I want to speak with local staff of the various organizations, or their beneficiaries. When I need to read materials for desk research in the evenings, I read them in French whenever possible. Even though it takes longer, it is really helping me to develop my vocabulary and become more comfortable with French grammar and sentence structure. In the evenings, I also review the new grammar and vocabulary from that morning's lessons, and visit with my housemates. Of course, I am using French a lot in daily life as well – to give directions to taxi drivers, talk with the guards and housekeeper where I stay, buy food from the shop, and so on. I am feeling relatively comfortable in these routine interactions and am excited to improve, as I continue to practice more complicated grammar and vocabulary in my lessons each morning.
Yesterday, I attended a dance competition in the city. Music and dancing are important in Congolese culture, and so it was a huge event – held at a park with thousands of people crowded in to watch. The competition was part of the Skiff International Film Festival, which is an annual event hosted by the nonprofit organization Yole! Africa. (Yole is a term to express solidarity and incite progress in Swahili. It is kind of like "let's go!"). The organization is concerned with empowering youth and promoting solidarity via art and cultural exchange. When I arrived at the festival with my housemates, local singers were performing the opening acts. These songs were in a combination of French, Swahili, and occasionally English – sometimes within the same song! It was a real challenge to try to pick out the French (which I could sometimes understand) from the Swahili (which I cannot understand at all), especially when the songs became fast. I wonder if music is always more difficult to understand in a new language than conversation?
After awhile, we moved onto the dancing acts. I was incredibly impressed with the dancers, who were young people ranging from children to twenty-somethings. Many of the performances combined acting out narratives around the conflict and peacebuilding process here with complicated dance moves (think break dancing, gymnastic stunts, and so forth) set to a mix of African and Western music. The announcer spoke very fast French over a muffled speaker system, so it was quite a challenge to try to comprehend his explanations of each group of performers and their act. In the end, this day was more about seeing than about hearing – but it gave me an important glimpse into life here nonetheless!
Reflective Journal Entry 3:
On Wednesday I made my first journey to the biggest market in town – Virunga Market. It shares a name with the nearby Virunga National Park, a UNESCO world heritage site that is home to immense biodiversity, especially the endangered mountain gorillas that are protected there. This Virunga Market operates every day, but I have since learned that the busiest day is Tuesday, and I hope to return on a Tuesday during my stay here. Virunga Market is just a short jaunt from downtown, and stretches at least a block in every direction. The street is lined with shops selling almost everything that you can imagine – including linens, pots and pans, brightly colored cloth, and electronics. The sidewalk is sprinkled with venders peddling street food – such as fried doughnuts (beignets), bottles of juice, and tiny dried fish (similar to sardines). Inside, the market stretches on and on in a maze of small wooden booths selling fresh food – fruits, vegetables, spices, and meat.
Large markets like Virunga are the best place to find a large variety of fresh produce here. While people sell some basic items – including tomatoes, bananas, greens (similar to spinach), mangoes, avocadoes, onions, and pineapple – along the road or outside of the smaller shops that service each neighborhood, some items – like cabbage, radishes, eggplant, peas, carrots, papaya, tangerines, and passion fruit, are much rarer at these small stands, and require a trip to the market. I wasn't too nervous to visit it, since food-related words are some of the most basic ones that we are taught when acquiring a foreign language, but I quickly realized that some of the tropical produce here wasn't part of my vocabulary acquisition! As a result, I learned a few new words, including mango (la mangue), papaya (la papaye), passion fruit (fruit de la passion), sweet potato (les patates douces), and avocado (l'avocat). As you can see, most of these words are pretty similar to their English version, so I was able to muddle through until I could look them up later. I was also able to use my French to find my way through the maze of the market. For example, I seemed stuck in the vegetable section, and really wanted to buy an avocado. I asked a woman who sold me some eggplants (les aubergine), and she explained how to find the fruit vendors in the next building.
Later, the housekeeper where I stay made some local dishes from market vegetables – including a dish of stewed potatoes, hot peppers, and peas in a tomato sauce, and steamed cabbage with carrots and onions. Next time I am going to ask her to show me the spices she uses, as the dishes were much more delicious than you would expect based on the simple ingredients. I'm of the belief that food is a great way to learn about a new culture and interact with recent acquaintances, so don't be surprised if you hear more about this topic from me in the future.
À bientôt!
Reflective Journal Entry 4:
This is the second time I have lived in Africa for a period. I will not generalize about a continent so vast (http://static02.mediaite.com/geekosystem/uploads/2010/10/true-size-of-africa.jpg), or about a people's perceptions based on conversations over the course of less than a month. But I have to say that, like the Gambians I lived among as an undergraduate six years ago, the Congolese I have spoken with share a very picturesque view of America – as a place of wealth, freedom, opportunity, and happiness. Given that few Congolese have the opportunity to travel to America themselves, many of these perceptions come from the media – pirated copies of popular movies and television shows that depict fast cars, and beautiful, rich people living luxurious lifestyles against the backdrop of Miami, Las Vegas, or Los Angeles.
I always feel impatient to add nuance to these conversations, but I have found that I must be careful and listen more than I speak. After all, I am very fortunate to have been born where I was, and compared to the life chances of the average Congolese, one could objectively say that I have no grounds for complaint. I have had many conversations about America, and the differences and similarities between the United States and Congo, with one of my private language tutors, who is always prepared to deviate from the day's grammar lesson for some conversation. We have discussed politics – a contentious topic here, and he was surprised to learn that, while the US is certainly much more democratic than Congo, the wealthy still have a disproportionate influence on politics. This topic is resonant in a place where the administration is showing signs of democratic repression in the lead up to the 2016 elections, and where multinational corporations extract minerals with little or no benefit to the local population. We have discussed the spate of recent racially driven violence in America, a relatable topic in a country where ethnic divisions are manipulated to exacerbate conflict. At the end of the day, are the troubles I see in my home country on the same scale as those here? Of course not. But it is important to remember that every place in the world has its shortcomings and its beauty.
The media isn't fully to blame for Congolese perceptions of the United States, or the West in general. The foreigners living here, working for a range of international organizations, drive around in land rovers, live in fancy houses on the lake with wifi and electricity, and spend a lot of their free time in (relatively) expensive restaurants and bars. – These are largely goodhearted people, just doing their job far away from home, but it is easy to see why their lifestyle only reinforces the existing perceptions of Americans. Of courses, as one of my new acquaintances noted to me the other day while on our way to a training for local leaders on gender equality in peacebuilding – not all white people are kind and well-meaning, or willing to give up much of their lavish existence. So while Congolese might admire the opportunities that the West is perceived to provide, they are also wary of the consequences that sort of lifestyle might have for our character, relationships, and humanity. In this sense, the Congolese I have spoken with have attained some wariness of the American way without ever setting foot on its soil.
Reflective Journal Entry 5:
It's hard to believe that I am already on my fifth post! This week I had a wonderful opportunity to leave the city for a day. I traveled with a humanitarian organization that I have been in conversation with because I will be doing my dissertation research here beginning next summer. We spent the day in two villages about 30 km outside the city, observing and participating in trainings and meetings related to promoting gender equality and women's participation in public life. Even though it was a short distance away, the villages were truly a different world than the city. Here are a couple of things that I noticed:
• Beauty – I was kind of disappointed that I didn't bring my camera along, because it was gorgeous – rolling hills, bright flowers, one field after another of vegetables, and trees of all kinds – palms, deciduous, flowering, and fruit. This scene was dotted with small buildings and houses, and all around women worked and talked while wearing brightly colored dresses. It is the kind of beauty that is easy to idolize, but perhaps most beautiful when you know you can leave – because life in those villages certainly isn't easy, no matter how beautiful it is.
• Children – There were children everywhere, and they were quite intrigued to see two mzungos (white people, in Swahili). We finally asked a group of especially fascinated children if they had seen two white people together before, and they said no! The children were also very curious about the training that we were doing with the women, and a few watched the whole process intently. However, it was sad to see so many children just hanging around during the day. – It reminded me how few children receive consistent and adequate schooling here. It is certainly a big problem.
• Hospitality – I could go on all day about the hospitality of the Congolese I have met so far. This is true in Goma too, but like the world over, the effect is magnified outside of urban centers. Nearly everyone we met said hello – how are you, and offered a smile. When lunch was served, we (the visitors) were shuffled to the front of the line.
This was also an important day in that it reinforced my commitment to learning French. The representatives of big, international organizations typically speak English. – There was one person on Tuesday's trip who knew English, and she could translate for me if necessary. But I relied heavily on my growing French comprehension all day. – The organization's Congolese staff don't speak English, and their knowledge and experiences are insightful and quite different than those of ex-pats working on the very same issues. Plus, the trainings were conducted in Swahili, by local staff. There was some (fast) French translation, and I needed to be able to follow that if I wanted to understand what was happening.
Even though learning French has to be the first priority for my research, I hope that someday I can learn some Swahili too, so I can communicate directly with the beneficiaries of the programs I study – even those who live in rural areas or are less educated, and might not speak French. For now, I rely on my few Swahili phrases for greetings before switching to French, and everyone seems to appreciate the effort!
Reflective Journal Entry 6:
Since this is my last week in Congo (for now!) it seems fitting to reflect on the things that I will miss most when my time here is up. – These are mostly the things of my daily life here, perhaps the types of moments that you are more likely to notice when you are in a new place and everything stands out more than it otherwise would.
•I know I've said it before, but the hospitality and kindness here blows me away. – For every confusing or challenging interaction that I face living in a new place where I am learning the language and the culture, I encounter so many others that bring me joy and make me feel welcome. Our dog was sick this week, and even though few people here have pets in the same sense that we do in the US, our guards were insanely worried and asked about her every day. There is the teenage boy who sells me mobile phone credit at a small stand near my house, and waves at me as I head to town for French lessons each morning. And then there are the funny moments, like when a taxi driver quotes me an outrageous price and I laugh at him. Usually he will start laughing too, when he realizes I'm not new enough to trick.
•Food! I won't lie. When I get home I plan to drink water straight from the tap, lots of beverages with ice, and a lettuce-based salad the size of my head (none of which are safe for my weak foreigner stomach here). But I have tried a few local delicacies that I will definitely miss – particularly the fresh beignets (donuts) for sale everywhere on the street, all kinds of fresh and bottled fruit juice, and brochettes (kabobs of marinated meat, peppers, and onions). I will also miss the plethora and variety of fresh produce – especially mangoes, avocados, and tiny bananas that aren't available in the US.
•Music everywhere! Congolese are known for their love of music and dancing (as you may remember from my earlier post on the dance competition), and you can feel it in daily life. Sometimes a bus goes by on the street blaring music with people audibly singing along. I have seen large groups of youth traveling the streets, singing to advertise an upcoming event. My French teacher recommended listening to French music as a way to continue practicing once I'm gone.
•The vibrant civil society. Yes, this is a troubled society, with many challenges to overcome. But it is also an open society, where people speak their minds and are working hard every day to make changes that they believe in. I was lucky to meet some of the people who are committed to creating a different future in their communities and in their country. They want to understand the root causes of problems that much of the world has dismissed as too complicated to grasp, or reduced to a narrative too simple to hold any power.
I feel so lucky to have had these experiences, and know that missing these aspects of daily life will only push me harder to continue working on my French in the coming year!

Reflection on my language learning and intercultural gains:
I am satisfied with the progress I experienced this summer and feel that I achieved my goals for language learning and intercultural gains. I am able to converse with native speakers about topics related to my research and (although to a lesser extent) daily life. By the end of the trip, I was comfortable conversing in a professional setting for short periods, without a translator. I feel quite comfortable reading in French and in situations that challenge my cultural awareness and linguistic abilities. I am clear on what I need to practice in the coming year – primarily continuing to develop my conversational proficiency, and growing my vocabulary. Before, I often wondered why I couldn't remember vocabulary or concepts I learned, but I learned that you actually have to use the word or practice the concept – consciously, and in multiple contexts, before it will stick. This seems obvious, but once I really embraced it, my learning accelerated rapidly.
Reflection on my summer language abroad experience overall:
Of course before this experience, I knew that an immersion would be invaluable to my language acquisition, but I never guessed how much my French would improve or the changes that would occur in how I think. – I found that as time went on, I had to spend less and less time "translating" in my head, and I still sometimes initially respond in French (instead of English) for simple phrases. Some weeks I experienced a sudden and noticeable jump in proficiency, while at other points the process felt overwhelming, frustrating, and slow. I really learned a lot about how adaptable we are and how possible it is to learn a foreign language, particularly if you are able to experience immersion. I would advise others who are considering this program to definitely apply if learning a foreign language is important to you, and to set your expectations high, but also be prepared to work hard and experience moments of frustration and overwhelm.
How I plan to use my language and intercultural competences in the future:
This year, I plan to audit the conversational French class offered by Notre Dame in order to become increasingly comfortable conversing. I have a couple of friends who speak French (and made additional French-speaking friends while I was gone), so I will practice by making these "French-only" friendships. I will continue to interact with potential local field partners for my research in French, via email and Skype. Finally, I anticipate listening to news and periodically reading research reports in French. (A great resource for this is the website News in Slow French). I plan to return to DRC next summer for my dissertation research, so the impetus to build on the progress I have made so far is strong.