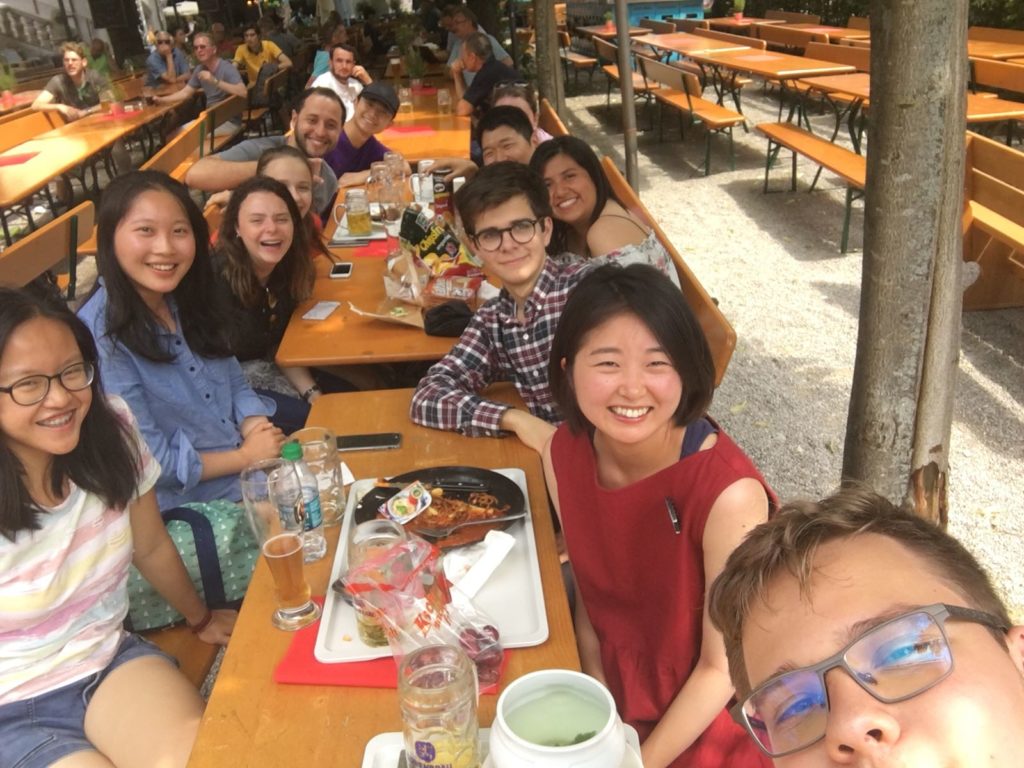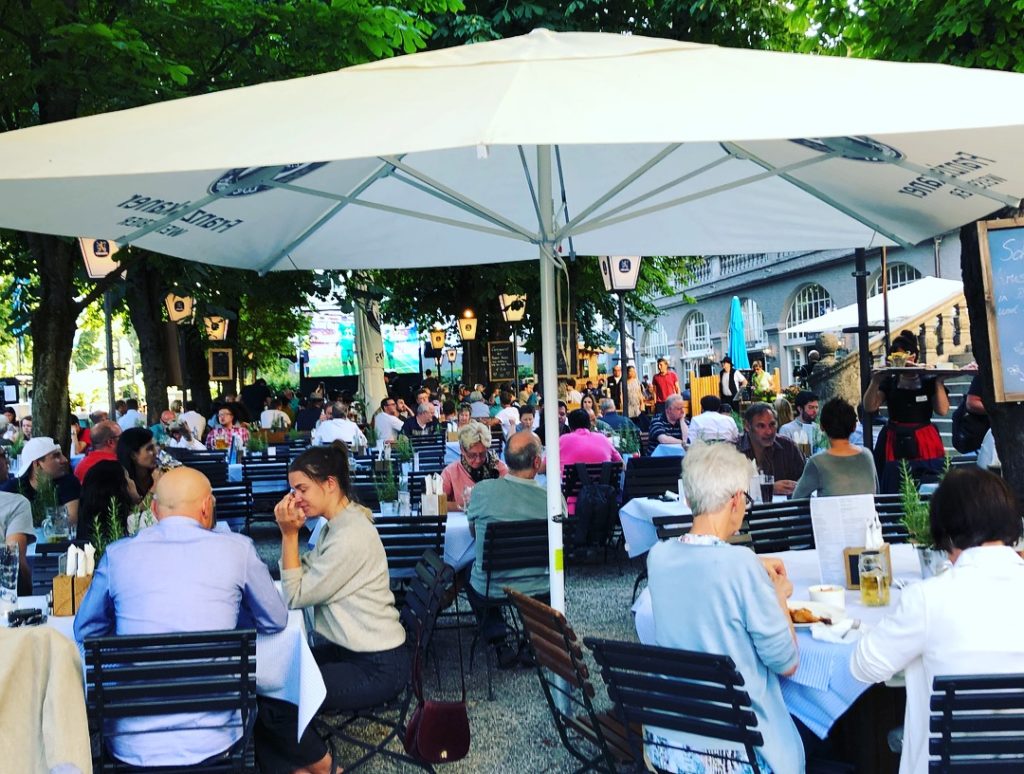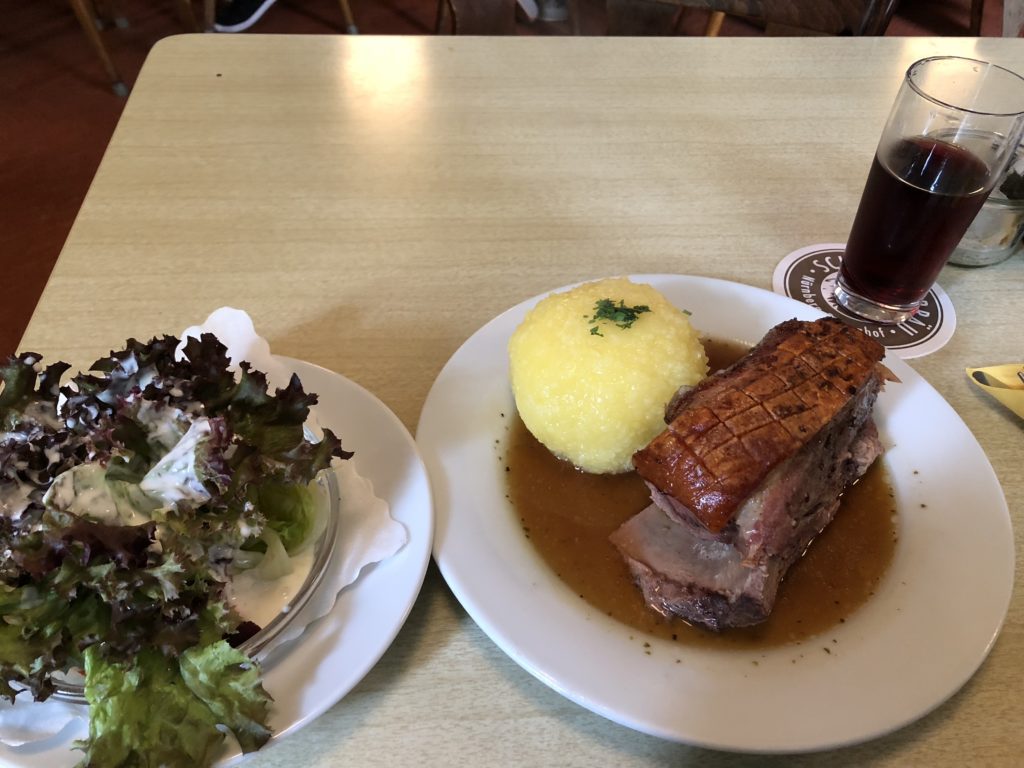 The way I said goodbye to München was "typisch." I went to the Biergarten Löwenbrau, had some currywurst and watched the world cup with my classmates. I had been there four times during my stay in this city but still did not develop the talent of drinking beer as if it were water. That day in class, we talked about the topic "stressor," and I had to admit that it was my stressor to get up before 7 to catch the bus every day and argue with my impatient host about our misunderstandings. However, when I left the city, I knew I would miss it.
München is a "wunderschön"(amazing) city, with the gorgeous Englischer Garten, the startling Schloss Nymphenburger, many busy Platz and always vigorous Biergarten. It is a city of rain. Rain comes and leaves quickly. Despite the fact that I prefer sunny days, it was an enjoyment to see colorful umbrellas decorating Marienplatz like blossoming flowers and tourists waiting persistently for the King and Queen to come out of the tower and dance at 5 o' clock. The Gothic Rathaus there made me wonder if it came out of Allan Poe's novel.
I have improved my German language abilities as planned– now I am able to communicate in the everyday settings like buying things and having small chats with locals smoothly. I am also used to reading through a long informative article and guessing the new words according to the context. I got to know a Vietnamese friend at the beginning of my study and travel with her talking in German– we did so well understanding each other considering the vocabulary we had.  After all, the greatest benefit of learning a new language is that you get to know more fantastic people.
But what makes my experience even more fulfilling than mere language improvement is the cultural opportunities here. From the dramatic life story of Ludwig II to Maximilian I's love for Chinese decorations, from Dachau Concentration Camp to Nuremberg Trial, from the dark chapter of National Socialism to the fall of the Berlin Wall, I learned a little bit German history every day. I found it admirable that German people take historical education seriously. I also got to appreciate the charm of the Italian opera Rigoletto in the Bayern opera house and experience Germans' passion for football in the Biergarten. I would not forget the typical Bavarian scene here: a beautiful lady wearing Dirndl stretched to play the accordion in the Biergarten and the old man with a white beard sang joyfully while playing the guitar. Their happiness seems an intrinsic ability rather than coming from the beer. The immersion in German and Bavarian culture makes this country and German language more intriguing to me.
I also cherished the chance to experience the global culture in our 10-people class: my passionate, super-friendly Brazilian classmates who insisted on coming to say goodbye to me with a fever, the Korean friend who was mostly quiet but turned out super talkative after drinking, the always considerate Japanese girl, the Russian boy who would debate Tibet Independence issue with me but became silent when I asked about Crimea (we are still friends lol), the ambitious, confident Italian boy who breaks my stereotype of the chilled Italians, etc. Though we all have strikingly different backgrounds and will lead our future lives in different places, I feel grateful that we ran into each other at this moment and struggled to learn each other's ideas on music, politics, culture and what happiness is in German. I found people had many cultural stereotypes about China, and this could not be solved by a single word of explanation. It is clear to me: only through open, candid and personal communication can we build mutual trust and melt the ice between each other. It also prompted me to ask myself how much knowledge I had about other countries come from the mass media and how much of it belongs to stereotypes.
In the future, I hope to read and study more about German history, especially about the politics in the Weimar Republic and East Germany. I also want to enhance the language abilities I learned by reading children's books and newspaper articles after getting back to ND. Watching the German musicals, operas and TV shows will help me learn the vocabulary. I also plan to speak more and write more in the Communicative German class to strengthen the active use of the language. After all, writing turns out to be the best way to correct the mistakes that stick to the mind.
I know I still have a long way to go on learning German, but I want to say "I mog di (the slang that expresses I love you)" to München. Ich werde zurückkommen!