By: Heena Purohit
One of the biggest reasons I chose to attend the Notre Dame MBA program was the small class size, which would enable me to get to know my classmates beyond just their names. My classmates and I want to leave here with meaningful relationships, which involves learning from one another and sharing our backgrounds, cultures, and values. As the Indian festival of Diwali approached, the MBAA (Student Association) and the Asian MBA Club collaborated to host an event celebrating the day with the greater MBA community. Students, faculty, and staff joined together to celebrate the Indian Festival of Lights, and students spoke about the significance of the festival. It is worth noting that no Indian celebration is complete without music — and the celebrations included a dance performance by first-year MBA students. Many enjoyed scrumptious Indian food, and some left the building with henna tattoos. 
Organizing and celebrating the event was a lot of fun! In fact, the next day, many joined back together again to celebrate the Mexican tradition of the Day of the Dead. There was an altar in the MBA lounge, and students learned about the rituals and significance of the day for the Mexican community. Discussing these tales over tacos only made it better.
The Notre Dame MBA did more than just help me to build my cultural repertoire through celebrations of Diwali and other traditions. These activities demonstrated how my classmates love to share their experiences with the greater Notre Dame MBA community. The sense of community in our program is abundantly apparent, and I am certain these times we all share will be clearly remembered after graduating.
About Heena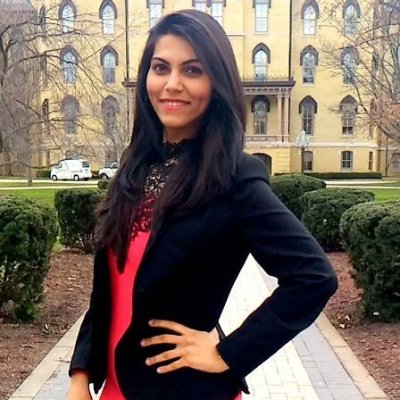 Heena lived in Mumbai, India, prior to business school. She is concentrating in business analytics and attended the University of Mumbai for her undergraduate studies. Her favorite Notre Dame memory includes the 2015 Notre Dame football game versus Navy, during which half the graduate student section sang her "Happy Birthday."